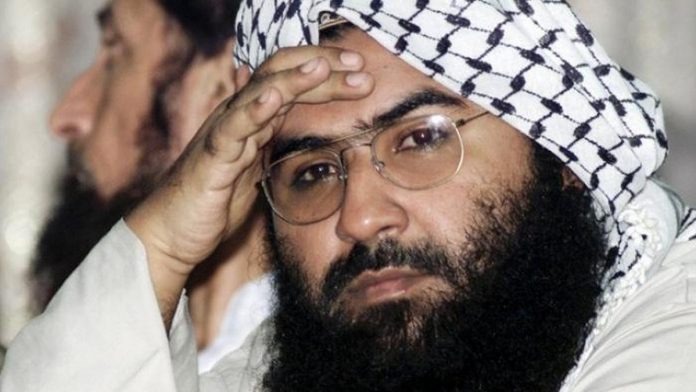 Text Size:
Front Page
"Jaish chief gets Great Wall of China" (The Indian Express) or as Hindustan Times puts it, "No terror tag on Azhar as China blocks move."
The biggest news of the day is China's midnight decision to put a "technical hold" on listing Masood Azhar as a designated terrorist at the UNSC. Times of India, IE, and HT leads with it, Hindu's preoccupation with Rafale – it has done a series of exposes on the Rafale deal—sees it give prime space to "Information on Rafale is with enemies" and fourth billing to "China places hold on listing Azhar as designated terrorist."
HT thinks the move is "allowing a major bilateral irritant with India to fester".
TOI explains why "China blocks UN effort to ban Jaish chief Azhar for 4th time": China's "vague inanities was the hard realism of standing by Pakistan, an ally that has attracted global opprobrium for hosting terrorists, many of whom could pose a threat to Chinese economic interests in Pakistan should Beijing agree to lift its objection to designating them as global terrorists…. China is seen as buying protection for its investments in Pakistan…."
Express notes India had 13 co-sponsors, adding in its 'Explained' Box that the technical hold means "the proposal to put JeM chief Masood Azhar as a global terrorist now goes in deep freeze for the next six months, extendable for another three months".
BJP-AGP
In election news, there's "AGP back in NDA fold" (Express). The rekindled alliance comes "Two months after severing ties with the BJP in the wake of widespread protests against the proposed Citizenship (Amendment) Bill, " says the report.
"The Bharatiya Janata Party's (BJP) alliance with regional parties in the northeastern states is back on track", writes HT in "BJP wins back N-E ally to seal pre-poll pact."
TOI chooses to ignore this for page 1. Instead, it reports on another possible alliance: "Congress leadership has decided to seek the opinion of its booth-level workers on whether it should tie up with Aam Aadmi Party in the capital" ("Tie-up with AAP? Cong dials 52k cadres for answer").
Priyanka-Bhim Army chief
While TOI ignores Priyanka Gandhi Vadra's visit to Bhim Army chief Chandrashekhar Azad in hospital, HT gives it a column space with barebones reportage: "After enquiring about Chandrashekhar's health, Gandhi hit out at the Narendra Modi-led government, terming it arrogant."
Express notes that the visit comes "a day after BSP chief Mayawati ruled out a tie-up with the Congress in any state".
"The Bhim Army declared soon after the meeting that it would contest in the LS polls and that Azad would take on PM Narendra Modi in Varanasi", but HT's report quotes him saying, "I am not a political man."
Hindi Dailies
China's blocking the global terrorist tag to Masood Azhar is the top story, today.
Amar Ujala says, "Aatanki Masood Azhar ko Cheen ne phir bacha liya"
Dainik Jagran says, "Cheen ke adangey se Masood par laga pratibandh" And Dainik Bhaskar headlines, "Cheen ne 10 saal me chauthi baar Masood Azhar ko vaishvik atankwadi ghoshit honey se bachaya"
Bhaskar identifies four reasons why China repeatedly saves Masood: it has invested Rs 7 lakh crore in Pakistan, it keeps India busy dealing with such problems so that it doesn't emerge as a power in South Asia, it seeks Pakistan's support in its action against Muslims in China and India's good relations with US and the Dalai Lama are viewed as anti China.
Jagran highlights a video released by an American of Pakistani origin which claims that over 200 were killed by Indian airstrikes in Balakot.
Tamil Dailies
Rahul Gandhi's Tamil Nadu trip takes the lead on front pages.
While Dinamani reports his press conference in Chennai, The Hindu Tamil and Daily Thanthi favour his Nagercoil election rally.
Dinamani headlines one of the Q&A exchanges at the PC: "Who is the PM candidate? Will be decided after the election – confirms Rahul Gandhi"
The Hindu Tamil in "If Congress comes to power, GST will be made simple – Rahul promises…" reports how Rahul and DMK chief MK Stalin flattered each other: Rahul said Stalin would become TN's next CM, Stalin said in a few weeks Rahul will India's PM.
Dinamalar gives Rahul's Tamil Nadu trip short shrift; instead, it reports the ADMK alliance with TMC (Tamil Maanila Congress)–"20-20! Alliance finalised in ADMK".
Opinion
HT and Express comment on the impact of an economic slowdown.
In "Will BJP pay for the slowdown?" HT writes that "a compound growth rate of GDP is 7.4 per cent'' doesn't bring "good news for the Government just before the elections''. Also, GDP has been declining for three quarters and the latest Index of Industrial Production figures show growth output at 1.7 per cent.
In addition, "farm incomes have faced a severe squeeze", HT writes. Will these "factors hurt" BJP? That depends on how "the opposition takes up the issue".
Express in "Unhappy Numbers" adds that a Reserve Bank of India (RBI) study shows that for the "seventh successive year" there's "a contraction in the private sector's capital expenditure plans". The economy, it writes, is "decelerating". The Modi government has failed "to revive choked investments" and "missed opportunities" given that it enjoyed relatively low global oil prices, "when global economic growth rebounded", it writes.
Prime Time
Much of prime time was devoted to women. Discussions on 33 per cent seat reservation for women featured on India Today, CNN News 18 and NDTV 24×7.
It saw unusual agreement amongst politicians of different parties —largely women spokespersons — that "50 per cent (of population) was overlooked for too long…gone are the days of tokenism" (Shaina NC, Bharatiya Janata Party, NDTV).
Some channels discussed the UNSC vote on Masood — before the vote.
Zee News anchor Sudhir Chaudhary had a twist in the tale: "Masood Azhar is so scared of the reports made by 'DNA' that they have issued a warning letter to Zee News — but let me tell you we are not afraid of Masood Azhar."
News X provided more proof of Balakot airstrikes — the latest from Israel's intelligence agency, Mossad. The anchor said, Mossad claimed "about 273 died" in the attack.
Republic TV anchor Arnab Goswami, clearly motivated by Modi's tweet asking Republic TV to promote voting, started a #VoteForIndia campaign.
"Dear Viewers, there's nothing more important than to mark your calendars and go out and VOTE. Let's celebrate democracy with a soaring turn-out for this big election…Thank you for the mention, Prime Minister Modi."
Meanwhile, CNN News 18's Bhupendra Chaubey was living in the past: he compared former Prime Minister Dr Manmohan Singh and Prime Minister Narendra Modi as "communicators" in order to then compare Modi with Congress president Rahul Gandhi. His conclusion: Modi was "a master communicator".
India Today's Rajdeep Sardesai presented a study in contrasts: he hosted Sujay Vikhe Patil who had left Congress to join BJP in Maharashtra, and Hardik Patel who has joined Congress in Gujarat.
Asked if he switched sides because he "simply wanted a Lok Sabha ticket", Vikhe disingenuously admitted he had been told he will "get it".
Congress had not given him a ticket.
"Political opportunism?" asked Sardesai.
Vikhe asked a counter question: what were his "demerits"? He was the most educated candidate, "a neurosurgeon".
He was impressed by Modi's Balakot response, he said, and believed he deserved a "second chance".
Hardik Patel seated in front of Bhagat Singh's photograph, extolled the virtues of the Congress and its freedom movement leaders. Asked if he was opposing BJP "for the sake of opposing", he remarked, "Those who killed Gandhi, have to oppose them."
Mirror Now anchor Faye D'Souza was more concerned about the killing of Ashbab — an eyewitness to the 2013 Muzaffarnagar riots Tuesday. When former police officer K.L. Gupta criticised attempts to pin the blame on the police, D'Souza asked lawyer Aniket Nigam, why the case had been pending for six years when eyewitnesses had identified the alleged culprits.
"D-2" was Nigam's reply: the defense did all it could to "divert, detract" the proceedings.
Tweet of the day
I appeal to @RubikaLiyaquat, @anjanaomkashyap, @sudhirchaudhary, @rahulkanwal and the team of @republic to spread awareness on voter registration, and why every Indian, particularly the youth should vote.

Your support can ensure more people exercise their franchise.

— Narendra Modi (@narendramodi) March 13, 2019
With inputs from Shailaja Bajpai, Renu Agal and Aananth Daksnamurthy
Check out My543, our comprehensive report card of all Lok Sabha MPs.