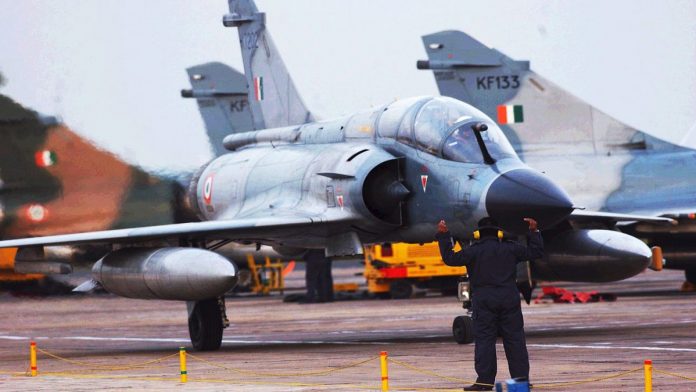 Text Size:
Indian television news dropped bombs with abandon, this morning, as it celebrated the Indian Air Force's early morning strikes on Jaish e Mohammed (JeM) positions across the Line of Control (LoC) in Pakistan.
"Bharat Mata ki Jai" called out ABP and Republic Bharat. "How's the Josh? How's the Josh?" crooned the Aaj Tak reporter. '#JoshHigh' responded Zee News, "How's Jaish…Dead", it added morbidly.
Thereafter, headlines kept changing as news channels competed with each other on hyperbole and patriotism.
The early morning lead was: "India Strikes" (Times Now), "India Strikes Back" (NDTV 24×7, CNN News 18, Republic) or, "India Hits Back" (News X).
After the Indian Foreign Secretary gave out details of the strike, the tone became more forceful: "India's Pre-emptive Strike" (CNN News 18), "India Strikes Pakistan" (Republic) "India Gives Befitting Reply (ABP), "Surgical Strike 2.0" (News India), "Biggest Ever Strike" (Republic Bharat).
The language of war was strident by noon: "Pak Smashed and Shaking" (News X), "Jaish top leadership wiped out…" announced Republic, "destroyed" insisted Times Now…."Revenge Strike Begins" retorted Republic.
"Jaish camp decimated" added CNN News 18, displaying its superior vocabulary.
There was "Badla" and "Hamla" on Hindi news channels like News Nation. "Pulwama attack avenged," added News 9.
And there was unstinting praise for Prime Minister Modi: "Modi did what he said he would do", said Republic Bharat. Some channels pointed out that the IAF's action was a swift response by the government, or as CNN News 18 put it, "Decision taken by PM Modi immediately".
"This is a game changer," believed India Today's Shiv Aroor, "it was a very, very difficult decision….. will be remembered (for very long)". "It's a huge success," felt Navika Kumar on Times Now, "saluting our soldiers and the PM".
India Today remembered to thank the IAF too: `This is the proudest day for the Air Force', said India Today's Rahul Kanwal.
CNN News 18 was the first to claim that 200-300 terrorists had been killed and although the Foreign Secretary did not corroborate the number of casualties, other channels like Zee News, News 24 went with the figure. `Over 300 killed' said NDTV 24×7 quoting a "government source".
"350 Jaish Blasted" was the tallest figure on News X.
Bombs away, fire fighting
In the absence of any real footage of the IAF's sorties, the channels allowed themselves some artistic license: the clouds of war rose on WION and Republic from "representative videos", as they were careful to point out.
Many others like ABP, Aaj Tak, India Today had footage, reportedly released by Pakistan (which they could not authenticate) that showed a meteor – like lights flashing by.
Photographs reportedly released by Pakistan, shown on news channels, were unspectacular in comparison—just some debris.
The likes of Aaj Tak News 24, News India, India Today had graphic representations of aircraft flights across the LoC, leaving huge balls of fire in their wake. Often, the aircraft was Rafale and not Mirage.
Across the Border: Pakistan TV
Watch Pakistani news channels for an entirely different picture.
On GEO TV, there were visuals of dense forests. It stated that there was severe damage to forests. Close-up visuals revealed damaged metal objects but nothing more.
GEO TV also replayed the tweet of Pakistan Army spokesperson Major General Asif Ghafoor, which stated that the IAF dropped their weapon payload and ran away.
Pakistan leader of Opposition Shehbaz Sharif said, "If India starts war with Pakistan, the Pakistani flag will fly high in New Delhi."
He claimed the BJP was doing this keeping in mind the upcoming elections.
The Indian media is spreading false propaganda, he added.
BOL News Live claimed that "Bharat baukhala gaya hain" (India has gone mad) . It added that there was no proof of the attacks as claimed by India. The Indian media, said the anchor, is feeding third grade content to the public. Pakistan retains the right to self-defence, it warned.
SAMAA NEWS LIVE claimed that the strike by India was a popular move. Pakistan, it said, was prepared to take on any kind of situation.
Pakistani Newspapers Online
Pakistan's newspapers seem to be in more denial. Many chose to say India "violated" or "intruded" the Line of Control, with photographs of the planes' debris in tow.
Their headlines read: "Indian aircraft violate LoC, scramble back after PAF's timely response: Inter Services Public Relations" (Dawn), "PAF repulses Indian attempt of incursion into Pakistan air space" (The International News), and "PAF chases away Indian jets after LoC airspace violation" (The Tribune).
"Indian jets were forced to retreat in haste by Pakistan army patrols and dumped fuel, which in their scramble they thought was a bomb", reports Dawn, quoting a tweet by Imran Khan led Pakistan Tehreek-e-Insaf (PTI).
Pakistan Today says the "invasion…follows a series of threats by the Indian political and military leadership after the attack on an Indian Army convoy at Pulwama by a local youth, in reaction to the oppression unleashed by the occupational forces."
The News International writes "Indian government and the military have focused more on receiving congratulatory messages, with local media spreading lies with false claims of IAF achievement".
Get the PrintEssential to make sense of the day's key developments