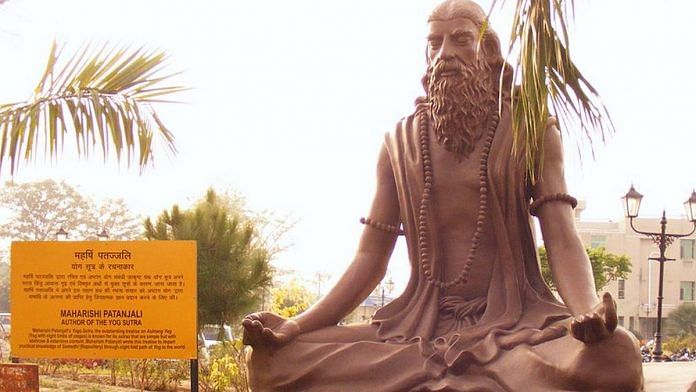 Text Size:
If there is one text that almost everybody who practises yoga will have heard of, even if they have never read it, it is the Yoga Sutra of Maharishi Patanjali. Just who Patanjali was is open to question. Over the years tradition has connected the author of the sutras with several people bearing the same name— a great grammarian, a Vedic priest, a renowned teacher of Sankhya and a south Indian Shaivite guru among them. The question of attribution with Indian texts can be further complicated by the fact that an author would sometimes append his master's name to his own work if he felt he was transmitting the pure teaching he had inherited with no personal additions or interpretations. Preferring mythistorical origins, Indian yoga schools have often lauded Patanjali as no less than an incarnation of Shiva, who in his form as Mahayogi is the archetypal practitioner of yoga and patron deity of yogis, and when worshipped as Dakshinamurti is the root guru of yogic knowledge. Some even see Patanjali as a form of Adishesha, the cosmic serpent on whom the universe rests.
Questions of authorship aside, the Yoga Sutra was probably composed sometime before AD 350 and is the oldest text we know of that is dedicated solely to the subject. For many centuries it seems to have enjoyed considerable esteem; during the medieval era it was the most translated of the old Indian texts, rendered from Sanskrit into many Indian languages and even Old Javanese and Arabic. Then, after a mysterious fall from grace at the end of the first millennium AD and subsequent obscurity for nearly 700 years, the sutras received a renewed interest from Western scholars in the late eighteenth century. Finally, perhaps a hundred years later, they were first popularised through the writings of Swami Vivekananda, a key figure we shall meet in chapter 11.
---
Also read: How Modi govt is helping scientists decode health benefits of yoga and meditation
---
Since that time, translations of the text into English alone have been legion, and they continue to be produced in numbers and widely studied in the international yoga community and beyond. Faithful translation is always an onerous enough task and a 'free translation' can veer a long way from the original. Within the Yoga Sutra corpus, there are several versions produced by those who, knowing no Sanskrit, have come up with their own by combining various existing translations and relying on their poetic empathy to connect with what they deem to be the spirit of the original. Encouraged by the extreme succinctness of the aphoristic sutra form, the imaginative interpreter can be led to speculate on what a text might mean, or should mean, or is even meant to mean. Whatever the value of these third-hand efforts, it cannot be denied that, at the least, they evince some mysterious power of attraction inherent in the original text.
Vivekananda gave Patanjali's work the gold seal when he called it 'the highest authority and text book on raja yoga, the 'King of Yogas', by which he meant meditation rather than postures. Curiously, though, even he succumbed to the temptation to elaborate on the original, producing what he admitted was 'a rather free translation of the aphorisms (sutras) of Patanjali, with a running commentary'.
More recent authorities, including those focused solely on body-work, have agreed with the Swami's estimation. Tirumalai Krishnamacharya, probably the most important single influence on modern postural practice, was equally enthusiastic when he wrote: 'If it is not in the Yoga Sutra, it's not yoga.' The distinguished American academic Wendy Doniger, who generally delights in running counter to accepted opinion, concurs, stating that Patanjali's work 'is essential to anyone's understanding … of the practice of yoga.'
Similar support comes from more surprising sources. One such is Godfrey Devereux, a prolific author and yoga-innovator who describes his brand of Dynamic Yoga (an offshoot of the Vinayasa 'flow' method) as 'a fluid, lively form of movement that is much less static than traditional yoga and which is as effective a cardiovascular workout as a conventional exercise-to-music class'. Despite the fact that, by his own admission, his workout system could hardly be further removed from what Patanjali recommends, Devereux also claims the text is indispensable, calling it 'the Bible of yoga'. So, from various angles—traditional, scholarly, innovative—the Yoga Sutra seems to be the one essential work, the vade mecum for those who would travel the path of yoga. No wonder then that so many training organisations place it top of their list of required reading for students.
But wait a minute. There is one sharply dissenting voice in all this comfortable agreement, and since it belongs to the author of the most detailed biography of the text, University of California scholar David Gordon White, we might do well to heed it. White emphatically dissents from the general conflation of Patanjali with modern practice, as the opening paragraph of his introduction makes very clear: 'the Yoga Sutra is as relevant to yoga as it is taught and practised today as understanding the workings of a combustion engine is to driving a car'.
In view of the depth in which White has researched the topic, his voice cannot just be ignored as a lone aberration. So, who is right here? Put another way, what exactly is the relationship of modern yoga practice to the most revered classical study of the subject?
Given their popularity, we might reasonably expect the sutras to be a catalogue of, or at least a seed-bed for, the multiple asanas taught in today's yoga classes. But the first thing that strikes anyone who reads his little masterpiece is that Patanjali devotes only three short verses out of a total of 196 to physical postures. It is worth reminding ourselves of this brief reference: 'The physical postures should be steady and comfortable. They are mastered when all effort is relaxed and the mind is absorbed in the infinite. Then we are no longer upset by the play of opposites.'
This sparse reference makes it quite clear that the criterion of mastery in asana lies not in athletic flexibility, nor in its benefits on health and wellbeing, but in the fact that it facilitates an effortless state of mental absorption. And this absorption is not simply a simple state of idle relaxation but the profound mental equilibrium of 'the infinite' that lies 'beyond the play of opposites'. (What a wealth of meaning is compacted into that last phrase: everything from hot and cold to heaven and hell!) To compound his point that the purpose of body-work is to refine the mind, Patanjali does not bother to mention a single asana by name, let alone explain any in detail. Instead, however, he does devote dozens of sutras to the various stages of meditative interiority and their effects. In a text which delights in exploring the nuances of a wholly psychological reality, the physicality of the body is barely touched upon. Patanjali's whole orientation bears out the historical lack of concern with postural work we have already encountered; it exemplifies the Upanishadic attitude that the body's prime utility is its role as the perch of the mind.
---
Also read: Trying to define Bhagavadgita through narrow silos is a sterile attempt, at best
---
At the very beginning of the text, Patanjali defines yoga as 'the settling of the thought-waves in the mind'. A couple of centuries later, his major commentator, the sage Vyasa, would reinforce this with an even more laconic definition: 'Yoga is the settled mind.' This prioritising of mind over body is usually explained by following Vivekananda's assertion that Patanjali and his school were exponents of raja yoga, the yoga of the mind, whereas today's postural practice is the direct heir of traditional hatha yoga, the yoga of the body. That things are by no means this simple we have already discussed in our introduction, but even if for the moment we accept this inaccurate definition, the fact that modern postural yoga continues to look back to Patanjali as its guiding light remains curious to say the least.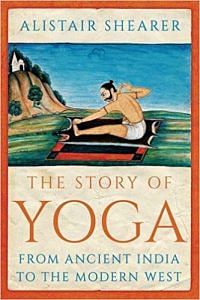 This excerpt from Alistair Shearer's The Story of Yoga: From Ancient India to the Modern West has been published with permission from Penguin Random House India. 
Subscribe to our channels on YouTube & Telegram
Why news media is in crisis & How you can fix it
India needs free, fair, non-hyphenated and questioning journalism even more as it faces multiple crises.
But the news media is in a crisis of its own. There have been brutal layoffs and pay-cuts. The best of journalism is shrinking, yielding to crude prime-time spectacle.
ThePrint has the finest young reporters, columnists and editors working for it. Sustaining journalism of this quality needs smart and thinking people like you to pay for it. Whether you live in India or overseas, you can do it here.