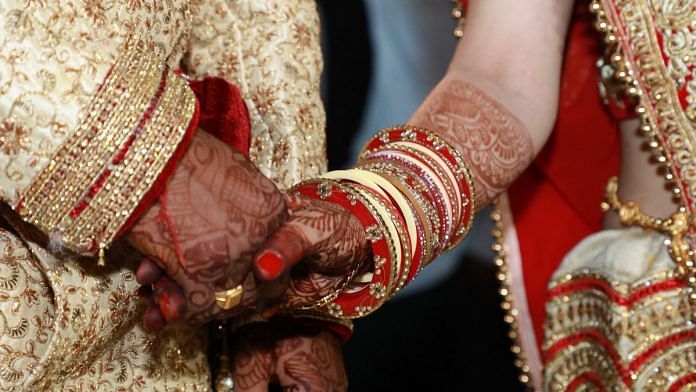 Text Size:
For the elite Rajputs the institution of marriage was necessary to produce warriors for future battles. As a result of this, women's reproductive role in medieval Rajasthan society—especially among the Rajputs—was extremely important. Also, when other considerations of marriage were completely subordinated to political motives, it did not really matter that the groom already had other wives. Polygamous marriages of most Rajput rulers and chiefs was one way of maintaining political network of sagas which could always be called upon in an emergency.
Among the aristocracy we find the practice of polygamy right from the ancient to the medieval period, although it may have existed in different periods for different reasons. Although the Vedic ideal of marriage favoured monogamy, in spite of this ideal we find the royal personages having more than one wife. In the post-Vedic era, polygamy was an exceptional practice, even though theoretically approved. The Dharamshastras were also in favour of monogamy and allowed a second wife only in such circumstances as a wife not being able to bear a child. Also, in the medieval period it was not just motherhood, but being the mother of a male child was valued more. A preference born out of circumstances became a prominent attitude which even persists today.
The preference for a male child is starkly brought out in the Rajwadi Geet when the woman wakes up her husband to tell him about her labour pains and the husband makes it clear that she must not have a girl child or else her bed will be placed near the garbage and he would not bestow any appreciation on her, but if she has a male child he will take special care of her and shower praise on her.
---
Also read: A bride for Rs 40,000 is the ugly reality of Haryana BJP minister's Kashmiri girls remark
---
The Pavarhe reveals several facets of polygamy. When Jhawar was expelling his pregnant wife and she pleaded that she be allowed to stay as his dasi (maid servant), he claimed that he already had several Ranis. Before marrying Jaimati, the Rana already had eight wives. The wife of Sawai Bhoj, Sadhu, pleads with him to not abduct Jaimati and gives him the incentive that she would get him married elsewhere. In Nihalde Sultan, it is mentioned that Phool Kumar had 17 Ranis and Galaleng had three wives. The Partihara ruler Mahendra Pal (AD 892–910) had two wives, but by the time of Prithiviraj III (AD 1177–1192), we find him having several wives. It is said that Rawal Bapa married 140 women altogether. This may have been an exaggeration but portrays a picture of unlimited number of wives that elite Rajputs could possess.
Genealogies of the period reveal how the custom functioned as an index of a rulers' status. Thus, the seventeenth-century Sisod Vansavali exalts the status of Bapa Raval, now appropriated as the founder of the Sisodia lineage, by narrating how the rulers of Kanauj, Ujjain, Gujarat, Marwar, Sambhar, and Delhi were defeated by Bapa in battle, accepted his overlordship (page laga), and wedded their daughters to him. Chuda who was the ruler of Mandovar and had also occupied other territories, had 10 Ranis and 14 sons. Rao Maldeo is mentioned as having 16 Ranis. Raja Udai Singh of Marwar had 27 wives and had numerous progeny, no less than 52 sons and daughters. Despite having 27 wives, it did not stop him from coveting the daughter of a Brahmin, which resulted in the Brahmin killing his daughter in order to save himself from being defi led. Hence, we see a vast variation in the rules prescribed in the 'Hindu' Law books, regarding second marriage and what was actually in practice among the elite Rajputs. Whereas in the former a second marriage was forbidden, if the first wife was endowed with progeny and completed the performance of sacrifices, but it was completely ignored by the Rajput aristocracy. Rawal Jagmal of Mehwa, had a Chauhan wife with three sons from her, therefore theoretically the very purpose of marriage was complete, namely, the continuation of the line by the male successor. Yet, Jagmal married a Gehlot princess. This annoyed the Chauhan wife and as a mark of protest she went to Baharmer, her father's place, with her three sons never to return despite attempts to cajole her back.
But this kind of protest by a wife against the husband's polygamous marriage was more of an exception rather than a rule given the kind of social set up and the notions involved in forming alliances, most wives not only accepted the existence of co-wives, but also the existence of several concubines. Although we do have another example of Umade Bhatiani (daughter of Rawal Loonkaran of Jaisalmer) refusing to go to her husband's house because she could not tolerate the fact that he was besotted by her maid, Bharmali.
It is clear that in this political order, marriage was an institution integral to the maintenance and consolidation of state power. The polygamous family was the means by which military and political alliances were forged within an internally competitive ruling elite. Marriage relations were part of a system of gaining land, influence, power, honour, status, and alliances. Thus, it is to be expected that the evolving patterns of such matrimonial alliances reflected the changing status of the Rajput clans within the medieval political hierarchy. When the Rathores of Marwar rose to prominence in the mid-fifteenth century, marriage alliances with them were keenly sought after. Similarly, with the entry of clans like the Shekhawat and Baghela into the mansabdari system of the Mughals, their increased prestige was reflected in the matrimonial arena as well.
---
Also read: Inter-caste marriage isn't the problem, marrying a Dalit man is
---
The existence of the practice of polygamy was also linked to the notion of honour among the Rajputs. It was considered a dishonour for the girls' side to refuse the coconut of proposal. When a coconut was sent, it was to be accepted gracefully. We have already seen how, when the Maharaja of Jaipur, Madho Singh, refused the coconut sent by Maharaja of Boondi, Ummed Singh, it led to heightened tension between the two families. Earlier, we have already given an example of how when the proposal for marriage was rejected on the grounds of her appearance, the lady felt so humiliated that she later instigated her son to avenge the insult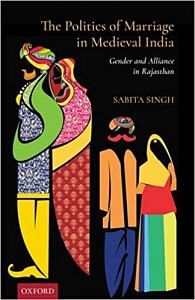 This book excerpt from The Politics of Marriage in Medieval India: Gender and Alliance in Rajasthan by Sabita Singh has been published with permission from the Oxford University Press.
Subscribe to our channels on YouTube & Telegram
Why news media is in crisis & How you can fix it
India needs free, fair, non-hyphenated and questioning journalism even more as it faces multiple crises.
But the news media is in a crisis of its own. There have been brutal layoffs and pay-cuts. The best of journalism is shrinking, yielding to crude prime-time spectacle.
ThePrint has the finest young reporters, columnists and editors working for it. Sustaining journalism of this quality needs smart and thinking people like you to pay for it. Whether you live in India or overseas, you can do it here.