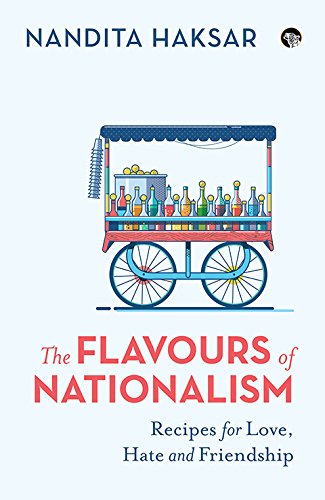 Text Size:
What starts out as a personal recount becomes a sharp & honest commentary on India's culture.
From understanding Indian culture to debating nationalism and questions around identity, Nandita Haksar does it all in 'The Flavours of Nationalism: Recipes for Love, Hate and Friendship'.
The book dwells on a host of issues, from the diversity in Indian culture, the space or lack of it for women in our society to contemporary politics and the impact of globalisation on the marginalised classes. It does it all by binding everything together through food.
Throughout the book, Haksar gradually describes the emotional impact that food has had on her and her upbringing, which consisted of her getting familiar with unknown cultures and building unlikely relations all through the medium of food.
Having been brought up by a father always on diplomatic duty, Haksar's journey constantly takes the reader on a road trip across India and the world.
From trying the jalebis in Chandni Chowk to enjoying the delicate Nimish in Lucknow to cherishing the Hilsa from Bangladesh and to learning to cook chicken liver chutney in Nagaland, Haksar writes about how food has become such a diverse, yet uniting factor across communities.
A Goan takes pride in his fish curry as much as a Bengali cherishes his staple maach bhaat. Similarly, a Naga takes equal pride in eating silkworms and peacocks, she writes.
She also addresses the ugly side of food politics. In a country where eating beef has resulted in people getting lynched today, Haksar raises the question of how tolerant can we be towards our own minority and tribal communities. We assert that all of them are Indians but can we accept them for what they are and have been for decades without imposing our food and culture on them?
"If we can at least sit together with dignity and a sense of equality and eat at the same table or on the floor – not only the food each one of us relishes but also to learn to enjoy the sheer diversity of cultures and cuisines – we could also make fun of each other, and in the process perhaps even get rid of our prejudices.."
Haksar doesn't hold back from pointing out the communally charged politics that has taken over food in India today. Not only is Haksar unapologetically bold in her writings, the stories of her various characters drive home the vast bridge that exists between those living in the corridors of power and those bearing the wrath of the sheer misuse of this power.
Further talking about the casual sexism and oppression women face in their everyday lives, Haksar broadens the scope of her book. She tells her readers about how across different communities and cultures, women everywhere face somewhat the same problems — lack of recognition, dignity, stature and say in society.
The book doesn't refrain from striking the sensibilities of the readers with the stories from Indian streets and homes contrasting against the glamour the elites of our country live in.
What starts out as a personal recount becomes a sharp and honest commentary on India's culture, politics and socio-economic demographic.
Get the PrintEssential to make sense of the day's key developments