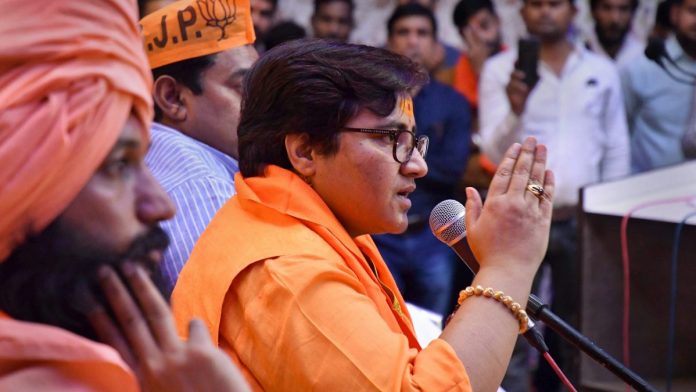 Text Size:
If Bhopal has become one of the most-keenly followed Lok Sabha constituencies in this election, it's solely because Sadhvi Pragya Singh Thakur, who is facing trial in the 2008 Malegaon blast case, is fighting from the seat.
Pitted against her is former chief minister of Madhya Pradesh and Congress veteran leader Digvijaya Singh. But it is not just any Thakur vs Thakur battle in Bhopal.
In a deeply polarising campaign, Pragya Thakur's candidature has ensured that half the battle is already won for the BJP, not just in Bhopal but across India.
In choosing to name Pragya Singh Thakur from Bhopal, the BJP, in its party chief Amit Shah's words, has ensured that "the mastermind of the conspiracy to raise the bogey of Hindu terror" is punished.
---
Also read: Sadhvi Pragya's nomination is no advertisement for Hindutva, whatever you may think of it
---
For the BJP, which has been raising the ante against the Congress for "linking peace-loving Hindus to terrorism" especially after Aseemanand's acquittal in the Samjhauta blast case, Pragya Singh Thakur is the perfect candidate to take on Digvijaya Singh. The party believes that Singh has been one of the most shrill voices in "propagating dubious and mischievous idea of Hindu terror".
Immediately after joining the BJP Wednesday, Pragya Thakur said that she was keen to contest from Bhopal and was confident of her victory. As her candidature was announced the same day, she launched an offensive against Digvijaya Singh, accusing him of defaming "Sanatan Dharma".
Courting controversy, she said Friday that former Mumbai ATS chief Hemant Karkare died because she had "cursed him". Karkare, who died in the line of duty during the 26/11 terror attacks, was part of the team that had investigated the Malegaon blast case. She later apologised for her remarks.
But with Pragya Singh Thakur contesting the elections, 'Hindu terror' is now one of the key poll planks for the BJP.
---
Also read: Sadhvi Pragya's Karkare rant 'embarrasses' BJP, which sees her as a 'double-edged sword'
---
After the spectacular victory of the BJP in Uttar Pradesh and the appointment of Yogi Adityanath as the chief minister, the party believed that it had sent a strong enough signal to its Hindu support base and there wouldn't be a need to field a saffron-clad candidate in the immediate future.
But then the Congress started projecting a soft Hindutva image and its leader, Rahul Gandhi, declared that he was a Shiv-bhakt. His party said he was a janeu-dhari Brahmin as he went temple hopping. But the Congress has never been able to shake off the discomfiture of its association with the 'Hindu terror' issue.
And with Sadhvi Pragya Singh Thakur's nomination, the BJP has put the Congress on the backfoot by going for a no-holds-barred campaign against 'Hindu terror'. The issue will haunt the Congress, especially in those constituencies where its leaders have been directly linked with making 'Hindu/saffron terror' remarks.
As the election pitch queers, all eyes will now be on Bhopal. Digvijaya Singh, who had decided to stay away from active electoral politics for 10 years after losing to Uma Bharti-led BJP in Madhya Pradesh in 2003, is once again facing a do-or-die battle.
---
Also read: Rubbing salt on our wounds: Malegaon residents on Sadhvi Pragya fighting election
---
Just a fortnight back, Uma Bharti had said that she would campaign against Digvijaya Singh in Bhopal. And now, he is up against another saffron-clad challenger – Pragya Singh Thakur.
The author is the former editor of 'Organiser'. Views are personal.
Get the PrintEssential to make sense of the day's key developments