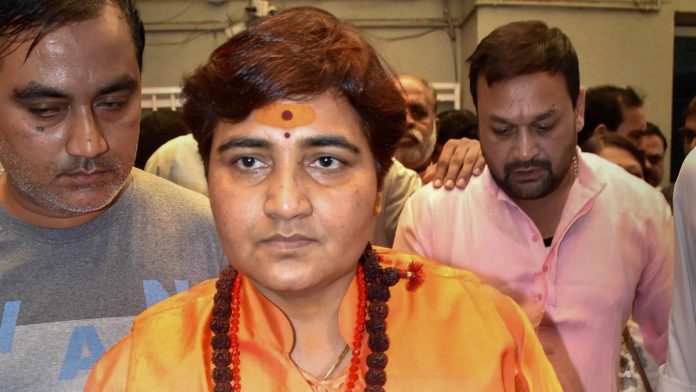 Text Size:
Another assault on the people of Malegaon – this is how a shopkeeper in Malegaon reacted to the news of the BJP fielding Sadhvi Pragya Singh Thakur from Bhopal against Congress' Digvijaya Singh in this Lok Sabha election.
It's like rubbing salt on our wounds, another Malegaon resident said.
For the people in Malegaon, the announcement of Pragya Thakur's candidature has brought back the ghastly memories of 29 September 2008, when the city was rocked by a bomb blast. Thakur is facing trial in the case.
Blast & the aftermath
On the night of the blast, it was about 9.40 pm and people were about to finish Salaat-ut-Taraweeh – special night prayers offered during the month of Ramadan – when they heard a loud sound of explosion. At first, they thought it could be a cylinder blast accident. But it soon emerged that it was a bomb blast.
---
Also read: What trial court judge said about Sadhvi Pragya while charging her in Malegaon blast case
---
The blast spot was just metres away from the Ladies Fashion Market at Anjuman Chowk where a huge crowd of women and children were busy shopping for Eid al Fitr. There was chaos near Bhikku Chowk – the site of the blast. People carried the bleeding victims, more than a hundred, to hospitals using whatever means they could find.
The blast claimed six lives. One of them was 5-year-old Farheen Shaikh who was out to buy some snacks and was on her way back home to have Ramadan dinner with her grandmother.
Among the injured was Abdullah Jamaluddin Ansari of Shakeel Transport. The 75-year-old man, during initial investigation, had said he had noticed the LML Freedom motorcycle, which was later traced to Sadhvi Pragya Singh Thakur and led to her arrest, parked in front of his office since afternoon that day. He had also informed the police chowki, a stone's throw away from the blast site, but claimed that no action was taken.
Javed Ansari, owner of a photocopier shop, was also injured in the Malegaon blast. It took him over three years to recover and resume work.
But for these blast victims, life has never been the same since that September night.
While Javed Ansari and the family of Farheen Shaikh left the locality after the blast, Shakeel Transport's Abdullah Ansari died last year. Following the blast, Ansari often looked at the wall clock in his shop, which had stopped working at 9.37 pm – the time of the blast – and waited for justice.
One doesn't know how he would have reacted to the news of Sadhvi Pragya Singh Thakur joining the Bharatiya Janata Party (BJP) and contesting the Lok Sabha election.
---
Also read: Lt Col Shrikant Purohit's bail exposes gaps in Malegaon blast case investigations
---
Not shocking, but painful
By fielding Sadhvi Pragya, the Bharatiya Janata Party (BJP) wants people to believe that she and other accused arrested in various blast cases were 'framed in fabricated cases' and that 'saffron terror' is a myth.
But while doing so the, BJP has undermined the fact that Sadhvi Pragya Singh Thakur still remains a key accused in the 2008 Malegaon blast case. As per court papers, the first evidence that led to her arrest was the LML Freedom motorcycle that was registered in her name and was used to plant the bomb. There are also some audio tapes and visuals too. Based on these evidences, the Bombay trial court judge had observed that there was enough ground to establish Sadhvi Pragya Singh Thakur's role in the blast.
Ironically, while nominating Sadhvi Pragya Singh Thakur as the party candidate, the BJP did not think about the kind of message this would send to all the world leaders with whom Narendra Modi has often taken up the issue of terrorism.
The people of Malegaon, who had been hearing about the pressure on some officers and public prosecutor Rohini Salian 'to go soft' in the case, have almost lost all hope of getting justice. Wife of Mumbai ATS chief Hemant Karkare – the officer who initially investigated the case – had turned down then-Gujarat chief minister Narendra Modi's monetary compensation after 26/11 attacks.
---
Also read: BJP has exposed its scant respect for voters by fielding Sadhvi Pragya
---
Therefore, the BJP's decision to field Sadhvi Pragya Singh Thakur in this election is neither shocking nor surprising for most people in Malegaon. But it is painful, especially for the blast victims and their families.
The author is editor of ummid.com, and resident of Malegaon. Views are personal.
Get the PrintEssential to make sense of the day's key developments