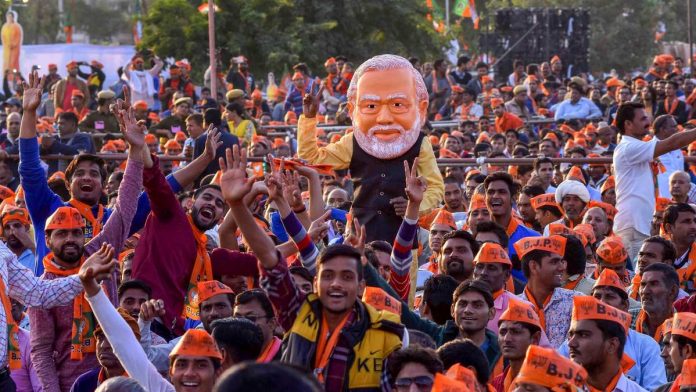 Text Size:
Yes, Rahul Gandhi's temple visits are helping.
Polarisation is the "division into two sharply contrasting groups or sets of opinions or belief." For polarisation to take place, it needs two to tango. The Bharatiya Janata Party (BJP) lost three states on 11 December despite raking up Hindutva issues such as Ram Temple, alleged illegal migrants in Assam, a leaked Kamal Nath video speaking to Muslim voters, and so on.
There are three reasons why Hindutva is no longer achieving electoral polarisation.
Takes two to tango
The BJP's efforts to win elections through Hindutva polarisation are not working because there's only one side — the BJP. The other side — Muslims and 'secular' parties — have learnt the trick. Just don't respond to Hindutva provocations and polarisation won't succeed.
Since the Gujarat assembly elections last year, then Karnataka, various by-polls, and now the heartland states of Rajasthan, Madhya Pradesh and Chhattisgarh — Hindutva is not delivering results. The primary reason for this is that Muslims and opposition parties have learnt, at long last, how to not fall in the trap.
Quick, name one prominent opposition leader who recently said Ram Temple should not be built? Exactly.
For polarisation to succeed, the BJP needs to be able to tell Hindu voters, "Look at how bad the Muslims are! They're coming to get you! They're invading your country!" For Hindu voters to believe this, there has to be some evidence in the form of public statements and actions by Muslims. Ditto for opposition parties. A lot of fake news tries to do this, but such fake news seems to amuse only the Hindutva voter with confirmation bias.
Indian Muslims these days express their political views more through mushairas and internal WhatsApp conversations, than in the broader 'mainstream' public sphere. When this writer wrote of the need for Muslims to stand up and speak out, many wrote back saying "no, Muslims shouldn't speak, this strategic silence is best."
As the Rashtriya Swayamsevak Sangh (RSS) and its affiliated organisations raked up the issue of Ram Temple in the run up to elections in five states, a major agitation was launched in Ayodhya and Delhi.
Barely a hundred people turned up for the first of a series of events in Delhi, in which the RSS said lakhs were expected. More crowds showed up in subsequent events, but the issue hasn't been able to capture public imagination at all, as indeed expected.
In Lucknow, the standard dial-a-quote Muslim figures refused to give 'bites' to TV cameras. And when was the last time you heard of Azam Khan?
According to The Telegraph, quoting an RSS official in Ayodhya, RSS chief Mohan Bhagwat has cancelled all the programmes of the pracharaks (whole-timers) and asked them to "talk about the Ram temple and nothing else till the Lok Sabha elections."
---
Also read: What we're seeing under Narendra Modi is Hindutva 2.0
---
Rahul Gandhi's temple run
To win through polarisation, the BJP needs to convince voters that its opponent Congress is pro-Muslim, anti-Hindu. Congress president Rahul Gandhi has countered this perception-making of the BJP by regularly visiting temples in election-bound states.
How do you paint someone who goes to temples as anti-Hindu?
Gandhi's temple run is erroneously described as "soft Hindutva". It is not. If doing darshan at a temple is soft Hindutva, is performing namaz at a mosque soft Islamism? The better way to describe Gandhi's temple run is 'Soft Secularism'. Temple-going as a public act is blunting the hard edge of Nehruvian secularism, thus making a "secular Congress" acceptable to religious Hindus.
Incidentally, many Muslims like it too when Gandhi goes to temples. They appreciate religious people over atheists. Temple going does not amount to anti-Muslim rhetoric and positions — which is what would amount to "soft Hindutva".
---
Also read: Development with shrill Hindutva & Congress bashing marked BJP's state poll campaigns
---
Large-scale riots are not an option
How will you not take sides when people start getting killed? And once you do, there's polarisation. People realise that Hindutva forces take to violence because blood on the streets is hard to ignore. But Muslims and opposition parties have learnt not to over-react, since that serves the Hindutva purpose of polarisation.
For violence to polarise, it will need to take place at a large scale. But the BJP cannot afford it. With Modi having changed his image from Gujarat 2002 to "vikas", going back to violence will undermine his credibility with the floating non-Hindutva voter. It will also hurt his international image, and he cares about it.
The Bajrang Dal protest in Bulandshahr in west Uttar Pradesh over an alleged incident of cow slaughter left two dead, including a police inspector. It's the sort of incident that could have blown up into a big riot lasting several days, the body count adding up. But BJP governments in state and Centre — not even with a Yogi Adityanath as chief minister — have ensured that localised incidents do not blow up.
---
Also read: To see Modi-Shah ousted, liberals have forgiven some of the original Hindutva-wadis
---
Separate fact from fiction, the real from the fake going viral on social media, on HoaXposed .