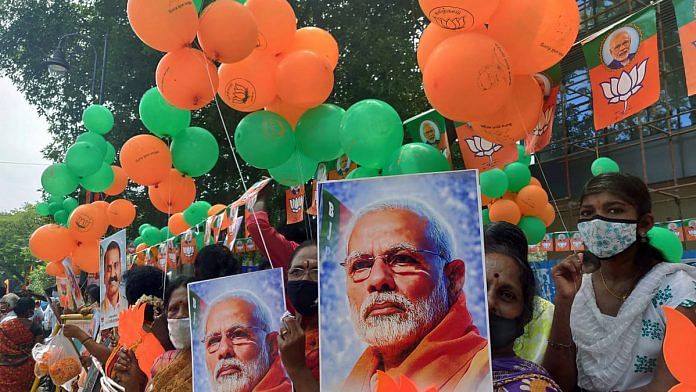 Text Size:
Will the Narendra Modi government's three farm bills help or hurt the Indian farmer? Will they disrupt the minimum support price mechanism or merely create a parallel mechanism? You might be reading commentaries by agricultural economists to make up your mind.
On a WhatsApp group named 'Shri Ram Raj', one Deepak Kumar has a persuasive explanation for these new laws. It is a demonetisation déjà vu. Kumar's message says that people opposing these farm bills are just defending and protecting middlemen ("bicholiye"). Those spreading rumours that the minimum support price or MSP system will shut down are worried about "bicholiyon ki dalali", it continues. "If farmers can get a higher price than the MSP rate, then he would be free to choose the higher rate. He can also sell it outside his district or even his state." Don't get misled, Kumar warns people, asking them to follow an Instagram account named '@sangathit_hindu', which literally means 'organised Hindu'.
That's a persuasive spiel in favour of the new farm laws but Deepak Kumar must also tell us who are the real enemies of the agrarian economy. He does so in another message.
This message warns group members of different kinds of jihad. "Here's how jihadis take away your business and you think Hindus can't do business," it says. "A certain community has occupied the sabzi Mandi (vegetable market) in Phulpur, just like Kashmir." The long message has an elaborate conspiracy theory about how Hindus are being edged out from the vegetable market. The "only solution" is "complete boycott".
If this message was on Twitter, there would be a lot of hue and cry about it. People would report it to Twitter to take it down. But on closed WhatsApp groups, there is nobody to object and take note. Encryption — a double-edged sword needed for privacy — gives further privacy to hate speech.
A third message by him goes into a detailed conspiracy theory about how Manmohan Singh and Amartya Sen together allegedly carried out a big scam at Nalanda University. The opposition has to be painted as evil and corrupt so that Prime Minister Modi can look like the only option people have.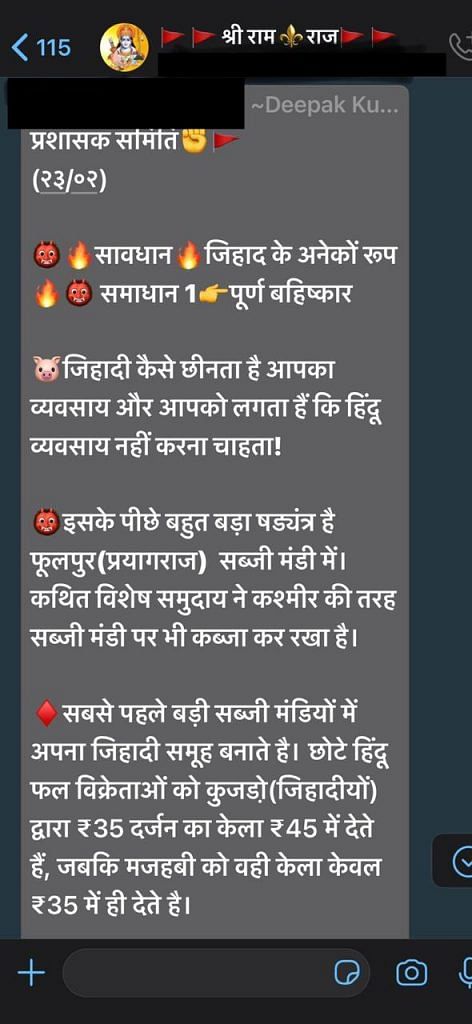 ---
Also read: No rallies or roadshows, Bihar digital election is on WhatsApp, Facebook — BJP's home turf
---
Below the radar
A lot of us wonder why Narendra Modi remains so utterly popular despite having failed to end the Covid pandemic in the 21 days of lockdown that he promised in March, or why people still have faith in him despite the economy going from bad to worse, quarter after quarter. There are many answers to this mystery, and political commentators like me attempt to understand the Indian voter's complex mind from time to time.
One reason why we are mystified by the support Modi enjoys is below-the-radar messaging. We analyse the Modi government and the BJP's electoral prospects based on the information we have: what TV news is saying, what BJP supporters on Twitter say, what Modi says in his speeches, the laws the Modi government enacts, the ceaseless stream of vindictive legal action against even the most irrelevant dissenters, and so on.
To understand public opinion in India, it is important for us to also be constantly updated about the below-the-radar messaging of the BJP. In the media and in open platforms such as Twitter, there is still some semblance of what the other side has to say. Even a Times Now might tell you what the Congress party said in its press conference today. But below-the-radar messaging is its own universe. The impact of this universe on the voter's mind is probably much greater than that of the formal media, which has little credibility these days.
We don't know what we don't know about the BJP's direct messaging into people's phones or even their doorstep. There are at least three different ways of this messaging that we know exist but there is little reporting about what message is being sent out on a particular issue, on a particular day.
---
Also read: Facebook didn't act when BJP violated political ad rules, WSJ now alleges
---
The WhatsApp group reporter: First, there is the closed universe of WhatsApp groups. Since these are closed groups, you can't just log into a website and see who's saying what. But one can get into a few groups — the links keep flying, 'please join my group' — and anyone can join them. If we are to understand the BJP's messaging and how it is shaping public opinion, someone needs to keep track of such groups on a regular basis and report the narrative they are putting forth. This should be a whole beat in the political bureaus of newsrooms.
The open platform reporter: It is not just WhatsApp. On Facebook, Instagram and other such open, searchable platforms, the BJP's messaging takes place on a giant scale. For example, some of the top political advertisers on Facebook in India are pro-BJP pages such as 'Bharat Ke Mann Ki Baat', 'My First Vote for Modi', 'Nation With NaMo', 'Phir Ek Baar Imaandar Sarkar', 'The True Picture' and so on. What do these pages say to their audience?
The huge amounts of ad dollars spent on advertising these pages mean they are being targeted to specific kinds of voters. To understand Indian politics today, it is important to know on a regular basis what these pages are doing, what they are saying. What they say may be far more important than what BJP President J.P. Nadda has to say in his public remarks.
Knock on the door: The BJP's below-the-radar messaging is not limited to social media. The party claims to have 18 crore workers. Even if that is an exaggeration, it is safe to say that the BJP has a lot of workers. Visiting a polling booth in Uttar Pradesh's Phulpur regularly every election, I have seen the BJP's strength in the village swell up every election. The BJP workers there don't have time to breathe. They are given one task after another by the party, which is mostly to do with door-to-door campaigning.
When I met them last year, they were busy going door to door and making people sign a letter that said they supported the Citizenship (Amendment) Act because they wanted Pakistani Hindu refugees to be given Indian citizenship. Before the 2019 Lok Sabha election, the BJP workers had been asked to light diyas outside homes of beneficiaries of all Modi government schemes such as free LPG cylinders.
Why do people have unshakeable faith in Modi? Part of the answer lies in the conversations the BJP's field army is having with voters on a regular basis. And we don't get any sense of this conversation. That's why we are taken by surprise.
---
Also read: 9,500 IT cell heads, 72,000 WhatsApp groups — how BJP is preparing for Bihar poll battle
---
Micro-targeting? As the Cambridge Analytica scandal in the United States told us, micro-targeting on social media can help political parties reach out to every voter according to the voter's own personal choices and interests. Some of this is possible through formal Facebook advertising. If someone likes Sourav Ganguly, a pro-BJP Facebook page can target them with fake news about Ganguly being the BJP's chief ministerial candidate in West Bengal.
The more data points you have about a user, more effectively you can micro-target them. Remember we don't have any data privacy laws in India. Caste data, Aadhaar data, income tax data, internet behaviour data, and what kind of phone you have — all kinds of data can be crunched by artificial intelligence to make a profile of a singular voter. Are any political parties in India micro-targeting individual voters based on personal data? We don't know. But if they are, we won't be surprised.
The author is contributing editor, ThePrint. Views are personal.
Subscribe to our channels on YouTube & Telegram
Why news media is in crisis & How you can fix it
India needs free, fair, non-hyphenated and questioning journalism even more as it faces multiple crises.
But the news media is in a crisis of its own. There have been brutal layoffs and pay-cuts. The best of journalism is shrinking, yielding to crude prime-time spectacle.
ThePrint has the finest young reporters, columnists and editors working for it. Sustaining journalism of this quality needs smart and thinking people like you to pay for it. Whether you live in India or overseas, you can do it here.