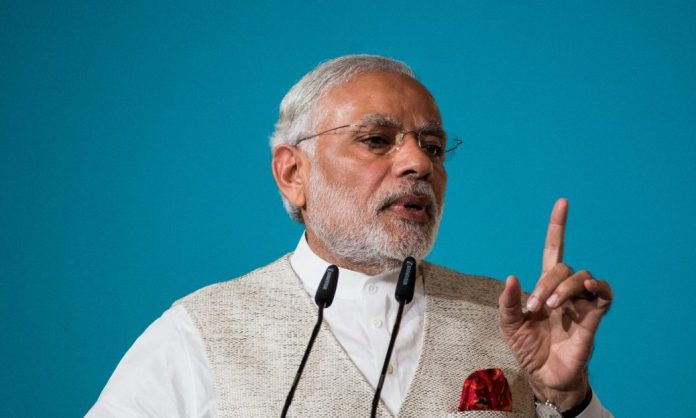 Text Size:
GDP back series data shows Modi government's disdain for institutions and its penchant to put party over national interest.
The Niti Aayog has released the back series of GDP using the new methodology adopted by the Central Statistical Office (CSO) in 2015. The revised data is so transparently nonsensical that it has already attracted accusations of data manipulation by independent experts. In seeking to gloss over its breathtaking failure on economic management, Prime Minister Narendra Modi's government is damaging the hard-earned credibility of India's economic data.
It is sad to say but India is in danger of joining the ranks of data manipulators. This will have far-reaching consequences. Investors, both international and domestic, will be extremely wary of investing when such policy uncertainty prevails. More importantly, evidence-based policymaking will take a hit because we will have to depend on unreliable data. This issue is of vital national interest and must not be made subservient to the whims and fancies of political parties.
For context, let us establish some facts from 2015. The Central Statistical Office (CSO) revised the base year for calculating Gross Domestic Product (GDP) from 2004-05 to 2011-12. This is a routine change. The CSO also revised the methodology for calculating the country's GDP. The new methodology was unobjectionable because it was in line with international standards. At that time, the CSO revised growth estimates from 2011-12 to 2014-15. India has followed the revised methodology ever since.
---
Also read: Demonetisation a massive draconian, monetary shock: Ex-CEA Arvind Subramanian
---
Despite promises, for over three years, the CSO failed to provide growth data for years prior to 2011-12. That would have allowed an apples-to-apples comparison of economic performance under the UPA and NDA governments. That was an unconscionable delay given that countries such as the United States and China routinely revise methodologies but almost simultaneously provide comparable historical data.
It is important to note that the new methodology incorporated more data on corporate activity while spending patterns of households and the informal economy were captured by more recent surveys. The results were surprising. For example, in 2013-14, GDP growth under the old methodology was 4.7 per cent. Under the new methodology, GDP growth shot up to 6.9 per cent (later revised down to 6.4 per cent).
Similarly, in 2014-15, growth was revised from a projected 5.5 per cent to 7.4 per cent. This propelled India past China in the global growth league tables. Raghuram Rajan, who was the RBI Governor at that time, and Arvind Subramanian, then-Chief Economic Adviser, were among many economists expressing reservations about the new data.
---
Also read: What's Modi govt 'hiding' is the question as GDP growth data under UPA is delayed again
---
In August this year, a draft report on the GDP back series was put in the public domain by a committee set up by the National Statistical Commission (NSC). This report indicated that under the new methodology, growth was higher under the UPA than the old methodology indicated. This created a firestorm with growth under UPA looking even better than it already was. The government removed this report from its website and said that more work was needed on the report.
Now, it appears that more work has indeed been done. The CSO-released data shows that growth under the UPA was lower than what was presented by the NSC committee as well as that under the old methodology. The Modi government now claims that there was no double-digit growth under the UPA.
Why is this data absurd? There are many reasons, but part of the answer was supplied by two devastating tweets by Latha Venkatesh, a business journalist. Venkatesh notes that if we were to believe the new numbers, India's GDP grew 6.7 per cent in 2006-2012 (down from 8.9 per cent in the old series) while growth was 7.3 per cent for 2014-18. However, loan growth averaged 20-30 per cent in 2006-12 and only 10 per cent in 2014-18. Corporate earnings per share grew an average 20-25 per cent in 2006-12 and a mere 4 per cent in 2014-18. This suggests that the formal economy indicators were far better during the UPA's tenure.
On the other hand, the Modi government's war on the informal economy through demonetisation and GST plus a slump in real estate and job growth plus farm distress and lower investments would all point to lower growth in 2014-18. Despite all evidence to the contrary, the Modi government has released laughable data. This led economist Mihir Sharma to tweet that "…the services sector contribution has been obviously and transparently manipulated to reduce growth prior to 2014".
---
Also read: GDP numbers have become phallic symbols for Congress & BJP
---
This is the latest example of the Modi government's disdain for our institutions and its penchant to put party interests over the national interest. I hope that the next government sets up an independent commission of experts to carefully examine the GDP back series to bring back credibility to India's economic data and restore trust in our policymaking. This is no small matter. I urge independent voices to speak up and hold the government's reckless actions to account. More broadly, I believe the felt experiences of citizens are more visceral and unlikely to be swayed by the government's desperate machinations.
The author, formerly with the World Bank, is a member of the Indian National Congress. His forthcoming book on the economy under the Modi government is being published by Penguin Random House India. Views expressed are personal. He tweets @salmansoz; mail him atworksalman@gmail.com
Get the PrintEssential to make sense of the day's key developments