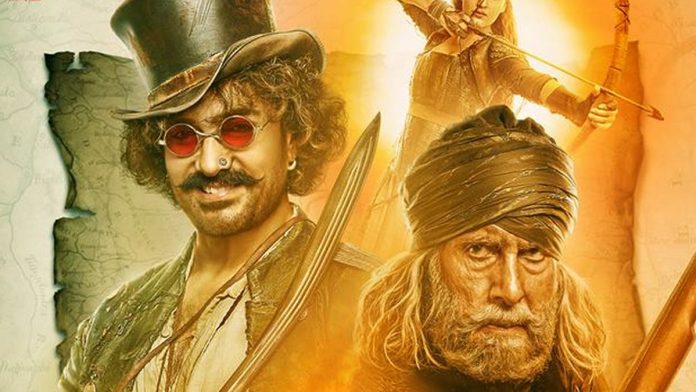 Text Size:
If only Aamir Khan and Amitabh Bachchan were as excited about being co-stars in Thugs of Hindostan as fans want them to be.
Since Aamir Khan likes to make films with a message or three, for one foolish moment I thought that Thugs of Hindostan was a film about gau rakshak vigilantes. Or about the Padmaavat protesters.
But obviously, it's no such thing because Amitabh Bachchan sir has not written an open letter to his granddaughters about the nobility of freedom of expression and staying strong in times of lynching.
In fact, Aamir Khan has gone on record saying that this is not one of those socially relevant films at all. This is pure paisa vasool, big-budget entertainment with a little swadeshi touch. The thugs are not doing thuggery against anti-nationals who consume contraband meat and raise slogans at JNU and refuse to shout Bharat Mata ki Jai. They are patriotic bandits looting English ships during the British Raj. So, basically, this seems to be about a plucky ragtag band of Indian misfits taking on the mighty Raj. Hmm, have we not seen this before? Just with cricket balls.
---
Also read: Stop bothering Amitabh Bachchan with questions on rape & assault. He is a busy old man
---
But, the real reason everyone is excited about Thugs of Hindostan is that it brings together the two great titans of Indian cinema for the first time.
Amitabh Bachchan plays the freedom-loving head thuggee imaginatively named Khudabaksh Azaad. Imagine Dumbledore with more eyeliner.
Aamir Khan plays the amoral easily-bribed junior thug Firangi Not-Inspired-by-Jack-Sparrow Mallah sent to infiltrate them. But he promises to make you forget Jack Sparrow by the end of it all, which could mean acting so over the top it boggles the mind.
Oh, the film also has Katrina Kaif as Sensuous Suraiya who shakes her hips and seems to be used as a human shield by Firangi Mallah and has a Penelope Cruz-esque love-hate, light-BDSM relationship with Flamboyant Firangi. There's Fatima Sana Shaikh who looks very grimly focused all through the trailer, but so would you be if you were Fiery Zafira shooting flaming arrows. Lloyd Owen plays standard issue Wicked Whitey, but no one cares too much about that because for once it's not about the white guy even if he's acted as Indiana Jones' father. It's really about the Grand Old Man of Indian Cinema coming together with Method Actor Man. That is what is supposed to set the box-office on fire this Diwali. This is such an anticipated encounter there's even a little PR movielet about it – The Two Legends.
We periodically get excited about this in some sort of national Oedipal surge. Once Amitabh Bachchan was the Angry Young Man pitted against the Living Legend Dilip Kumar in Shakti.  Before that Dilip Kumar was the Young Turk/Mughal against Prithviraj Kapoor in what Ramesh Sippy called a "histrionic jugalbandi" in Mughal-e-Azam. One day Aamir Khan might be the Angry Old Khan against Tiger Shroff or Taimur even.
Alas, if they could only sound a bit more excited about it all while talking about how historic it all is. You would not think there's a 300 crore film at stake here. We see Aamir Khan in an "All Hail the Lord of CATAN" t-shirt sitting cross-legged on a couch rehearsing his lines with Amitabh Bachchan in a video.
---
Also read: Waiting for 'bolder than before' Karan Johar to shed his sexless personality
---
When asked about it Aamir says "I've been such a big fan of Mr Bachchan all through my life." Now, who in Bollywood would dare to say otherwise?
At one point he turns to the camera and says, "So, this the first shot of my life with Mr Bachchan. Most excited." But being a method actor, he underplays it. And what was the great takeaway? Sharp. Intelligent. Generous with his co-actors.
That's riveting and revealing. And Mr Bachchan also has a few things to share about Aamir Khan. "Aamir himself is a great human." And not only that.  "He's a brilliant artist. It's been a joy working with him."
Chalo that's a wrap.  After a selfie in front of adoring crowds. "Sir mujhe ek photo de dijiye."
We are clearly going to have to work a little harder to drum up enough excitement to sell a Rs 300-crore film that does not star Salman Khan.  Thankfully, there's always Karan Johar to the rescue.  When Aamir Khan showed up on his couch, he admitted frankly he was there only because he had to promote Thugs of Hindostan. Soumya Srivastava writes in Hindustan Times that "while he did say he found the show interesting, the same was not reflected in his wandering eyes and a bored expression."
The media gamely tries to whet our appetites with clickbait headlines like "Koffee with Karan 6. Aamir Khan reveals why he signed Thugs of Hindostan".
It turns out it's because he "loved (his) character". Now does that not just make you want to rush and book your tickets?
But at least Karan Johar being Karan Johar, he coaxes a few more Big B anecdotes from Aamir Khan than Two Legends could.
Aamir Khan revealed that when Bachchan calls, no matter where he is, he automatically stands up, even if he is in his own house. The first time Amitabh Bachchan called Aamir Khan during the shooting of Jo Jeeta Wohi Sikandar he almost dropped the phone and all he could say was "Yes sir" to anything Big B said.
It turns out it was Amitabh Bachchan who pushed Aamir Khan to get on Twitter. Aamir Khan just said "Yes, sir" and thus, social media history was made.
The problem is that we are prisoners in our own PR bubble. We are unable to come out from the tyranny of the platitudes even when something is happening that warrants it like an Aamir Khan being paired with an Amitabh Bachchan. We listen to them speak, but we learn nothing because everything they say is as real as the VFX special effects in the film.
---
Also read: Picture abhi patriarchy hai: Studying Bollywood's sexism disease
---
In the end, the great match-up will have to live and fall based on what we see on the screen just as it had for Prithviraj Kapoor and Dilip Kumar or Dilip Kumar and Amitabh Bachchan. No one will remember what they had to say about it.  Until then, here's the one bit of hard incontrovertible truth that Big B imparts to Aamir Khan at the end of Two Legends.
"Kar dena yaar… Hazaar crore kar de."
And for the most expensive Bollywood film ever made, those are words to live by indeed. In fact, lock kiya jaaye.
Separate fact from fiction, the real from the fake going viral on social media, on HoaXposed .