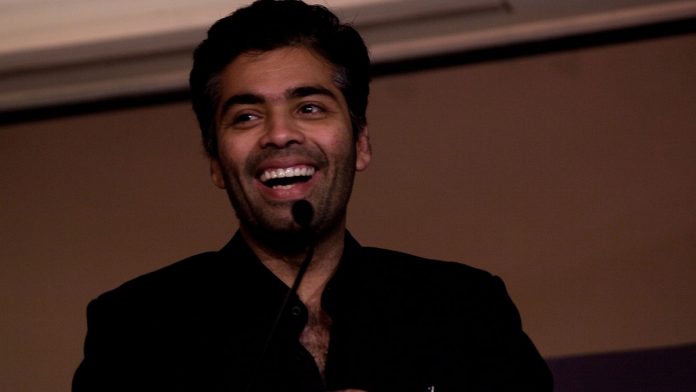 Text Size:
Between being BFF on Calling Karan and gossiping on Koffee with Karan, Karan Johar can only play it safe.
Karan Johar is getting "bolder than before". Or at least his radio show claims to be, in its second season.
"You have to be bolder than before, come on guys," exhorts Karan Johar in his new RJ avatar. "In Calling Karan Season 2, I am not playing it safe," he tells the media.
That's ironic because Karan Johar's USP has always been about playing it safe. He does not push the envelope as much as paint it in Dharma Productions technicolour and then nudge it. One could say that's his brilliance, the secret of his success. He is more "subversive than his critics admit" writes Aatish Taseer, saying his "popcorn, bubble gum and frivolity" is "only a way to conceal something tart and acid and provocative", something otherwise unpalatable to a largely conservative country.
Perhaps so. But in 2018, one feels rather sad to see Karan Johar still doing the dance of the seven veils when it comes to his own life. The country around him is moving on. Even corporations are looking for the pot of gold at the end of the rainbow. Uber maps its route in rainbow colours after the 377 verdict. Swiggy serves up a rainbow burger. But Karan Johar's popcorn and chewing gum bubble has become a candy-coloured straitjacket.
---
Also read: Stop bothering Amitabh Bachchan with questions on rape & assault. He is a busy old man
---
He still has his Bollywood friends lounging on his Koffee with Karan Neverland, in its sixth season. They compare notes about common, if publicly unacknowledged, ex-lovers and create the illusion of letting us into their private boudoirs. So what do you love, hate and tolerate about Ranveer Singh, he asks Deepika Padukone. He teases his guests on Koffee with Karan, egging them on but to what end, no one knows anymore.
The problem is that in our Bollywood make-believe world, we cynically assume nothing is genuine. Everything is dismissed as PR-nautanki – from Amitabh Bachchan's open letter to his granddaughters to the #MeToo fight between Rakhi Sawant and Tanushree Dutta. Meanwhile, Karan Johar is still playing the will-he, won't-he trapeze act except the audience does not really care that much anymore. Once he promised to lead us into the andar mahal of Bollywood, uncensored and uncut. Now we realise the Pied Piper is very much part of the act. This is #fakecandid at its glossy best, "spilling the beans while having a hot cuppa" but no one's dress, except perhaps Kangana Ranaut's, ever gets an indelible Koffee stain.
Calling Karan Season 2 is different from Koffee with Karan. Actually, he makes for quite an empathetic agony aunt. He listens. He tries not to judge or be glib. He is the un-SuhelSeth, earnest and heartfelt. "If you are a gay man, there is no need for you to feel ashamed. You should walk proudly," he tells a gay caller. He also feels the pain of the 20-something who lives with his family and has nowhere private to take his girlfriend to. He is refreshingly matter-of-fact about premarital sex, virginity, office sex. "I am not a love guru. I am just here to be your BFF," he says as he rescues us from our love dilemmas. His callers are grateful – "all your advices are wonderful. Everything is so magical and so soothing".
His celeb friends, like Alia Bhatt, remind us how witty he is, and how they always call him because he lends a listening ear. Now Calling Karan allows the rest of us, the ones without his number on speed dial, to do the same.
But it is still surreal listening to Karan Johar tell his callers "I think you need to be very honest to yourself and about yourself". Johar can be whatever he chooses to be, out, semi-out, all-but-out, last-man-not-out. That's entirely his choice.
---
Also read: Netflix's 'Lust Stories' shatter the Indian silence on sex
---
In his book An Unsuitable Boy, he wrote, "Karan Johar will not say the three words that possibly everybody knows about me." For that he was hailed by Twinkle Khanna as a "brave knight in shining Louboutins". Section 377 was still the law of the land. A high-powered celebrity like Karan Johar could have been the prime target for those who seek their moment in the spotlight by filing nuisance FIRs against the rich and famous. "If I need to spell it out, I won't only because I live in a country where I could be possibly jailed for saying this," wrote Johar.
When the Supreme Court passed that landmark judgment decriminalising gay sex, Karan Johar tweeted within minutes "the country gets its oxygen back". But sadly, there was still not enough oxygen for those three words that "possibly everybody knew about him".
I don't begrudge him that. The LGBT movement has its own heroes and crusaders and it is certainly not holding its breath for a knight, even one in shining Louboutins, to march in Mumbai Pride. But it's ironic that the man who tells his callers "you should totally put your cards on the table" still feels compelled to keep his own cards so close to his chest.
Karan Johar, in the end, turns out to be very much like the rest of us. Most of us just want to be liked, to not rock the boat or upset our mothers. Karan Johar has spent his life auditioning to be a BFF. Now, he is frozen in that scrubbed sexless persona. He has learned that he can protect himself by making himself the butt of jokes even if that punchline has worn thin. His hyperactivity on television and radio and reality shows somehow only serves, from my perspective, to starkly highlight some essential aloneness.
---
Also read: We need a break from Taimur Ali Khan
---
"Do the ishq baby" he croons as he teases us with "Karan's love bites". But as I listen to Karan Johar playing 3am friend on the radiowaves, all I can hear is that old song from Peter Sarstedt.
You live in a fancy apartment
Off the Boulevard St. Michel
Where you keep your Rolling Stones records
And a friend of Sacha Distel, yes you do
You go to the embassy parties
Where you talk in Russian and Greek
And the young men who move in your circles
They hang on every word you speak, yes they do
But where do you go to my lovely
When you're alone in your bed?
Tell me the thoughts that surround you
I want to look inside your head, yes I do.
When Karan Johar tells his caller "the truth will set you free", it does not make me cringe. Or angry. Or upset. Just sad.
The author is a social commentator and writer.
Check out My543, our comprehensive report card of all Lok Sabha MPs.