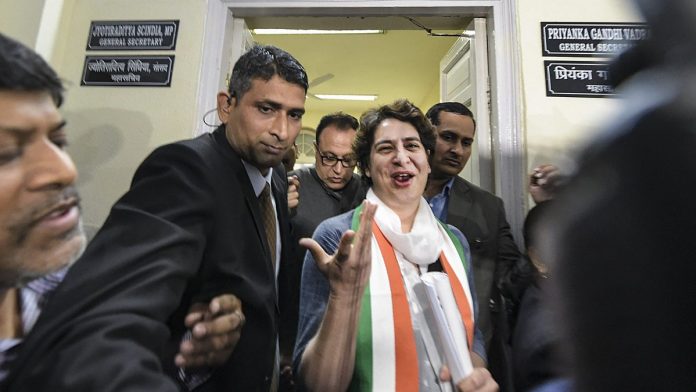 Text Size:
It was Wednesday afternoon when TV news zoomed in on Priyanka Gandhi Vadra, 'hand in hand' with her husband Robert Vadra (according to Republic TV) when he appeared before the Enforcement Directorate.
"Priyanka ka haath Vadra ke saath", wrote CNN News18, unable to resist the pun. '#Priyanka backs Vadra' wrote Times Now as if it was somehow wrong to support a spouse.
But it wasn't the headlines or the reports that matter: TV news cameras swarmed all over the SUV that the Vadras arrived in, turned turtle, just to catch the merest hint of Priyanka Gandhi as reporters jostled for just one word from her.
---
Also read: Priyanka drops husband Vadra to ED office, then takes charge as Congress general secretary
---
A spectacle was unfolding, while another one in West Bengal had peaked and ended: Mamata Banerjee had just reigned on news channels, for a marathon 72 hours.
From Sunday evening to Tuesday evening, 'Mamata on Dharna' (ABP) 'Hitler Didi', 'Ziddi Didi' (India TV), 'played the victim card' (Republic Bharat) in an `unprecedented showdown' (Times Now) that unleashed 'anarchy' in the state (India Today), after CBI officers were 'forcibly' removed by Bengal police (CNN News18), creating an 'Emergency-like' situation (News X).
`Didi v/s Centre' (NDTV 24×7) was a political drama of epic proportions – a 'Modi, Mamata aur Mahabharat'  (Kashish TV).
On TV, none were immune to the spectacle she made of herself, wrapped in a shawl, pacing the makeshift stage for three days.
Typically, Hindi news gives regional politics only passing mention; regional channels like Kashish or APN stick to their regions. This time, however, they joined in the drama outside the Esplanade station in Kolkata with abandon.
They called her 'dictatorial' (Republic TV), they wondered what she wanted (CNN News18), and how she would conduct matters of state (India TV), they produced '15 letters…of frivolous excuses' made by Rajeev Kumar, the Kolkata Police Commissioner she supported (Times Now loves 'letters'), accused her of trying to run 'an independent Republic of Bengal' (India Today) – they produced a 'super sting' on a Trinamool Congress (TMC) member who claimed Kumar had destroyed evidence in the Saradha scam case (Republic Bharat).
But they couldn't keep their eyes off her.
---
Also read: How Mamata Banerjee leveraged the CBI-police ruckus into a 'political victory'
---
There was non-stop live coverage Sunday into Monday and intermittently through Tuesday. When the Supreme Court intervened, channels exulted at the 'setback' (CNN News18), her 'loss of face' (Times Now, India Today), decried `no guts to admit defeat' (News X) – and yet, when she held an impromptu press conference from the stage, after the SC ruling– also unprecedented—they were present, asking her questions, relaying her responses.
She may have 'lost' face and moral authority, but for three nights and three days, she won the perception war.
Has any other political leader pulled off such a stunt? No. If the news channels stayed with her it because her 'khokla-khokli hype—as Arnab Goswami called it—made for good television.
Goswami's Hindi is not fluent for the anchor of a Hindi news channel but that doesn't stop him from raging in it on Republic Bharat- 'desh ke naam'- launched last Saturday.
There's little but language to choose between Republic and Republic Bharat—both have highly excitable young reporters imitating Goswami. They are unapologetically pro-BJP and anti-opposition.
The major difference is Goswami sporting jeans, shirtsleeves on `Bharat Poochh Raha Hai Arnab ke Saath', the equivalent of the Debate with Arnab Goswami.
---
Also read: Is CBI overstepping in West Bengal or Mamata Banerjee politicising due process?
---
Not articulate in Hindi, he leaves the shouting to his colleagues or the panelists – Tuesday's hungama on Mamata heard the ladies and gentlemen scream loud enough to drown out each other, which is the objective anyway, as Goswami looked on, indulgently.
A sting on Ayodhya – 'Karsevak Massacre'—inaugurated the channel, Saturday with claims that the Mulayam Singh government in 1990 had ordered karsevaks to be killed.
Did Goswami accuse Didi of 'hype'?
In contrast, is the quiet return of anchors Barkha Dutt and Karan Thapar. They're on Harvest TV— a Kapil Sibal backed English news channel.
(Harvest TV – for a news channel? Well if you can have Fox News, Sky News, why not Harvest News?)
They anchor primetime shows, 'Upfront with Karan Thapar' goes up against 'Upfront with Rahul Shiv Shankar' (Times Now) while 'Democracy Live' with Dutt takes on the 9 pm show.
Like their previous stints on India Today and NDTV 24×7, these are calm, reasoned shows. The channel is, however, nondescript with regular news coverage, no obvious pro-Congress slant and without commotion.
Get the PrintEssential to make sense of the day's key developments