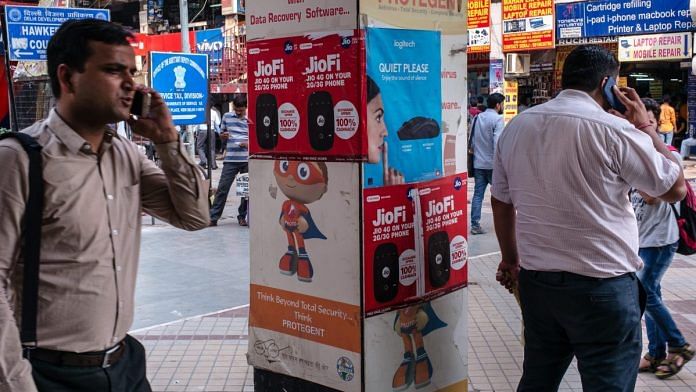 Text Size:
When the Supreme Court decided in favour of Union government's view on how much revenues telecom operators are required to share as part of their license conditions, it was only the latest blow to land on the back of India's beleaguered telecom industry.
The manner in which the Indian state has treated telecom is indicative of the disdain it has for a sector that has underpinned the country's rise from a poor third-world country to an aspiring global power in the last 25 years.
From allowing Indian software companies to become globally competitive in the 1990s, to enabling cooks and plumbers to increase their incomes, to transforming the lives of fishing and agricultural communities and creating a world-class technology ecosystem, the telecommunication industry provides the basis for lakhs of jobs, growing incomes and connectedness with the world.
---
Also read: Supreme Court allows Centre to recover Rs 92,000 crore from Airtel, Vodafone, other telecoms
---
A telecom crisis
Given how telecom offers so many Indians a ticket out of poverty, you would think that the institutions of the Indian republic would carefully nurture the nation's most important instrument of growth and prosperity. You would think that governments and policymakers would ensure that the telecom industry — the biggest public policy success story in three decades — is well-governed to demonstrate India's seriousness when it courts foreign investors. Well, you would think wrong.
Apart from a few years during the Atal Bihari Vajpayee- and the early-UPA governments, the telecom industry has been governed in a dreadful manner. Because its growth and social impact have been phenomenal, the public narrative has missed the regulatory mismanagement and unsavoury political economy that continues to maim the sector. One symptom of the malaise is the massive debt — some Rs 7 lakh crore — that the industry is under. Another symptom is the shameful fact that we still suffer dropped calls in 2019. You might have ignored these symptoms in the past. But now, with Vodafone-Idea under risk of folding up, we might be on the verge of a telecom crisis, with ensuing damage to consumer interests and national economic growth.
---
Also read: BSNL and MTNL to merge, govt to spend Rs 68,751 crore on revival package
---
How did we get here
If we have to fix the problems we've created, it's important to enumerate the big policy mistakes we have made. Here are some of the biggest ones.
The first and original sin: the regulator frequently changes the rules of the game while the game is at play, bowing to political pressures and vested interests. While bona fide players would be charged massive license fees to operate their services, "back doors" were frequently available. In the early 2000s, I recall how amused my foreign colleagues were when they found out that a "wireless local loop" provider was effectively offering mobile phone services, with the regulators adopting a very elastic definition of what a "fixed" wireless telephone meant. A regulator that condones back doors cannot be credible, and once the idea of fair play goes out of the window, you are left with competing vested interests vying for power. Second, governments have indulged in price regulation rather than market competition to make services affordable. While it is often necessary to ensure that incumbent operators — whether state-owned or private — do not overcharge for interconnection and bottleneck infrastructure, our governments went beyond that to interfere with pricing of services. With no ability to charge a premium for services, telecom operators had to rely on cost-cutting to increase profit margins. This meant they would cut down on customer service, maintenance and be inattentive to quality of service.
Worse, the government allowed telecom operators to share infrastructure like cell towers. While this may appear to increase efficiency, it reduces redundancy and national resilience. During a natural disaster or national security crisis, the risk that all our phones will stop working is higher than it would have been.
Third, governments have shown that they are not only willing to change laws but undermine principles of natural justice in the pursuit of extracting revenues. India must be the only liberal democracy in the world where laws can be made with retrospective effect. The Vodafone case was a mockery of the basic principle of the rule of law.
Fourth, telecom — like defence procurement — suffers from the double whammy of ministerial corruption and the messy politics of anti-corruption. The unfortunate consequence of the political economy of corruption is that good investors keep away, cleaner companies find it hard to compete and consumers do not get access to new technologies quickly.
Fifth, much of all these put policy matters in the hands of the judiciary. It would be one thing if courts were only asked to decide on commercial matters or the correct interpretation of the statutes. What actually happens is that the courts overstretch their mandate and make policy from the bench.
While judges seem to be prepared to look into the consequences of their decisions in political and other matters, they seem to be quite blind to them in economic matters in general and telecom in particular. Take the recent case of revenue sharing: if Vodafone-Idea has to exit the market, resulting in lower competition, the consumer interest is bound to suffer. Judges do not employ economic reasoning nor, philosophically, consequentialist thinking in their judgments.
Sixth, like in civil aviation, the government continues to bankroll loss-making state-owned players. While not quite as much of a zombie as Air India is, BSNL-MTNL is getting there. There is no reason for taxpayers to keep BSNL afloat and reward it for its poor performance.
---
Also read: Privatisation comes to the rescue of Modi govt, but accompanied by political risk
---
Between a rapacious bureaucracy, corrupt politicians, rent-seeking crony businesses and an economics-agnostic judiciary, we have created the conditions for a telecom crisis. To manage this, the Modi government will have to demonstrate sagacity, regulatory forbearance on the matter of outstanding revenues, a credible commitment to fairness and faith in market competition.
The author is the director of the Takshashila Institution, an independent centre for research and education in public policy. Views are personal.
Subscribe to our channels on YouTube & Telegram
Why news media is in crisis & How you can fix it
India needs free, fair, non-hyphenated and questioning journalism even more as it faces multiple crises.
But the news media is in a crisis of its own. There have been brutal layoffs and pay-cuts. The best of journalism is shrinking, yielding to crude prime-time spectacle.
ThePrint has the finest young reporters, columnists and editors working for it. Sustaining journalism of this quality needs smart and thinking people like you to pay for it. Whether you live in India or overseas, you can do it here.