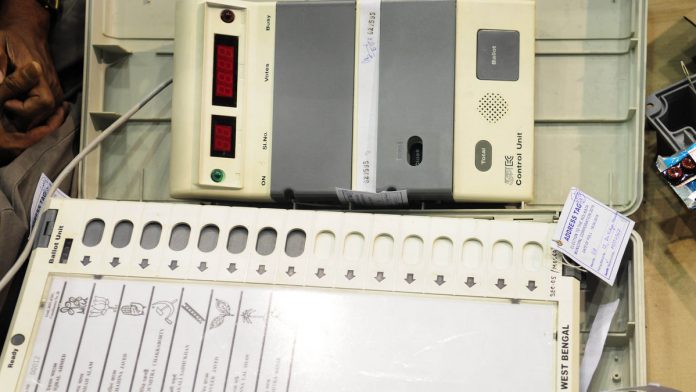 Text Size:
NOTA is not nihilism. It is political idealism, it is 'taking back the moral space in politics'.
The two things you have heard all morning on the counting day are: The BJP will form the next government in Gujarat – no real surprises there. The Congress put up a good fight in Gujarat – that's the job of a political party, that doesn't call for a pat on the back.
But the real good news for the Indian political culture is that NOTA, a nascent, leaderless political movement is growing.
Here is a curious set of voters in Gujarat who dared to go beyond the nauseating bhakti for Modi and Rahul. As of IST 13:57, the Election Commission of India reported that 1.8 per cent (or 5,06,661 votes counted) of voters pressed the irreverent, thumb-your-nose NOTA button (None-Of-The-Above option on the EVM). This is a significant rejection of politics that is on offer. This is more than the NOTA voters in Himachal Pradesh today, which was 0.9 per cent (28,545 vote count).
The NOTA voters in Gujarat are not the people who just stayed home with the lazy excuse saying they don't believe in the democracy of money, muscle power and mesmerising demagoguery. They stepped out of their homes, stood in long queues, got themselves inked and voted to register their protest. This is an active, aggressive rejection of the politics-as-usual.
NOTA is not nihilism. It is political idealism, it is "taking back the moral space in politics".
Who are these people who were not swayed either by Modi's vitriolic rhetoric or Rahul's attack on Adani and Jay Shah? They were not energised by Modi's Pakistan warnings or by Rahul's "love will conquer all" gloss.
The issues that dominated the anti-BJP sentiments in the Gujarat campaign were GST, demonetisation, vikas-gone-crazy, crony capitalism, 22-year-old ennui. On the other side, people opposed the Congress party on issues of dynasty, crony capitalism and corruption, and Rahul's general image of political inconsistency.
Many voters said they were angry with the BJP government in the state, but they were not convinced with the Congress' promise either. If these people had voted, they would have had to make some kind of moral compromise. NOTA voters are not TINA-apologists (those who think there-is-no-alternative and end up voting for the lesser of the two evils).
It is easy to dismiss NOTA voters as nihilists, anarchists and insignificant by many. But they are a moral force in the political system. They are the idealistic conscience-keepers who will not compromise and vote for the sake of it. They are different from those who abstain from voting by saying Indian politics will never change. They are different from those who want to overthrow the system through a fantasy revolution. The NOTA voters believe in sending a gradual, personal warning to the system to clean up.
Traditional Indian political wisdom has always said that if you don't vote for the winning party, your vote is wasted. In the many elections that I have covered, voters have routinely said they will see "Kiski hawa zyada hai" and then decide to vote for the winning bandwagon. They usually say "vote bekar nahin jana chahiye".
NOTA dismantles that thinking ingrained in our political decisions. First step: Voting for the loser is not a waste. Second step: voting for NOTA is not a waste. It is an incremental, evolutionary push toward changing the type of politics that is on offer.
It is not just in Gujarat. NOTA has been a real option for many—more than independents and also-ran parties.
Since NOTA was introduced in the Gujarat bypoll in 2013, it has steadily seen an unexpected acceptance in India's multi-party democracy. In Chhattisgarh, it was 3.06 per cent (4,01,058); in Rajasthan it was 1.91 per cent (5,89,923), in Madhya Pradesh, it was 1.9 per cent (8,945), in Delhi it was 0.63 per cent (49,884). Punjab, it was 0.7 per cent (65,151), and 0.87 per cent Uttar Pradesh – 3,29,113.
Apart from India, Bangladesh, Spain, Columbia, Greece and Ukraine have some form of NOTA options available for voters. Both Pakistan and Russia have in recent years removed this option. In France, this year, the strongest undercurrent was a colossal rejection of the entire political system – as many as four million French voters voted "blank" or spoiled the ballot, the highest recorded in half a century.
There is a blank space in Indian democracy for many voters. Until a new alternative occupies it, political atheism will keep simmering.
Data research by Nikhil Rampal.
Check out My543, our comprehensive report card of all Lok Sabha MPs.