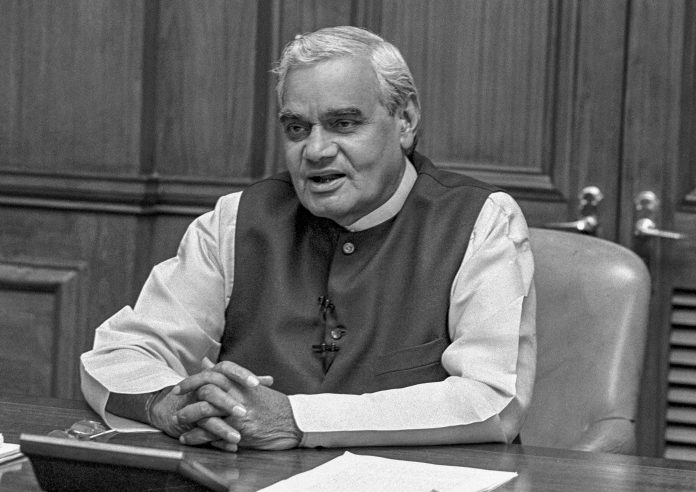 Text Size:
Vajpayee must be credited for recognising the changes that were taking place in Indian politics and helping the BJP adapt to them.
In the past few years, I must have heard Atal Bihari Vajpayee's 27 May 1996 speech on the no-confidence motion debate in the Lok Sabha more than a dozen times. In my opinion, this 70-minute speech is one of the finest in India's parliamentary history in which Vajpayee was poetic and pragmatic, humorous and satirical, evasive and direct, moderate and hardliner, princely and ascetic, and much more, all at the same time.
There are some brilliant moments of political oratory that have been deeply etched in my memory forever. One of them is his clarity of choice between acquiring power and being a member of the Bharatiya Janata Party (BJP) – many then and even now say that Vajpayee was a good man in a bad party.
---
Also read: Atal Bihari Vajpayee was called the 'right man in the wrong party', but he was the party
---
He said, " … lekin party todkar, satta ke liye naya gathbandhan kar agar satta haath main aati hai to main aisi saata ko cheemte se bhi nahi choona pasand karunga [if I have to split my party to come to power, I would rather prefer to not touch such power even with a tong]."
What has been Vajpayee's contribution towards building the BJP as we see it today? For starters, he was party's founding president from 1980 to 1986, its most popular orator for decades whose appeal transcended all divides, and its prime ministerial face in 1996, helping it emerge as the single-largest party in the Lok Sabha.
In that same speech when some opposition members were taunting him that the BJP is not truly a national party because it is largely confined to the Hindi belt, he quipped, "Ek samay tha hum do reh gaye the, aj hum itni sankhyan main yaha baithe hai ki apse muqabala nahi ho sakta … vijay main to humme vinamrata hai, parajay main to apko manthan hona chahiye (There was a time when only two members of the BJP had won, but now there are so many of us sitting here that we have no competition … we are being humble despite emerging victorious, you should be doing some soul-searching in defeat)".
There are many well-documented reasons for the BJP's growth in the 1990s, but one must give credit to Vajpayee for recognising the changes that were taking place in Indian politics and helping the BJP adapt to those changes. Whether it was due to the compulsions of emerging politics or his own conciliatory nature of conducting politics, Vajpayee helped the BJP expand its footprints, both socially and geographically.
---
Also read: How Vajpayee worked with leaders from rival parties to save the Sukhoi-30 deal in '96
---
Thus, one must comprehend the meaning of coalition dharma – a term which Vajpayee popularised – in the context of his politics that brought various political parties (and states they represented) as well as social groups together in a power-sharing arrangement. He ran the first full-term non-Congress government with help from approximately two dozen political parties.
Through such coalitions, Vajpayee helped the BJP slowly take roots outside the Hindi belt (See Figure 1A and 1B). The BJP contested less than half of the Lok Sabha seats in the 1980s and lost deposits (a candidate forfeits the security deposit if s/he wins less than one-sixth of total votes) on half of those seats. This means that the BJP in pre-Mandir mobilisation era was effectively present in less than hundred seats.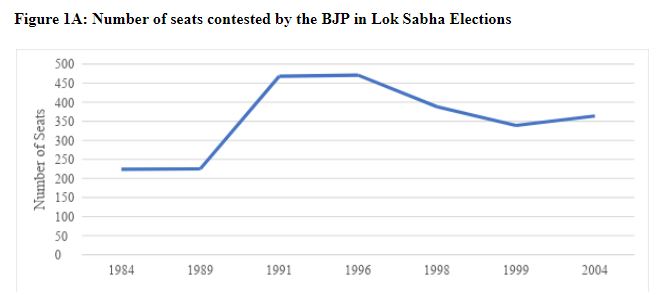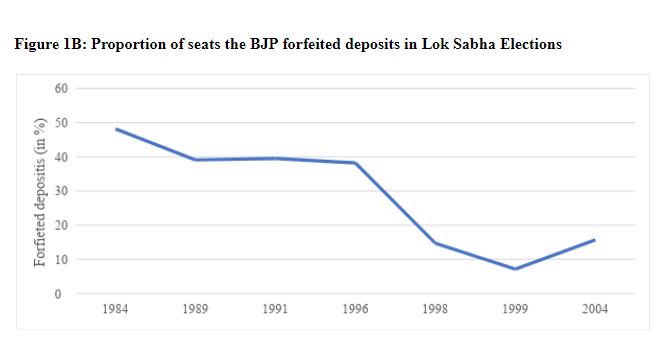 In the next two Lok Sabha elections, the party spread its wings and contested more than 80 per cent of the Lok Sabha seats. It lost deposits in approximately 40 per cent of the contested seats, but by now it had presence in 300 seats. After the formation of the National Democratic Alliance (NDA) in 1998, the BJP started focusing on the seats where it had some presence. So, the party contested lesser seats and thus lost deposits on fewer seats. The BJP's pre-electoral alliance with the NDA partners along with the social engineering programme within the party helped it reach out to groups that were not its traditional supporters.
The data presented in Table 1 shows that between 1991 and 2004, the BJP's gain among the lower-caste segment was greater than the gain among the upper caste. This was largely possible due to Vajpayee's personal popularity, which was higher than the BJP's appeal among the lower-caste segments (See Figure 2).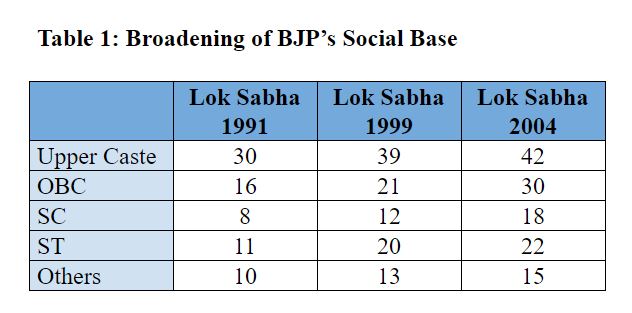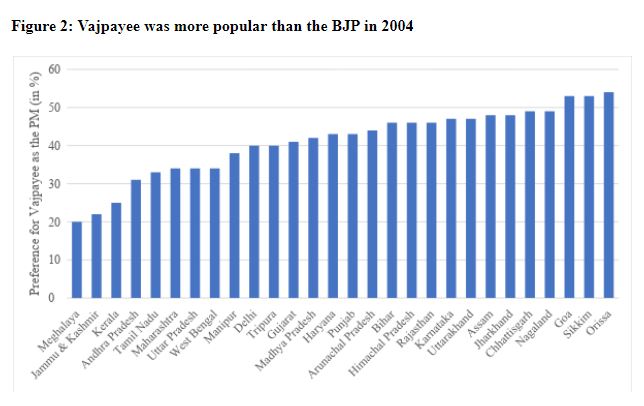 Despite this level of popularity, Vajpayee lost the elections in 2004. The election results left many perplexed. Yogendra Yadav in his paper titled 'The elusive mandate' asked a very pertinent question – "Why did a not-so-unpopular government led by the most popular leader of the moment lose the election?" Yadav goes in great detail dispelling usual explanations and sums up his findings as: "these paradoxes are not accidental to the verdict of 2004; in many ways the paradoxes constitute the verdict".
---
Also read: Vajpayee was popular even among citizens who didn't vote for him, writes his PMO aide
---
In some ways, the incongruities in Vajpayee's personality, which had a poet, a politician, an ideologue, and many more such facets, made him the leader he was.
Farewell!
The writer is a PhD student in political science at the University of California at Berkeley, US. His twitter handle is@rahul_tverma
For ThePrint's smart analysis of how the rest of the media is doing its job, no holds barred, go to PluggedIn