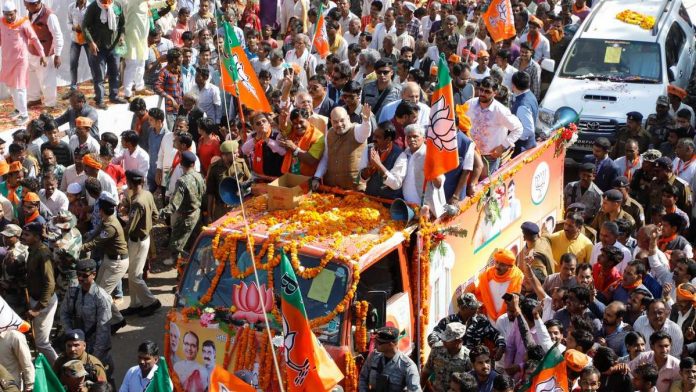 Text Size:
The scale of anger against the BJP has grown in Madhya Pradesh, but will it be enough to unseat them?
After two minutes on a supposed bypass with no semblance of actual road, we stopped at a village kirana (grocery) shop in Gunnaor constituency in Madhya Pradesh. The government has clearly stopped doing work here. A group of four 20-something young men started hurling abuses at the incumbent Bharatiya Janata Party government.
The bypass was supposed to be paved; it wasn't. A canal was to be built 10 years ago; nothing has happened. The government declared that the village would become a nagar panchayat; taxes were collected from the villagers but there's no administrative change. The young men narrate a story of extraordinary local corruption that has grown over 15 years of the Bharatiya Janata Party (BJP) rule. Surely, these young men would vote against the BJP this time.
Yet, the most vocal of the group declared surprisingly, "We are all Brahmins, so we will have to vote for the BJP. But we really hope the Congress wins this time."
This experience illustrates the difficulty in understanding how the state of Madhya Pradesh (MP) will vote this time. Incumbent chief minister Shivraj Singh Chouhan and the BJP came to power by simply offering bijli, sadak, paani (electricity, road, and water) in 2003 and has not been seriously challenged since then. On one hand, this prolonged period of rule has allowed the ruling BJP to concretise caste-wise vote banks and to effectively distribute benefits to supporters – what political scientists refer to as political patronage. Yet, it was exactly this focus on public goods delivery that has entrenched the power of local village-level and constituency-level political actors capable of high levels of corruption – forming the basis for anti-incumbency against the current BJP government.
---
Also read: Shivraj Chouhan's Madhya Pradesh shows the more the Indian farmer grows, the angrier he is
---
This perplexing juxtaposition of caste-based patronage against government dissatisfaction is not unique to Gunnaor. A young labourer from the Tomar (Thakur) caste residing in a village in Dimani constituency is explicit in describing how the BJP continues to win. "The BJP government has literally done nothing here. All of the roads and drains you see were built by the local mandir. But the BJP candidate is a Tomar, and I have to vote for him. If someone else wins, they will conduct another BPL survey and we (Tomars) will all lose our (inappropriately obtained) BPL cards," he said.
But what about caste groups that do not benefit from political patronage? In Jaora constituency, we speak to two young men professing full support for Prime Minister Narendra Modi (and even Shivraj Singh Chouhan). By all appearances, they are core BJP voters – part of the "aspirational class" having moved to Indore for office jobs. But these young men are from the backward classes (OBC), not a traditional BJP vote bank. As BJP incumbent Raju Bhaiya passes by on his campaign cavalcade, they offer, "This is the first time we've seen him in five years. We love the BJP, but we will vote for chaabi (an Independent candidate contesting on the key symbol). We cannot have the BJP win here".
---
Also read: Women voters in Madhya Pradesh want jobs, not sanitary napkins and cooking gas
---
The BJP had a thumping victory in the 2013 state election, winning 165 of the 230 seats, while the Congress only won 58 seats. In 145 seats that the BJP won and where the Congress was the runner-up, the Congress will have to manufacture a massive 8.5 percentage point swing in its favour in these 145 seats to wrest control of Madhya Pradesh.
The scale of anger against the BJP has grown in Madhya Pradesh, but will it be enough to unseat them? Or will the BJP's well-functioning political patronage see it back to power one more time in the state?
Neelanjan Sircar is Assistant Professor, Political Science, Ashoka University and Visiting Senior Fellow, Centre for Policy Research.
Get the PrintEssential to make sense of the day's key developments