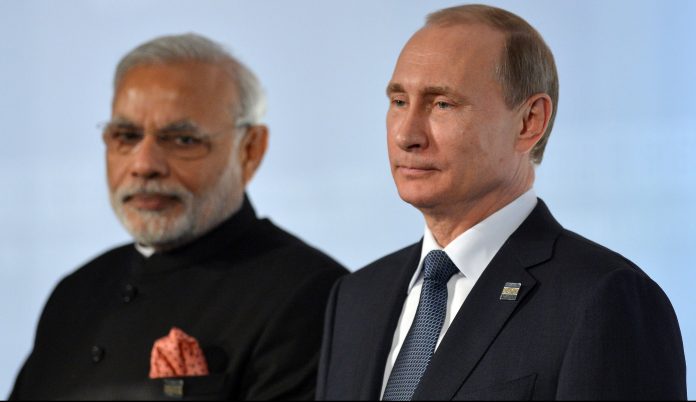 Text Size:
That Delhi would make such a thoughtless move before 2+2 foreign and defence minister-level talks with US beats comprehension. 
India has an egg on its face this Tuesday morning. As its Afghanistan-Pakistan strategy disintegrates in the wake of Moscow calling off a conference on the Afghan peace process under pressure from Kabul – at which both Delhi and the Taliban had confirmed their participation – it will be forced to look anew at what its foreign policy goals in the region really are.
The Modi government is again being forced to confront a simple, hard truth: Hostility with a neighbour, however difficult or recalcitrant (read, Pakistan), cannot be foreign policy.
But what India has done this time is much worse. It has failed to understand the compulsions of another neighbour, Afghanistan, which it, rightfully and assiduously, wooed for the last 17 years since the fall of the Taliban in November 2001.
Blinded by its irritation with US President Donald Trump, Delhi fell for Russian President Vladimir Putin's invitation to come to Moscow for an Afghan peace conference on 4 September.
Certainly, Putin tempted Prime Minister Narendra Modi to come. It is in Russia's interest to try and wean Delhi away from getting closer to the Americans and pull it back into its own sphere of influence. So when Moscow saw the distance growing between Trump and Modi, it took the chance.
---
Also read: India-US relations survived World War & Cold War. They may not survive Trump
---
The fact that Delhi said yes to Moscow, without clarifying what its dearest friends in Kabul were thinking and doing – and in turn, what Kabul's best friends, the Americans were thinking and planning to do – speaks volumes about India's indiscretions.
For 17 years, India walked a fine line in the ever-changing great game between regional powers seeking influence in Kabul. It remained wedded to the "Afghan-led and Afghan-owned" slogan to give peace a chance in the Hindukush.
Whether it was the Americans leaning in favour of Pakistan in order to bring peace in Kabul; or the US now requesting Delhi to send both military equipment and soldiers to fight the good war on the side of its good friends, the Afghans; or the Taliban reaching out to Delhi, invoking the old relationship between the Pashtuns and the emperors of Hindustan; or even Kabul, tilting towards Pakistan, in a bid to bring peace after 40 years of war. Each time, India stayed the course.
It regularly spoke to all the players in the region and beyond— only last week, joint secretary in the ministry of external affairs, Deepak Mittal, in charge of the Pakistan-Afghanistan-Iran desk, travelled to Beijing for consultations— and each time India reiterated its decision not to stray from its commitment to the leadership in Kabul.
So what happened these last few days? How and why did Delhi mess up?
To understand the complex slips and starts of a peace process that is anything but what it's called, it's important to start at the very beginning: When Moscow, under the direction of its special envoy to Afghanistan, Zamir Kabulov, scheduled a conference for 4 September and invited all 12 players to it.
Kabulov said that the conference would be co-chaired by Russia and Afghanistan. The Afghan Taliban confirmed it would come. Delhi, tremulous with excitement at the thought of sitting at the same table with the Taliban for the first time since it was vanquished in 2001, said yes.
---
Also read: As US-Russia ties blow hot & cold, Moscow wants same military deal America has with India
---
The idea that India should also open channels of communication with the Taliban Pashtuns is an old one – in consideration since the time Satinder K. Lambah represented Vajpayee's India at the Bonn talks in 2002 and later in 2004, when J.N. Dixit became Manmohan Singh's national security adviser. Each time, India shied away from public engagement.
Modi's mistake was to think the Americans would allow the Russians to get away with the publicity that accompanies an Afghan peace conference, with the flashbulbs going off all around. And if the Americans weren't coming, were they ever going to let the Kabulis – whose administration they have heavily paid for both in blood and in dollars – travel to Moscow?
Forget about the hostility with Pakistan, around which the Modi government has forged not only its neighbourhood policy, but also taken a hardline with its own citizens in Jammu and Kashmir.
The move to go to Moscow is about hubris. To think that you can use the Russians to checkmate the Americans because they are being brutal with you over a few hundred million dollars worth of medicines, medical equipment, steel, aluminium, frozen chicken legs and Harley Davidson bikes. Or worse, because Modi and Trump don't get along as well as the PM thinks they should.
As expected, the Americans said last week they wouldn't go to Moscow. A day later, Kabul pulled out, arguing it wouldn't sit at the same table as the Taliban – a weak excuse, if any, as the Kabul government has already begun a serious engagement with the Taliban in Doha, Qatar, with the Americans moderating the conversation.
---
Also read: Releasing Taliban prisoners or changing the Constitution won't buy peace for Afghanistan
---
That Delhi would make such a thoughtless move on the Afghan chessboard on the eve of its own 2+2 foreign and defence minister-level talks with the US, scheduled for 6 September, beats comprehension. The Americans are coming to town because they are encouraged by the Doklam standoff to believe that India is the only country large enough to take on the Chinese.
Still, a week is a long time in politics. Long enough, at any rate, for India to wipe off the egg splattered all over its face.
Get the PrintEssential to make sense of the day's key developments