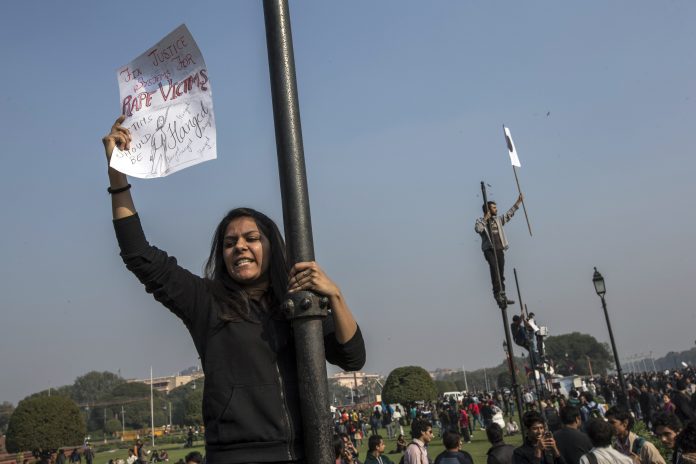 Text Size:
As a millennial liberal and feminist, I spent the day plotting the number of ways to stage a protest against 'Padmaavat'.
I watched Padmaavat Wednesday night, but as a form of protest.
I spent the day contemplating my modus operandi carefully and plotting the number of ways to stage a protest against a film that is so deeply antithetical to my principles.
Option 1: Not to watch the film
I didn't want to watch the film because, according to the critics, the story glorifies a misogynist practice like jauhar, which ties a woman's life to her husband. If he dies, she dies.  I'm also not a big fan of the filmmaker, Sanjay Leela Bhansali, or dabbling in debatable histories.
Why it didn't work: But not going would mean giving in to what the thuggish Karni Sena wants, and as a free-thinking young citizen, I didn't want to give in to that pressure.
Option 2: Stream it online
Watching it online would amount to protesting against the Karni Sena because I'm ultimately watching a film they didn't want me to watch. But I wouldn't be paying money for a movie I believe is regressive.
Why it didn't work: Deepika Padukone received death threats and a bounty was placed on Bhansali's head. The least they deserved after going through such a traumatic period was an audience.
Option 3: Buy a ticket and not watch the film 
Buying the ticket would mean standing in solidarity with the harassed cast and crew that were not only physically beaten up, but recipients of death threats. But by not watching it, I can still register my protest against the glorification of jauhar.
Why it didn't work: Curiosity got the better of me. What if Bhansali found a way to retell the story in a progressive manner?
Option 4: Pay for the ticket, and watch the movie till the interval
I'd be catering to every form of registered protest I'd thought of thus far. I'd be supporting the film's cast and crew, but I'd also be sticking to my feminism by not staying for the jauhar scene.
Why it didn't work: My companions convinced me to stay…the women seemed authoritative enough so far. Maybe the film wouldn't end in the way we expected.
Option 5: Watch the whole movie
I actually ended up watching the entire film. And it didn't work.
I had hoped for a redeeming moment in what was supposed to be a modern retelling of the legend of Rani Padmini. I was waiting for a plot twist that signalled that Bhansali might have actually listened and learnt from the criticism he received from liberals. Instead, there was a cut to a shot of a pregnant woman, and Deepika Padukone smiled as she walked into the flames. Bhansali made jauhar look like an honourable practice, instead of mass suicide.
This might have been a fictional film set in the 13-14th century, but the fact that real life Rajput women had threatened to the do same thing because a movie dishonoured their caste in 2018 was not lost on me.
I'd walked in with a grand resolve. I'd stage a dramatic exit, make a gesture of some sort. Instead, I watched the film with deep disgust, unable to shake off the feeling of anger and its simultaneous futility.
Padmaavat and the entire storm surrounding it represents the fact that we've taken one step closer to the dystopia we've been fighting against.
Like a friend pointed out, privileged young people tend to join trendy protests without always knowing what we're protesting for, and perhaps that's what lends a sense of radical recklessness to our methods. Our clothes are brighter, our signs are sassier, our screams are louder, our symbols more outrageous. But is anyone in power taking note of us?
The culture of protest in our country is such that violence and bullying find higher success rates. But that should not deter the liberal youth from expanding the conversation beyond Padmaavat. It is our future, after all.
The film's release is a Pyrrhic victory for Bollywood and freedom of expression advocates. Bhansali and his crew did not lose in the end and he put out his film, despite all the pressure and censure. The Karni Sena didn't lose out either because the film they were protesting ended up showing everything that they would have approved of.
Guess who did lose? We, who call ourselves progressive feminists and modern millennials.
Ultimately, I am confronted with a horrifying thought: Did I end up watching Padmaavat Wednesday night because I'm a creature of hype and suffer from an intense FOMO (fear of missing out)?
Get the PrintEssential to make sense of the day's key developments