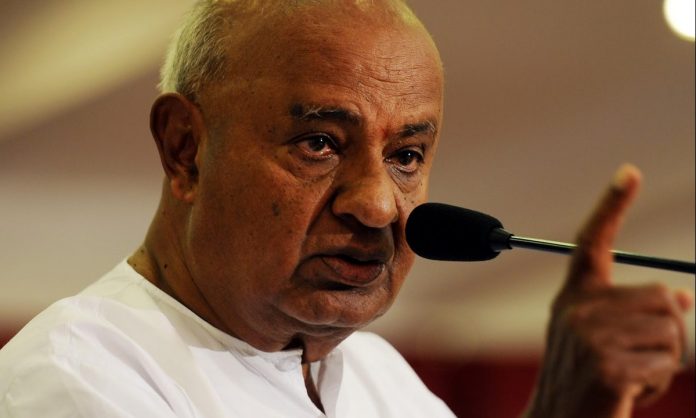 Text Size:
When the election season began earlier this year, H.D. Deve Gowda laid down a wager: He would enter the 17th Lok Sabha with his two grandsons, Prajwal Revanna and Nikhil Kumaraswamy. Quite unexpectedly, that wager has pushed the 85-year-old former prime minister into the political fight of his life.
Since he became the prime minister in 1996, Deve Gowda has remained the elder statesman of Karnataka politics. Today, his stature is high and the stakes are higher.
His victory, and that of his grandsons, may very well determine their fledgeling political careers, the future of Congress-Janata Dal (Secular) coalition government led by his son H.D. Kumaraswamy, and more significantly, his own political legacy.
Having been in politics for six decades, Deve Gowda has faced many serious political challenges. None more serious than his first electoral defeat in the 1989 assembly elections from his pocket borough, Holenarasipura constituency. Determined to recover from that electoral defeat, Deve Gowda contested the Lok Sabha elections for the first time from Hassan in 1991. By then he had been a member of legislative assembly since 1962. He had challenged Devaraj Urs and Ramakrishna Hegde for primacy in Karnataka politics. Yet, Deve Gowda hadn't attained the pre-eminence he craved, and not even the Vokkaligas acknowledged him as their undisputed leader.
---
Also read: Deve Gowda's grandsons hope to make it to Lok Sabha on dynasty, bravado & not much else
---
However, entering Lok Sabha in 1991 kept his political career alive. Over the next few years, he worked hard to unify various Janata factions, led the party to victory in 1994 Karnataka assembly elections, and realised his dream of becoming the chief minister of Karnataka. Eighteen months later, his accidental rise to prime ministership marked the apogee of his political career, and the greatest achievement of any politician from Karnataka.
But now, by throwing his grandsons into the electoral fray, in the eyes of the many, Deve Gowda has overreached. In the process, he has also ignored the legitimate claims of many party workers. One such claimant was a young Indian Revenue Service officer, Lakshmi Ashwin Gowda, who had resigned from service and had been preparing to contest from Mandya.
Eventually, Sumalatha, the popular actress who was married to late actor and former Union minister Ambarish emerged as a serious contender for Mandya. When the Congress refused to nominate her and allocated Mandya to JD(S), she chose to contest as an independent candidate. While Sumalatha has maintained composure and dignified presence amidst immense pressure to drop out of the race, the same cannot be said about the Gowda family. Kumaraswamy and Revanna have both made intemperate remarks against her.
Now, Gowda has given the Mandya seat to grandson Nikhil Kumaraswamy.
Even his admirers express disgust at the covetousness of the Gowda family. Former supporters and adversaries publicly lambast him. Such voluble criticism is nothing new for Deve Gowda. In the past, even former proteges like Siddaramaiah and B.N. Bache Gowda, who is now the BJP nominee from Chikkaballapur, often spoke harshly against Deve Gowda's family-centric politics.  Now, that criticism has reached new heights.
---
Also read: Superstitious & suspicious of women rivals: Meet the Gowda family back on top in Karnataka
---
Pritam Gowda, a neophyte politician who wrested the Hassan assembly seat for BJP in 2018, recently compared the Gowda family rule to the British East India Company's regime. In a no-holds-barred attack during the Lok Sabha campaign, Pritam Gowda accused Deve Gowda of attempting to make everybody subservient to his family.
Even Deve Gowda's supporters believe that their leader now cares only about the political fortunes of his family. In fact, Janata Dal activists concede that although their party is contesting in seven constituencies, the Gowda family cares about only three seats – Tumkur, contested by Gowda himself, and Hassan and Mandya, which are contested by Prajwal Revanna and Nikhil Kumaraswamy.
Throughout his career, Deve Gowda had been accused of believing that his interest (and by extension that of his family) triumphs over everything else. In fact, Gowda too defends his partiality towards his family by saying many of his close associates, including Siddaramaiah, have proved to be unreliable. He argues that such betrayals have compelled him to turn to his family.
Amidst all this, Deve Gowda has continued to remain relevant by assiduously cultivating the Vokkaliga belt of southern Karnataka. He and his sons have built a support network by disproportionately allocating state resources to this region, and then, by ensuring that his supporters are employed in all the state institutions. This has enabled the Gowda family to create a cadre of loyalists.
---
Also read: Learn from the Gowdas the unique art of coming last but finishing first
---
Beyond such political calculations, Deve Gowda is also a self-taught and astute politician. Even his harshest critics acknowledge Deve Gowda's knowledge of Karnataka and his understanding of public policy to build a more prosperous state. His wealth of experience, administrative acumen and parliamentary skills are unparalleled in recent decades. Had Deve Gowda not moved to Delhi and continued as the chief minister of Karnataka, many political observers believe that he would have been a supremely influential regional leader, and perhaps have changed the course of Karnataka politics.
Ironically, his assumption of chief ministership and subsequently, prime ministership signalled the steady ascent of his family members. His second son, Revanna is a brawler, whose entry into politics was initially necessitated by the heavy-handedness of the Congress machinery during the Emergency days. In contrast, his younger brother, Kumaraswamy, the present chief minister, is a shrewd political operator and extended the family's political influence into all corners of southern Karnataka. While their political careers haven't been negatively viewed, the political aspirations of other family members have been downright questioned. The fact that both Prajwal Revanna and Nikhil Kumaraswamy come across as embodiments of entitled attitude has alienated supporters and adversaries.
In an age when politics has become family business, the Deve Gowda family isn't much different from the Pawars of Maharashtra or the KCR or Naidu clans of Telangana and Andhra Pradesh. While these other families seem to have better managed the political aspirations of their followers, the Gowdas appear to have a rebellion to quell in their stronghold. As polling day comes closer, their prospects in Mandya, Hassan and Tumkur appear uncertain. That may spring a new twist to Karnataka politics.
The author is a social historian and political commentator. He teaches History and Humanities at Krea University. Views expressed are personal.
Get the PrintEssential to make sense of the day's key developments