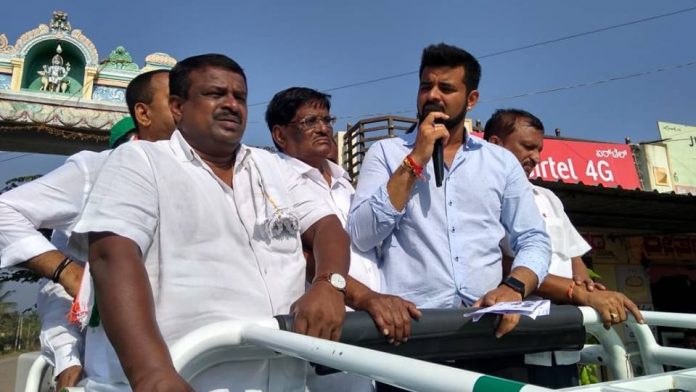 Text Size:
Mandya/Hassan: One is a youth leader who has been working at the grassroots for over five years. The other is an actor looking to ride his popularity to the Lok Sabha. Both are heirs to a prominent political dynasty, and enter the fray as its aging patriarch hopes to pass on the baton.
Prajwal Revanna, 30, and Nikhil Kumaraswamy, 29, are seen in Karnataka, especially the Old Mysuru region, as the eyes of their grandfather H.D. Deve Gowda, 85, the Janata Dal (Secular) supremo and former prime minister.
Prajwal is the son of Deve Gowda's elder son H.D. Revanna, the PWD minister in the Karnataka cabinet, while Nikhil is the son of Chief Minister H.D. Kumaraswamy.
A youth leader of the JD(S), Prajwal is contesting from the Hassan Lok Sabha seat, which was held by Deve Gowda for six terms, while his cousin Nikhil is contesting from Mandya, and both seem to have found deep popularity among locals. Mandya has been with the JD(S) since 2009, losing it briefly to the Congress in a 2013 bypoll.
The JD(S) family firmly believes that the people of this region will never fail Deve Gowda, but, even so, the election in Hassan and Mandya is being closely watched.
"It has become a matter of pride within the family to ensure the win of both of Deve Gowda's grandchildren as he needs to keep both his sons happy," Girish Gowda, a Hassan-based JD(S) leader, told ThePrint.
"He cannot afford to see either grandson losing, especially when both the seats are JD(S) strongholds," he said.
'Super-confident' Nikhil
On the campaign trail, Nikhil Kumaraswamy is brimming with confidence.
"I am loving this experience," he told ThePrint in Mandya. "You should always love your job. My party has chosen me, I am doing fair work, I guess, and I am super confident," he said.
"I am sure people will not let me down and that I will come out victorious."
Nikhil, who made his debut with the 2016 Kannada-Telugu bilingual Jaguar, is currently basking in the success of his 2018 film Seetharama Kalyana, which is rated 9/10 on the movie database IMDb.
In his new role as a politician, complete with the traditional panche (dhoti), he seems to be enjoying trying to convert his fan following into his voter base. While he has managed to click with youngsters, one cannot deny that his father Kumaraswamy's popularity follows him wherever he canvasses.
As Rakshit, a young supporter of the JD(S) in Beechanahalli village, told ThePrint, "My vote is for Kumar anna. If that means that I have to vote for Nikhil, I will. Nikhil can learn on the job, we are there to support him."
His father's shadow is a factor Nikhil is well aware of.
"I am hoping you will all bless me just as my father Kumaraswamy and my mother have," Nikhil said to the attendees at a rally with folded hands, visibly exhausted.
"You all have been long-time supporters of the JD(S), I have been among you all and living with you all. I have made several promises, which I plan to work on, including the loan waiver that Kumar anna (Kumaraswamy) has promised," he added.
While making a stop at Malvalli village, Nikhil told ThePrint that he planned to create job opportunities for local youngsters and also build "smart schools" in Mandya if elected.
"Our people work for paltry sums in Bangalore… I intend to give them opportunities here itself, with good salaries," he added.
Nikhil, however, faces several challenges. While the Congress and the JD(S), who tied up after the 2018 Karnataka assembly election despite their historical rivalry, are campaigning as one for Prajwal in Hassan, in Mandya, the split is evident.
Many local Congress leaders and party workers have been campaigning for Nikhil's opponent, Independent candidate Sumalatha Ambareesh, the widow of former Mandya MP and superstar Ambareesh.
Then there is the social media campaign underway against Nikhil, driven by memes and jokes pegged on a badly-managed 2016 public appearance during the promotions for Jaguar, which was produced by Kumaraswamy.
Kumaraswamy had asked on stage, "Nikhil ello kaantha illa, Yelliddiyappa (Nikhil, where are you, you are not seen here)?"
Nikhil replied, "Appa, ninna maththu thaathana preethiso janara madhya iddeeni (Dad, I am in the middle of people who love you and grandfather)."
The phrase "Nikhil, Yelliddiyappa?" has become a byword for trolls looking to question Nikhil's absence in Mandya before he was declared the JD(S) candidate from its Lok Sabha seat.
More than 20 producers have sought to register movies with the title 'Nikhil Yellidiyappa', according to officials in the Karnataka film chamber.
Talking to ThePrint, Nikhil said he laughed off such attacks.
"To the trolls, all I want to say is that… If it makes you happy by trolling me or the party, go be happy. I will just laugh it off," he added.
---
Also read: In Karnataka, BJP wins Lok Sabha & Congress, JD(S) state polls but 2019 can be a close fight
---
'Uncut diamond' Prajwal
If it's Kumaraswamy's name powering the JD(S) campaign in Mandya, it is the Deve Gowda factor at work in Hassan.
Hassan was "gifted" to Prajwal by Deve Gowda to make way for the Gowda Gen-next. At his rallies, JD(S) leaders introduce Prajwal as Deve Gowda's grandson. Prajwal, meanwhile, likes to call himself a "mini-Deve Gowda".
At one of his recent roadshows, Prajwal, accompanied by Congress and JD(S) leaders, moved through the lanes and bylanes of Hassan villages to the tune of the famous song of Kannada cinema matinee idol Rajkumar "Naanu nimmavanu, Nimma maneyavanu (I am yours, I am part of your home)", his people-connect evident.
"We (JDS and Congress) may have had our differences during the assembly elections, but we are one now, and we will win with a handsome majority," said Kadur Congress leader Kempanna, who was accompanying Prajwal.
Prajwal has been active for several years in his father's seat, Holenarsipura, an assembly constituency within Hassan, and that has helped him find a place in the hearts of local voters.
Speaking to The Print, he called himself an "uncut diamond ready to be polished by the people of Hassan".
"I understand what people want here," he said. "They want water as Hassan is parched and hit by drought. I hope to make my voice heard in Parliament and ensure the people of Hassan never go thirsty again."
Just like his grandfather, Prajwal tells locals at a rally, he hopes to work hard towards making Hassan a world-class city and bring in more industries. Hassan is the pride of the state, he says, and he will have to be doubly responsible as he carries the weight of his family credibility on his shoulders.
"Mandya and Hassan are the two eyes of Deve Gowda and we are sure that the people will never fail him," he told ThePrint. "People have reposed a lot of faith in us and we will win that love all over."
'We are one'
Both Prajwal and Nikhil deny there is any competition between them over the succession question. Prajwal adopts an elder brotherly tone as he talks about Nikhil, saying the actor had a lot to learn in politics.
Nikhil, meanwhile, describes his cousin as an "adorable brother who has been working through the ranks of the party".
"Don't go by what social media or media says," Nikhil told this reporter. "They are just planting ideas. I will contest from Mandya and Prajwal from Hassan and so there will be no confusion or confrontation even if they (media) want it."
Talking about the brothers' campaigns, Y.S.V. Datta, a senior JD(S) leader said, "If you ask me, Prajwal is more mature than Nikhil.
"Nikhil is yet to learn the ropes," he added. "Prajwal has worked as a youth leader and is a lot better at this (politics)."
Karnataka's 28 seats will vote over the second and third phases of the Lok Sabha polls, on 18 and 23 April. Both Hassan and Mandya vote the same day, on 18 April.
---
Also read: Math done, now Congress-JD(S) has to pass chemistry test in Karnataka
---
Check out My543, our comprehensive report card of all Lok Sabha MPs.