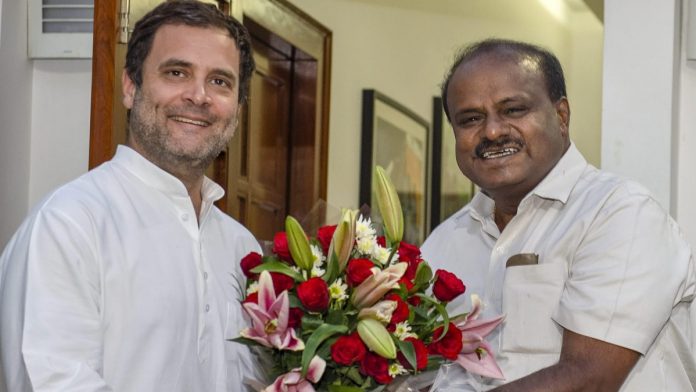 Text Size:
A year ago, as a fierce battle for the state assembly unfolded, Karnataka was the lodestar for Indian political observers to assess the mood of the nation. A year later, as the Lok Sabha elections draw near, Karnataka merely offers two questions and a regret.
Let's begin with the two questions.
First, will the BJP maintain the political dominance it has had in Karnataka in the last three Lok Sabha elections? Called the 'BJP's gateway to south India', Karnataka has given to BJP 18, 19 and 17 seats out of 28 in 2004, 2009 and 2014 respectively. Note that the BJP did well in Karnataka even when the UPA had significant success elsewhere.
In 1998, the BJP and Lok Shakti (splinter Janata Dal group led by Ramakrishna Hegde) had secured 16 seats.
---
Also read: Math done, now Congress-JD(S) has to pass chemistry test in Karnataka
---
However, the BJP's dominant performance in the Lok Sabha elections in these two decades has not translated to success in the assembly elections. Conversely, despite their significant political clout, Congress and Janata Dal (Secular) have not managed to prevent the BJP's electoral dominance in Lok Sabha elections, with the exception of 1999, when Congress won 18 seats.
What explains the BJP's consistent success in Karnataka during the Lok Sabha elections?
Interestingly, Karnataka has always voted in favour of one national party, regardless of the national political mood or political reality in the state.
In the first 10 Lok Sabha elections until 1991, the Congress consistently secured three-fourths of Karnataka's Lok Sabha seats. In 1996, buoyed by H.D. Deve Gowda's leadership, the JD(S) won 16 seats, breaking the Congress stronghold over Karnataka. Deve Gowda went on to become the prime minister. As noted above, from 1998 onward, the BJP's ascendance began.
A potent alliance of (largely urban) middle classes and Lingayats constitute the core support base for the BJP. Add to this mix a select group of OBCs such as Nayakas and Balijas, who are numerically large and resourceful, as well as scheduled castes such as Bhovi (Vaddar). While these groups have consistently supported the BJP during state assembly elections as well, intense competition, as well as local political factors, have prevented the BJP from achieving state-level political dominance, which it has done in Gujarat and Madhya Pradesh.
Apart from this social coalition, Karnataka's voters have found the BJP's nationalism more appealing, especially in Lok Sabha elections. This factor alone has provided the much-needed edge for the BJP in the last two decades. In 2019, PM Narendra Modi's leadership aura may well constitute an attraction. However, note that in 2014, the BJP under Modi won two less seats compared to 2009 when it had secured 19 seats.
Will the BJP electoral juggernaut roll on in Karnataka? The answer will depend on the response to our second question: How will the Congress-JD(S) coalition perform in a national election?
---
Also read: Karnataka raids a brazen display of power, undermine democracy
---
Political expediency, and specifically Deve Gowda's fierce anti-BJP stance, were clearly at the heart of the Congress-JD(S) alliance when it came to power in May 2018. Note that the Congress and the Janata parivar (in all its various avatars) have been historically political rivals for over four decades now. This is particularly true in southern Karnataka, where that fierce rivalry at the local level threatens the viability of the alliance itself. Therefore, it is no surprise that the H.D. Kumaraswamy government has had its share of challenges and its future may very well depend on the Lok Sabha election results. Winning a majority of seats would ensure its survival for the foreseeable future and that is an incentive for Kumaraswamy.
Conversely, the BJP and JD(S) have always complemented each other across the state. This stands to reason since the BJP has banked on Lingayat support in north and central Karnataka for its rise whereas JD(S) has had the Vokkaligas of southern Karnataka as its main constituency. Political whispers in Delhi and Bengaluru indicate that but for Deve Gowda's steadfast opposition, the ever-pragmatic Kumaraswamy would have already been in the NDA camp by now; that he isn't, is not for the lack of trying on the BJP's part. It is also significant that in the past 15 years, the BJP has accommodated a significant number of Janata parivar leaders in central, north and urban Karnataka.
Given this political reality, will the Congress and the JD(S) succeed in transferring their votes to their combined candidates? Speaking at a joint Congress-JD(S) rally in the outskirts of Bengaluru Sunday, Rahul Gandhi appealed to his party men to work together with the JD(S). Will they follow his lead? This factor alone will determine the election results in nearly half of the Lok Sabha constituencies of southern and central Karnataka. In coastal and north Karnataka regions, JD(S) has always had a marginal presence and much of its Lingayat leadership has already moved to the BJP.
Seat sharing arrangements have been made, candidates have been selected and campaigning has begun. Three weeks before polling, the BJP seems to have an edge in 15 seats and the Congress-JD(S) alliance in the remaining 13. Given the veteran leadership in both sides and their ability to manage the elections quite astutely, this could be a closely fought election.
---
Also read: Congress, JD(S) put up united front — a message more for cadre than opposition
---
Finally, my regret about the 2019 Lok Sabha elections. Karnataka presents no signs of giving birth to an alternative politics. This is disappointing at two levels. First, Karnataka has historically produced remarkable social movements and significant civic activism. In recent years, Bengaluru has begun to generate new forms of citizen engagement with public issues and platforms like Bangalore Political Action Committee (BPAC), which have been actively trying to produce a responsible and responsive political class. Additionally, Bengaluru's demography has also changed dramatically in the last two decades, making it fertile ground for an AAP-like new political force. Swaraj Abhiyan, with some roots in farmers and Dalit movements, makes some noise in the media but it just cannot compete. It is extremely disappointing that all this civic activism hasn't produced any political capital and politics continue as usual.
Second, consider the candidates fielded by the BJP and the Congress-JD(S) alliance. Not only are they all conventional politicians, but a majority of them are from political dynasties. In 2014, Nandan Nilekani, V. Balakrishnan (former Infosys CFO) and K. Arkesh (retired IGP, CRPF) found themselves in the electoral arena. Nilekani was even fielded by the Congress. No such luck this time. Such a lack of credible new faces is another source of deep disappointment.
Disclosure: Nandan Nilekani, the former chairman of UIDAI and co-founder of Infosys, is among the distinguished founder-investors of ThePrint. Please click here for details on investors.
The author is a social historian and political commentator. He teaches History and Humanities at Krea University. 
Check out My543, our comprehensive report card of all Lok Sabha MPs.