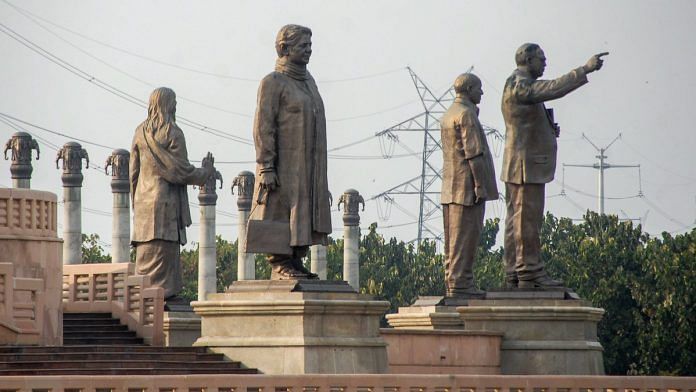 Text Size:
Since Chandrashekhar Azad Ravan rose to limelight after protesting the atrocities on Dalits in Saharanpur, Uttar Pradesh, it has become a media fad to project him as a political threat to the Bahujan Samaj Party and Mayawati. The same happened when Jignesh Mevani shot to prominence in Gujarat.
After Chandrashekhar Azad Ravan's participation in Dalits' protest against the demolition of Guru Ravidas temple in Delhi, Indian media, once again, is trying hard to pitch him against Mayawati.
Here are some questions for these journalists and commentators: Can there not be two or even more Dalit leaders leading the way for the emancipation of Dalits? The Dalit community is not like animals in the jungle that there can only be one 'lion king'. Why should the rise of one Dalit leader necessarily come at the expense of others? How many times has the media questioned the rise of more than one Brahmin leader in the Congress or the BJP or other political parties? And does their rise threaten other Brahmin leaders?
---
Also read: Bhim Army chief Chandrashekhar Azad's Ravidas march shows he's new lion of Bahujan movement
---
Why Mayawati didn't protest
Kanshi Ram and Mayawati complemented each other perfectly and were both leaders for the Dalit community at the same time. Kanshi Ram had the charisma to attract new recruits and Mayawati's speeches touched masses. They were a powerful combination.
Some are saying the Dalits are angry with Mayawati for not coming out to protest. Some Dalits are also blaming Chandrashekhar Azad for the detention of 50 others in the Delhi violence that erupted after the peaceful protest. But no one in the media is highlighting the latter, and instead, are presenting half-baked analyses of the Azad-Mayawati battle.
To understand why the BSP or Mayawati wasn't on the road protesting the Ravidas temple demolition, one needs to go only a few decades back. The BSP has never been a party of mass protest movements. Instead, it has focused on social change through 'political means' as was done by the Mahars of Maharashtra under Bhimrao Ambedkar's leadership.
Many authors are quoting the press statement of Mayawati in which she urged participants in the Delhi protest to remain peaceful and not to break the law. The BSP also distanced itself from the violence. The media is now quoting the press release and Bhim Army's 'use all means necessary' tactic to conclude Mayawati is threatened by Chandrashekhar Azad Ravan's rise. But there is nothing new in the BSP's appeal. Such press releases and comments from BSP leaders to stay within the law are not uncommon.
The BSP has always campaigned to awaken the community to their political rights and use the ballot to change their future (while making one ready for the bullet as well, if needed). Uttar Pradesh didn't have any significant anti-caste movement during the British colonial period, so the emergence of the BSP is nothing short of a miracle. It is a political, democratic change taking place 35 years after Independence.
---
Also read: Kanshi Ram ran BSP military-style. The problem is Mayawati runs it like a bureaucracy
---
BSP never a reactive party
Dalits are angry at the Narendra Modi government's anti-Dalit policies and are looking for some aggressive leadership. It makes sense to protect yourself with the 'all means necessary' recommendation of Malcolm X. Even Ambedkar during the Mahar struggle for water had believed the same when the upper castes threatened to beat Dalits. He had said: "If the occasion comes, we will not hesitate in breaking the skulls of those who threaten us, whatever be the consequence." (Mahad, Anand Teltumbde, page 136.)
The BSP didn't emerge out of revolutionary struggles like that of the Dalit Panthers. Most BSP members were from the BAMCEF (Backward and Minority Communities Employees Federation) – government employees – so it was somewhat natural that they opted for democratic ways of rebellion and not mass street revolution.
Kanshi Ram had also said that we should rule with the ballot, but we have to be ready for the bullet also. However, by and large, both Ambedkar and Kanshi Ram had believed that 'political power is the key'.
The BSP was never a 'reactive' party and has stayed out of many major Dalit struggles such as the Namantar Andolan. The movement was a 16-year struggle to rename the Marathwada University to Dr Babasaheb Ambedkar University. American scholar Gail Omvedt notes that even though the BSP came out of a social action group, it is a political organisation, whose aim is to capture power and use it to improve the condition of the Dalit community.
Early on in his life, Kanshi Ram had participated in protests against price rise, minimum wage and witnessed the Namantar Andolan. He realised very early that such protests don't bring change. So, all those criticising Mayawati for her absence from Dalit protests and cheering Chandrashekhar Azad for his presence in Delhi are ill-informed about history.
---
Also read: Why demolition of Sant Ravidas temple in a Delhi forest has Dalits up in arms
---
No battle here
With her stints as chief minister of Uttar Pradesh, Mayawati achieved much more than what Republican Party (RPI) leaders of Maharashtra could with street protests. Thousands of Dalit civil servants were appointed, and more importantly, the Mayawati government ensured rule of law in the state, bringing great relief.
The massive Guru Ravidas Ghat in Varanasi and the 25-acre Sant Ravidas Smarak Park and was developed by the BSP government. It was the BSP government that built Ambedkar Memorial Park in Lucknow to honour Dalit-Bahujan leaders. All this and much more was done for the Dalits through political power. Reportedly, more than 15,000 statues of Ambedkar were installed during the BSP rule. The Ambedkar village scheme helped millions of other Dalit majority villages. Political power ensured this, not protests.
Criticising the BSP or Mayawati for something the party never stood for is illogical. The media only wants to mount an imaginary battle between the two Dalit leaders for enjoyment. Both leaders are important for the Dalit community, but the media plays its tricks.
Love Mayawati, hate her, criticise her, condemn her, despise her, but you can never ignore her. It would be a mistake to rule out Mayawati, like many writers are doing now. Sure, Mayawati needs to devise new plans and ways to stay connected with the community. Kanshi Ram cycled around the country, but times have changed. Mayawati needs to put technology and social media to good use. But in the game played by Brahminical media, the loser would be the Dalit community.
Mayawati's strategic mind and Chandrashekhar Azad Ravan's muscle power and appeal among young Dalits can work magic, if only their close aides can bring them together, rather than listening to the media's fake narratives of a battle.
The author is the founder-editor of Velivada, a web publication, and runs the online web portal Ambedkar Caravan. Views are personal.
Subscribe to our channels on YouTube & Telegram
Why news media is in crisis & How you can fix it
India needs free, fair, non-hyphenated and questioning journalism even more as it faces multiple crises.
But the news media is in a crisis of its own. There have been brutal layoffs and pay-cuts. The best of journalism is shrinking, yielding to crude prime-time spectacle.
ThePrint has the finest young reporters, columnists and editors working for it. Sustaining journalism of this quality needs smart and thinking people like you to pay for it. Whether you live in India or overseas, you can do it here.