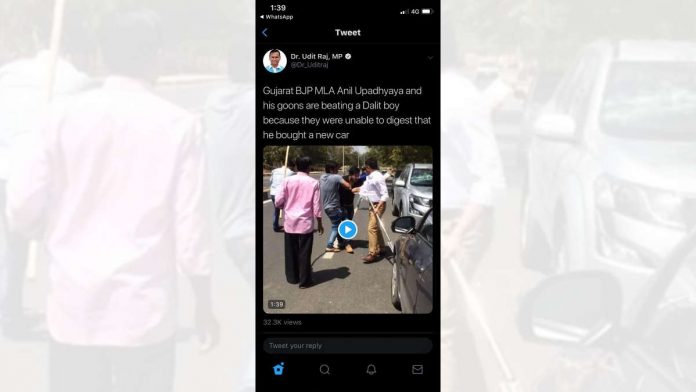 Text Size:
New Delhi: Delhi MP Udit Raj Tuesday shared a video on Twitter to wrongly claim that a Bharatiya Janata Party (BJP) MLA from Gujarat was involved in assaulting a Dalit man.
Raj, himself a Dalit who had switched to the Congress from the BJP after he was denied a Lok Sabha ticket from his North West Delhi seat, wrote on Twitter, "Gujarat BJP MLA Anil Upadhyaya and his goons are beating a Dalit boy because they were unable to digest that he bought a new car."
The over one-minute video, which has now been deleted, showed a group of people assaulting a man in a black shirt with sticks in front of a car. The video had over 33,000 views and 900 likes.
The video was indeed shot it Gujarat, but it does not feature any BJP MLA. Moreover, the legislator's name, Anil Upadhyaya, is also fake as there is no BJP MLA with that name.
When ThePrint reached Udit Raj for his response, he said: "It may not be Anil Upadhyaya, but it is not uncommon in Gujarat for Dalits to be beaten up, that's the Gujarat model."
He even referred to an incident where a Dalit man was killed for owning and riding a horse last year.
When told by ThePrint that the video was fake, Raj said he would delete it and eventually he did.
---
Also read: Najeeb's mom asks 'chowkidar' Modi where's her son, fake IS image reappears in response
---
Fact check
The video is actually of a family feud over a dowry issue in Gujarat and was originally uploaded on YouTube in 2017. The person being beaten up in the video, identified as Hardik Bhardwad, can be heard saying, "Papa, please don't beat me, I won't do it again."
One of the attackers in the video responds, "My daughter had to get seven stitches as you pushed her down the stairs."
Hardik had reportedly assaulted his wife, Ratan, after allegedly demanding a car from her family. The video first went viral last month under Anil Upadhyaya's name.
In collaboration with SM Hoaxslayer
Get the PrintEssential to make sense of the day's key developments