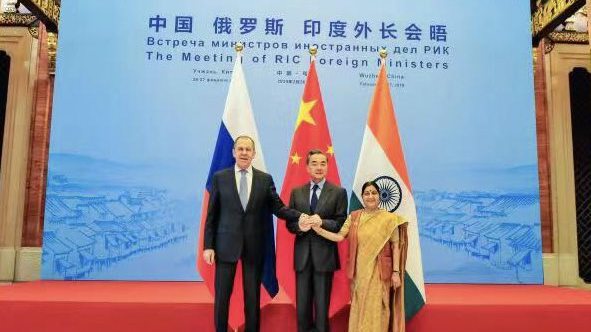 Text Size:
New Delhi: India, China and Russia have said those responsible for "committing, orchestrating, inciting or supporting terrorist acts" must be held accountable, as they urged the international community to strengthen the United Nations-led global counter-terrorism cooperation.
The 16th meeting of the foreign ministers of Russia, India and China (RIC) was held Wednesday at Wuzhen, Zhejiang, China. It was attended by India's External Affairs Minister Sushma Swaraj, Russian Foreign Minister Sergei Lavrov and Chinese Foreign Minister Wang Yi.
A joint statement issued after the meeting read: "The ministers stressed that those committing, orchestrating, inciting or supporting terrorist acts must be held accountable and brought to justice in accordance with existing international commitments on countering terrorism, including the UN Global Counter-Terrorism Strategy, relevant UN Security Council resolutions and the FATF standards, international treaties, including on the basis of the principle 'extradite or prosecute' and relevant international and bilateral obligations and in compliance with applicable domestic legislation.
"The ministers strongly condemned terrorism in all its forms and manifestations. They called on the international community to strengthen UN-led global counter-terrorism cooperation by fully implementing the relevant UN Security Council (UNSC) resolutions and the Global Counter-Terrorism Strategy in accordance with the Charter of the United Nations and the principles of international law, while respecting sovereignty and independence of all states, and expeditiously finalising and adopting the UN Comprehensive Convention on International Terrorism at the earliest."
---
Also read: Pakistan says air space violation a warning shot at India's thinly veiled acts of aggression
---
Swaraj's remarks
Earlier in the morning, during her opening remarks, Swaraj had sought to draw the attention of the members of RIC to the Pulwama terror attack, in which 40 CRPF personnel were killed and the attack was claimed by the Jaish-e-Mohammed (JeM).
A day after the Indian Air Force struck a JeM terror camp in Balakot, Pakistan, Swaraj added that India does not want further escalation of tension with Pakistan, and said it would act with "responsibility and restraint".
Swaraj's statement came hours before the Pakistani government claimed its air force carried out strikes across the Line of Control from its airspace. The objective, it said, was to demonstrate its right, will and capability of self-defence.
---
Also read: India does not want further escalation of tension with Pakistan: Sushma Swaraj in China
---
Get the PrintEssential to make sense of the day's key developments