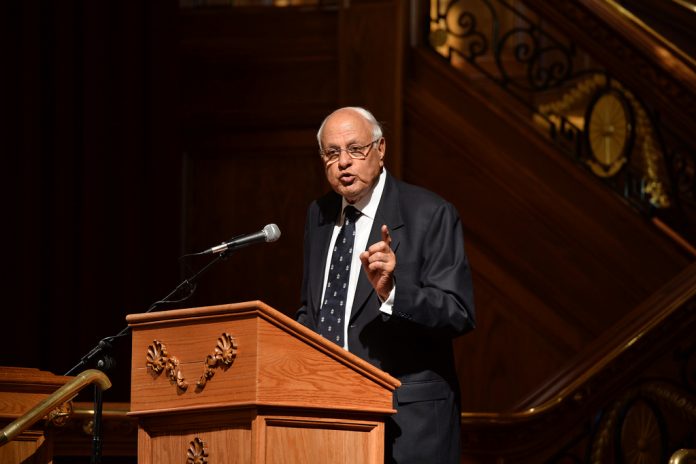 Text Size:
Three-time former CM reminisces about the ceasefire announced by Vajpayee in 2000, hopes the Centre's decision can create lasting peace.
New Delhi: Three-time former chief minister of Jammu and Kashmir Farooq Abdullah has welcomed the decision of the Centre to announce a Ramzan ceasefire in the Kashmir Valley.
"I am absolutely delighted. It reminds me of Atal Bihari Vajpayee ji. He had announced a unilateral ceasefire, which is still in the minds of the people. Hope this step will lead to further peace, not only in Jammu and Kashmir but across the border," Abdullah, the Member of Parliament for Srinagar, told ThePrint Wednesday.
Abdullah said he hoped the ceasefire would lead to peace not only within Jammu and Kashmir but also with Pakistan. "This call should reach beyond borders, and I hope Pakistan reciprocates like it did then," the 80-year-old National Conference leader said.
'People earned their living in peace'
Abdullah was the chief minister when Prime Minister Vajpayee had announced a unilateral ceasefire in November 2000. The ceasefire was extended three times.
"I hope that our gesture will be fully appreciated and all violence in the state and infiltration across the Line of Control and the international border will cease and peace will prevail," Vajpayee had said at the time.
Abdullah recalled: "I remember, at that time, many opposed the decision of Vajpayee, but he stood firm. The borders became silent, people lived safely, and earned their living in a peaceful environment. I hope this ceasefire has a similar effect, and lasts for years like that one did."
The Centre's ceasefire announcement comes days after chief minister Mehbooba Mufti convened an all-party meeting to discuss the security situation in the Valley. A consensus was formed to push for a Ramzan ceasefire proposal within the state.
The decision is a major development for the Kashmir Valley, which has seen prolonged unrest, with dozens killed and hundreds injured in the last two months.
Get the PrintEssential to make sense of the day's key developments