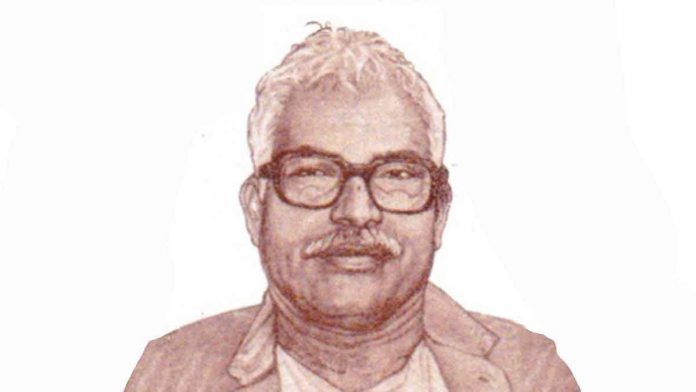 Text Size:
On his 95th birth anniversary, ThePrint looks back at the life of the dynamic socialist leader.
The influence of Karpoori Thakur, Bihar's two-time former chief minister and veteran socialist leader, can be felt even today. A supporter of reservations, a politician who banned alcohol and a man known for his simplicity finds echo is contemporary politics.
Before Prime Minister Narendra Modi was elected in 2014, then Bharatiya Janata Party president Rajnath Singh claimed Modi was similar to Kapoori Thakur — "BJP's Prime Ministerial candidate Narendra Modi also belongs to extremely backward caste and shares a similar poor background."
He had said, "Karpoori Thakur never indulged in political branding of his simplicity".
Nitish Kumar, current Bihar Chief Minister, has also banned alcohol in the state.
Time and again, Thakur's name is evoked by politicians, especially in Uttar Pradesh and Bihar, who wish to woo OBCs in their states.
In August last year, Uttar Pradesh's Deputy Chief Minister Keshav Prasad Maurya announced that the state government led by Yogi Adityanath had decided to name a road in every district in the state after Kapoori Thakur's name.
'Jannayak' or the people's leader devoted his life to socially backward communities in Bihar. "He isn't the kind of guy who can be stopped from doing something he has set his mind on," said his father once.
He is said to have inspired current political leaders in Bihar, including former chief minister Lalu Prasad Yadav, the incumbent CM, Ram Vilas Paswan, among others.
On his 95th birth anniversary, ThePrint looks back at the life of the dynamic socialist leader.
Early life
He was born to a Nai family, the barber community, on 24 January 1924, in Pitaujhia village, later renamed as Karpuri Gram, in Samastipur. He abandoned a college education for the Indian freedom struggle and was arrested between 1942 and 1945 for participating in the Quit India Movement.
Thakur was inspired by heavyweights like Ram Manohar Lohia who spearheaded the socialist movement in post-Independent India. He was also close to Jayaprakash Narayan.
Political plunge
In 1952, Thakur was elected to the Bihar legislative assembly where he continued until his death in 1988.
He was deputy chief minister and education minister before being twice elected CM — between December 1970 and June 1971 and June 1977 to April 1979.
His tenure in these posts were controversial and maybe considered populist.
As deputy CM and education minister, he launched a controversial language policy banning English as a mandatory subject in matriculation exams.
---
Also read: Balkrishna Sharma: A freedom fighter & poet admired by Atal Bihari Vajpayee
---
Chief minister of Bihar
The mid-1960s, when the state's economic growth took a downward spiral, engineering students protested against the lack of employment opportunities.
Author Arun Sinha in his book Nitish Kumar and the Rise of Bihar says "every day seventy to eighty students marched to the police barricade shouting slogans and courted arrest." Kumar was one of them.
CM Thakur announced a policy prioritising unemployed engineers over other candidates in bids for government contracts.
In his second term in 1977, Thakur, who was leading the Janata Party government in Bihar, floated a new reservation policy.
In 1978, he ordered 26 per cent reservation for the state's "backward classes" who were categorised under Annexure I (most backward classes, now called extremely backward classes) and Annexure II (less backward classes). This was in addition to the 24 per cent quota in government jobs for Scheduled Castes and Scheduled Tribes (SCs and STs).
Know as the 'Karpoori Thakur formula', this did not go down well with the dominant castes in the state.
Consequently, Thakur's leadership was challenged. Jagpal Singh, teacher at School of Social Sciences at Indira Gandhi National Open University, in his paper on Thakur, noted, "His position was challenged by a section of dominant OBCs, especially the Yadavs within the socialist rank." His government fell in 1979 and as Singh notes, "this section marginalised him in the politics of the state".
It is also said that during his short term as Bihar's chief minister, he introduced a ban on alcohol but this was resisted by Dalits whose employment was dependent on the toddy trade.
The 'jannayak' who devoted his life to the backward communities faced opposition from certain sections of those very groups at the higher rungs of the backward castes.
Thakur died on 17 February 1988.
Besides renaming his village after him, a college in Buxar has been named after him — Jannayak Karpoori Thakur Vidhi Mahavidyalaya. Two trains operating from Darbhanga in Bihar to Amritsar in Punjab and vice versa have also been named after the title given to him as 'Jannayak Express'.
It is said when Thakur died, he neither had a "concrete house" nor a "bank balance".
---
Also read: George Orwell, Bihar-born novelist who predicted the digital pitfalls of our times
---
Get the PrintEssential to make sense of the day's key developments