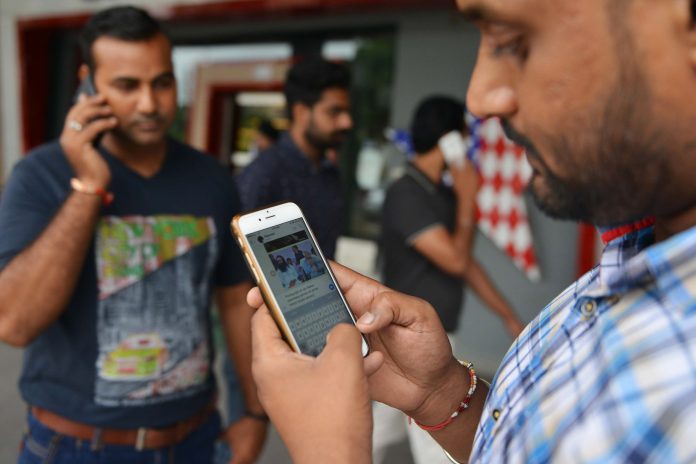 Text Size:
Marriage-related jokes constitute the majority of WhatsApp forwards, wherein women are invariably shown as the cause of trouble in men's life.
New Delhi: During a recent Supreme Court hearing on the constitutionality of the Aadhaar Act, senior lawyer Kapil Sibal argued that no one should be allowed to look into someone else's phone.
To which one of the judges replied, "Except your wife!"
The courtroom burst into laughter.
While this was an innocuous joke, there are plenty floating around on WhatsApp and joke portals that reflect a far more sexist mindset.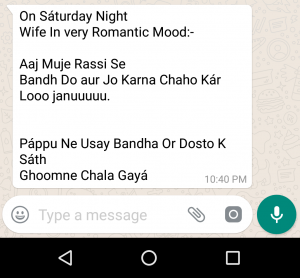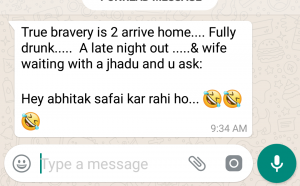 Husband-wife jokes constitute the majority of WhatsApp forwards, in which women are invariably shown as the cause of trouble in men's lives.
This disturbing trend continues even as Indian women have started speaking out in the #MeToo movement against sexual harassment, and have been fighting for the criminalisation of marital rape, in a country that largely in denial of it.
This tends to create a vicious cycle of sexism, where patriarchal views of women as inferior are internalised and perpetuated further by jokes.
Run a Google search of the terms 'Indian husband wife jokes' and about 25 lakh results pop up. The jokes are mostly in Hindi, and can be shared on any social media platform.
'Veg' and 'non-veg' jokes
Sunil Mittal, a 46-year-old businessman in New Delhi, runs a Facebook page called "Husband Wife Jokes….", which has clocked almost 46,000 followers since 2014.
"I was sitting in the office when the idea for the page came to me, and the followers just kept on growing," Mittal said. His page has various jokes constantly being posted on marriage and the role of the wife in a family. Most of these jokes are in Hindi, and posted by various members.
"My page has no 'good morning' messages or 'non-veg' (dirty) jokes, just pure 100 per cent pure veg husband-wife jokes," Mittal said.
Mittal said anyone can write for his page, so long as they abide by the golden rules: "Don't post any vulgar jokes or nude images".
"My entire family is on the Facebook page — my wife, relatives everyone," he said.
Rajiv Sharma, head of marketing and advertising at one of India's most popular joke portals SantaBanta.com, said marriage jokes get top priority on his portal.
"Our creative team comes up with content depending on what is trending, but marriage jokes are always popular," he said.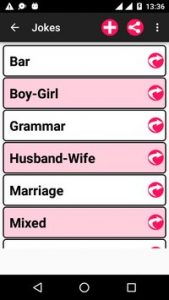 Sharma said that users can send their own jokes which are moderated by a team. While the "non-veg" jokes go to a restricted forum on the site, the "cleaner" ones can be accessed by all.
"The ratio between men and women who access and share these jokes is 60:40," Sharma said.
Most of these sites also offer an option which allows viewers to download these jokes as 'SMS packages'.
'It's just a joke'
 "I am not married, but I really enjoy these jokes," said Vishnu Prasad, a 29-year-old accountant, who is an active member of an all-male WhatsApp group.
And the most common defence people, both men and women, come up with is— "Why can't you take a joke?"
"Women have internalised the idea that we're disposable and 2nd class—so any joke that makes fun of women is met with laughter," said Jaya Dubey, who teaches at the University of California. "When called out on it, they will say that they respect women, love their moms, daughters and friends."
Dubey said that more women share these jokes than men on the WhatsApp groups she is part of.
A study by American Psychology Association showed that men who cracked sexist jokes have "higher levels of rape proclivity" than those who didn't.
"There jokes not only allow men (and sadly, women) to believe that sexist behaviour falls within the bounds of social acceptability, it also reveals people's deep-rooted… prejudices about a woman's place in our world," wrote Toula Drimonis, a mediaperson and an author.
How to tackle them
"I always try to do it non-aggressively, because people are more likely to respond and actually engage," said Siddhesh Gooptu, a student of sociology at Delhi School of Economics, speaking about how he confronts sexist humour.
According to Dubey, "WhatsApp's accessibility has made it possible for Indians to corrode gains in women's rights through malicious laughter that can be shared 24/7."
With inputs from Apurva Vishwanath
Get the PrintEssential to make sense of the day's key developments.