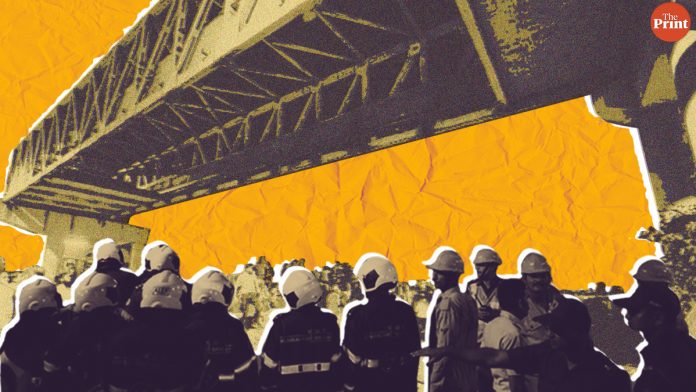 Text Size:
A portion of a foot over-bridge outside Mumbai's landmark Chhatrapati Shivaji Terminus collapsed Thursday evening, killing six people and injuring more than 30. This is Mumbai's third such tragedy in the last 18 months.
ThePrint asks: Mumbai bridge collapse: Negligence of authorities or woefully inadequate infrastructure?
---
We should look into how the audit was done to see if there were any faults there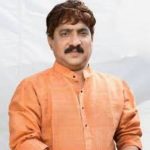 Mangesh Satamkar
Shiv Sena corporator and standing committee member
One can call it a case of negligence if the audit report said that the bridge was dilapidated and yet the civic authority did not do anything about it. It can be a case of negligence if the civic authority had not carried out any structural audit in last few years.
But after last year's incident, when a portion of the Gokhale bridge in Andheri collapsed, we got a structural audit done for all the bridges. Some are under the jurisdiction of the railways, while some are with the BMC. Both agencies came together and got all the bridges surveyed.
Now that we had got an audit done and it said the structure was stable, we should look into how the audit was done to see if there were any faults.
Some long-term improvements are definitely needed in how things are done. As members of the standing committee, a few of us have questioned the administration on the status of old, arterial bridges, such as the Tilak bridge. But we don't get satisfactory answers from politicians.
When a disaster strikes, people wake up. All inquiries start in full force. Ideally, these structural audit reports should be in public domain. The BMC administration should take this a little more seriously.
---
At least 5% of the bridge's current valuation needs to be set aside as maintenance cost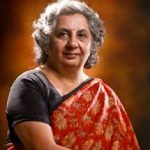 Sulakshana Mahajan
Former urban planning consultant, Mumbai Transformation Support Unit
The primary reason for such mishaps is authorities' negligence. But what I mean by negligence is completely different from what politicians are referring to. Any infrastructure or capital investment, whether big or small, needs an associative recurring investment. In the first 10 years, the recurring expenditure is negligible, but as the years pass, the cost of maintenance rises exponentially.
Take this bridge, for example. In the 1980s, it may have been built at a cost of Rs 5 lakh, but today it may be worth nearly Rs 1 crore. At least five per cent of the current valuation needs to be set aside as maintenance cost. Every three years, it should be given a coat of oil paint, every three years, there should be an audit report.
This bridge looks like a steel bridge, a slab of which collapsed. In the 1980s, the structure must have been built using an inferior quality of cement. The reinforcement steel would have had no coating to protect it from corrosion.
Over the years, the slab should have ideally been replaced with a better resilient material and the engineering section of the department tasked with the maintenance should have taken this decision.
The engineering department should have a separate budget for maintenance of capital investment made over 30-40 years ago. The asset value should be determined every three years and the maintenance amount should be budgeted accordingly. This is not the job of a politician. This accountability should be institutionalised.
---
Also read: In 21st century, infrastructure is the new route to 'colonisation', US study says
---
There should not be a confusion over jurisdiction between railways & BMC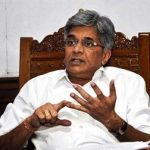 Ravi Raja
Congress corporator and leader of opposition in BMC
The BMC has been negligent. The civic body is flush with funds, but there is no proper utilisation or supervision.
The problem is that everything starts and ends with corruption, including appointment of consultants for audits. The consultant gave a report that said the bridge was in a good condition. Then why did this happen?
Some repairs were taken up by the municipal corporation. It has to be seen if they were done keeping the structural stability of the bridge in mind. Some tiles were added to the bridge. When you put more load, the structure is bound to get damaged.
In any office, any machinery is checked every six months to see if it is in proper shape. Why is this not done with our bridges? Why is there a confusion on jurisdiction and a blame-game among agencies? It is very clear that anything constructed across the tracks is under the railways and anything over the road is with the BMC.
The BMC should conduct proper structural audits of all the bridges and put these reports in public domain along with the remarks and details of the officials. Unless responsibility is fixed and those found to be negligent are booked for no less than culpable homicide, this careless attitude will continue.
The political dispensation is equally responsible for this. When they jump to take credit for all the good work, they should be ready to face flak for the bad things too.
---
No stringent action is ever taken against any official found guilty of negligence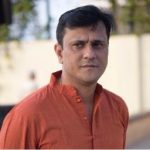 Sandeep Deshpande
Leader, MNS
The only reason for Thursday's bridge collapse is negligence of authorities. The Brihanmumbai Municipal Corporation (BMC) was responsible for maintaining the bridge. What does maintenance of the bridge mean?
Officials have to go on site visits, maintain regular audit records, and monitor all the developments. In the case of this bridge, there was a structural audit just one year ago. At that time, there was no mention of any possibility of the bridge suffering corrosion.
What was the chief engineer doing at that time? How was the audit done, who did the audit, and how is it acceptable that a bridge declared structurally sound in an audit collapsed? It is purely negligence, nothing else.
Politicians can start a blame-game although it is clear that any structure that is built over a road becomes the responsibility of the BMC. This blame-game is happening only because the elections are coming up.
No stringent action is ever taken against any official found guilty of negligence in these cases. In the Elphinstone stampede case, no one faced any tough action. And so, people are callous about it. The present chief engineer hasn't even visited the site.
The MNS leaders had earlier made him stand in the middle of a road and claim responsibility for the terrible condition of roads across the city. He was the in-charge of the department responsible for roads back then.
Now, the same person is in-charge of bridges. Officials are appointed to important positions, without their past record or capability being taken into consideration.
---
Mega projects for mass transit on the cards, but little attention is paid to pedestrian infrastructure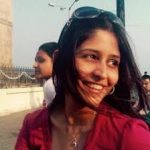 Manasi Phadke
Associate Editor, ThePrint
There is no doubt that Mumbai's teeming population suffers due to woefully inadequate transport infrastructure, but pedestrians are perhaps the worst affected and the most ignored.
Several local surveys have indicated that almost half of Mumbai's commuters walk some distance to reach their workplace. While there are multi-crore projects on the cards to build more roads, expressways and mass transit systems, little attention is given to pedestrian infrastructure.
Pedestrians were the victims in the last few major disasters in Mumbai concerning bridges, be it the Elphinstone bridge stampede, the collapse of the Gokhale foot over-bridge in Andheri or Thursday's incident outside the Chhatrapati Shivaji Terminus.
Yet, footpaths are reduced to widen roads, and where they do exist, law enforcement agencies turn a blind eye to the hawkers and vehicles that take up the space. While wobbly vehicular bridges do get repaired on priority, tenders for maintenance of foot over-bridges linger.
Even in this case, it has been reported that tenders for minor repairs were floated some time ago, but got stuck in red-tape.
Along with prioritising pedestrian infrastructure, there is also an urgent need for a bridge management system – a comprehensive database of all the 314 new and old viaducts in the city, maintained by at least five different agencies with a log of when they were last refurbished and what maintenance needs to be undertaken when.
The BMC officials have been talking about this since the Elphinstone stampede in September 2017, but no step has been taken yet.
---
By Manasi Phadke, associate editor at ThePrint.
Check out My543, our comprehensive report card of all Lok Sabha MPs.