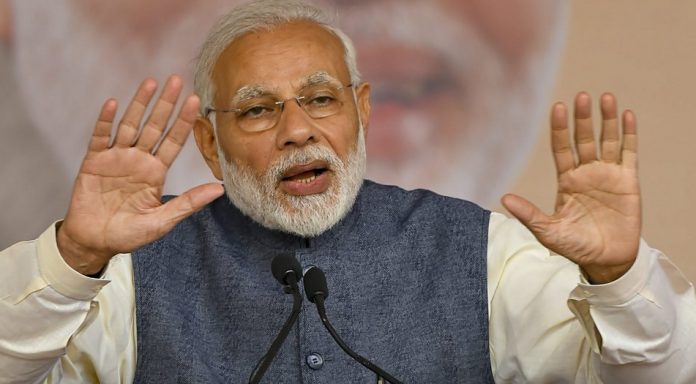 Text Size:
Pre-Truth — snappy, witty and significant snippets from the world of politics and government.
How Saubhagya scheme 'improved' relationship between couples
Narendra Modi government's Saubhagya scheme has "improved relationship" between couples, a think tank associated with the BJP has claimed. Earlier, couples used to sleep early as there was no electricity. But now the family watches TV, children study and husband and wife get more time to chat, which has improved their relationship, claimed a director of the Public Policy Research Centre (PPRC), releasing its findings on the psychological impact of electricity in 'dark villages' in Madhya Pradesh in New Delhi Tuesday. The PPRC is headed by BJP MP Vinay Sahasrabuddhe. Women are having the hold over TV remotes and so have a say in what to watch, according to the findings. The release of the PPRC's findings was timed ahead of the assembly elections in Madhya Pradesh on 28 November.
---
In MP, picture will be clear after 26 November, say veterans
Assembly elections in Madhya Pradesh are heating up, and all political stakeholders have their own take on the situation. Some veterans, however, know that the trajectory of this close contest will be clear once the campaign period is over on 26 November. Former Madhya Pradesh chief minister and BJP leader Babulal Gaur draws an unusual, but humorous, analogy. "Abhi toh ghodi aur baaraat taiyyar ho rahe hai. Band baja bhi taiyyar ho rahe hai. Pachchees taariq ke baad lagan hoga. (Right now the horse and the groom's side are being prepped, as are the celebrations. It is after the 25th that the wedding will take place)," he said to some journalists. With this, Gaur — a seasoned politician — adopts an amusing method to explain the unpredictable nature of this election and how it is, in fact, the last few days that will determine what really happens.
---
Also read: Why Ravi Shankar Prasad cancelled his scheduled speech at BBC's fake news conference
---
CIC staff strength depletes further as 4 commissioners retire
The Central Information Commission Tuesday bid a gloomy farewell to four of its seven information commissions, including Chief Information Commissioner R.K. Mathur. Already struggling with vacancies, the commission will now have only three commissioners out of the sanctioned strength of 11. There were three commissioners bidding farewell to the other four colleagues. With no certainty over the appointment of the chief yet — who is responsible for several administrative decisions, allocation of cases, among others — the staff of the commission is worried even about its day-to-day functioning now, which they fear, may hit a standstill.
---
Jagan's wife Sharmila taken aback by party's move
The decision of the YSR Congress, headed by Jagan Mohan Reddy, not to contest the Telangana assembly polls on 7 December and concentrate only in Andhra Pradesh was said to have surprised his wife Sharmila who headed the Telangana unit of the party. Under her leadership, the Telangana unit was bracing for the contest and was left disappointed. YSR Congress leaders claim that she had even tried to reason with Jagan against the decision but he refused to relent. The YSR Congress had won three assembly and one Lok Sabha seat in Telangana in 2014 polls. All four legislators later joined the Telangana Rashtra Samithi.
---
Also read: With Ahmed Patel as treasurer, Congress coffers begin to swell ahead of 2019
---
AAP earns more praise for TM Krishna concert than its 'popular' schemes
The AAP government scored a secular brownie point among the Lutyens' elite by organising the T.M. Krishna music concert in Delhi over the weekend. Everybody and anybody who wants to stand up and be counted in the anti-Hindutva universe was there. But chief minister Arvind Kejriwal was apparently genuinely surprised by this, according to someone in his team. "We have done so much good work in Delhi's health sector and government hospitals. Not a word on all that. But it just takes one music concert, and all the editors have tweeted praise!"
(Contributors: Pragya Kaushika, Ruhi Tewari, Sanya Dhingra, and Rohini Swamy)
Check out My543, our comprehensive report card of all Lok Sabha MPs.