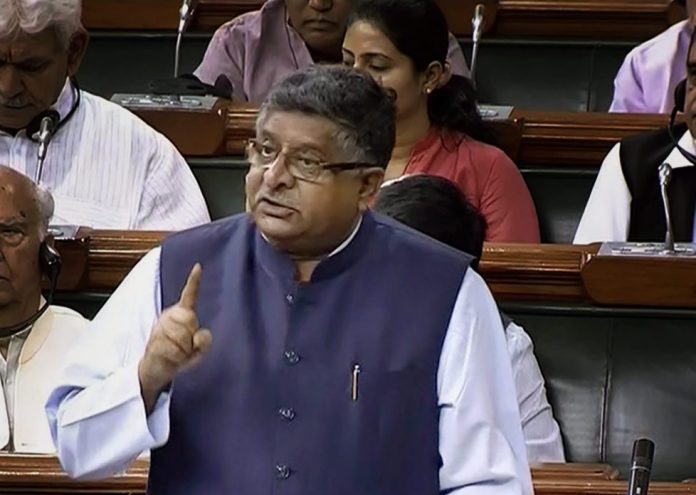 Text Size:
Law Minister Ravi Shankar Prasad underlines that Parliament can amend the Constitution, says 50% quota cap has only come up in SC judgments.  
New Delhi: Union Law Minister Ravi Shankar Prasad Wednesday defended the government's decision to introduce the bill for reservation to the 'poor' in the general category just ahead of the Lok Sabha elections, saying that it "at least dared" to bring it.
"They (opposition) ask us why we have brought it in now," Prasad said during the discussion on the bill in Rajya Sabha. "They are complaining that this bill should have been brought earlier. I just want to say we may be late, but we at least dared to bring this bill."
The law minister also said Parliament was fully within its rights to amend the Constitution.
"Why are a few casting aspersions on the powers of Parliament? Parliament has been given the power to make laws and amend, change or repeal any section of the Constitution," Prasad said. "Why do some members have doubts about the powers of the House?"
The bill to provide 10 per cent reservation in jobs and educational institutions for economically weaker sections in the general category was passed by Lok Sabha Tuesday.
It is being seen as an attempt by the Bharatiya Janata Party (BJP) to reach out to its upper caste vote-base ahead of the Lok Sabha elections.
---
Also read: Modi govt to amend Constitution for new 10% quota: Law Minister Prasad
---
'Won't affect existing quota pool'
Much like other speakers from his party in both Houses, Prasad sought to clarify that the bill provided for quotas over and above the existing pool. "The existing reservation will remain as it is. We are not touching it at all," he said.
"Isn't it true that people from the forward castes, Brahmin, Rajput etc are also workers?" he asked. "They are poor. They should also be given an opportunity. If we are doing this, why is it wrong?"
The law minister also underscored the point about the 50 per cent limit on quotas set by the Supreme Court.
"Everyone's talking about the 50 per cent cap on reservation. There is no mention of this cap in the Constitution; it has only come up in judgments," he said, questioning why the opposition was supporting the bill with "ifs and buts". "That ceiling, in fact, only applies to reservation for backward classes."
Get the PrintEssential to make sense of the day's key developments