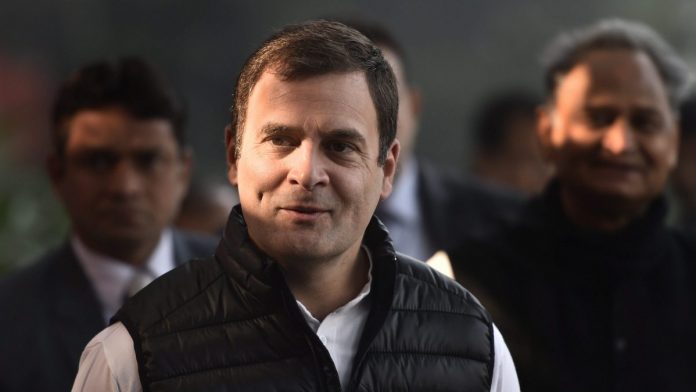 Text Size:
Most of the new Congress spokespersons are aged below 50 years. Their role, till now limited to random TV appearances, is set to expand.
New Delhi: From a former XLRI professor, a Supreme Court lawyer to a one-time Delhi University Student Union (DUSU) president, the Congress has stuck to younger leaders in its choice of national spokespersons announced by party president Rahul Gandhi Monday.
Of the 10 newly-appointed appointed spokespersons, at least eight are below the age of 50 years, with most of them being relatively unknown faces in the national political circuit.
The list, however, does include seasoned Congress hands such as Pawan Khera, former political secretary to Sheila Dikshit during her 15-year stint as the Delhi chief minister, and Akhilesh Pratap Singh.
The grand old party's decision to project young faces is being seen as an attempt to connect better with younger audiences at a time when BJP spokespersons such as Sambit Patra and G.V.L. Narasimha Rao have been drawing sharp criticism for denigrating the public discourse through shrill, vituperative and controversial remarks.
Some of the new Congress faces have been part of the party's panel of leaders authorised to represent it in TV debates but their role was limited to random appearances on television channels.
They will now play a larger role as national spokespersons and are expected to supplement the efforts of veteran leaders and spokespersons to set the agenda ahead of the 2019 Lok Sabha elections.
ThePrint profiles a few of them.
---
Also read: Five things Narendra Modi and Rahul Gandhi should stop doing in 2019
---
Dr Gourav Vallabh, 41
A former professor at XLRI in Jamshedpur with a background in economics and finance, Vallabh is a new entrant to the party. Spotted by senior Congress leader Randeep Surjewala last year, Vallabh, a first-generation politician, joined the party in February 2018.
"Earlier, I used to informally provide the party with inputs on the economy and finance whenever asked for. That's how Mr Surjewala knows me," Vallabh told ThePrint. "In February 2018, I approached him with a request to join the party full time."
Hailing from a small town in Jodhpur, Vallabh said that he is grateful that he was given the opportunity to work for the party despite the fact that he does not have any political background or backing.
"I come from a very simple, middle-class family. Both my parents were academics," he said. "I decided to join the Congress because I was inspired by Rahul Gandhi's leadership."
Soon after joining the party, Vallabh was made one of the national media panellists. "I began appearing in TV debates as and when I was told to go. Though I can debate on all issues, I enjoy talking on the economy, finance and banking-related matters," he said.
Vallabh has authored two books and was also a visiting professor in management institutes across India.
"I don't have any expectations (with politics). Whatever comes my way, I will accept it," he said.
Hina Kaware, 34
A two-time MLA from Madhya Pradesh, this is Hina's first foray as a party spokesperson. And it came as a New Year surprise to her.
"On Sunday, Mr Surjewala called me in the evening and told me that the party has seen my work and has decided to make me a national spokesperson. So far, I have always been in the field," Hina told ThePrint.
Hina is no stranger to politics. Her father, Likhiram Kaware, was a cabinet minister in the Digvijaya Singh government in the state. Maoists had entered Kaware's house and killed him in 1999. Hina's mother is also a two-term MLA from the state. "I was involved in my parents campaigning since I was 15," she said.
Hina won from Lanji constituency for the second time in 2018.
A postgraduate in political science from Bhopal's Barkatullah University, Hina is now honing her debating skills.
"I hardly watch TV because of the shrill political debate that goes on there. I don't want to indulge in shouting; I will argue based on facts," she said.
Rajiv Tyagi, 47
Tyagi is a seasoned Congress leader from Uttar Pradesh. With 18 years of experience behind him, Tyagi has held various responsibilities in the party, including two terms as general secretary of the Uttar Pradesh Congress Committee. He was also the state Congress spokesperson in 2013.
Tyagi said he was first spotted by Rahul Gandhi in 2005 when the party had organised a conference at Chitrakoot in Madhya Pradesh where youth leaders from across the country had been invited. "I interacted with Rahul Gandhiji for the first time there. I was soon made the party's state general secretary," Tyagi told ThePrint.
A resident of Ghaziabad, Tyagi has also been a regular in TV debates for some time now. "I feel for farmers of this country and have raised issues related to them," he said.
Tyagi has another distinction. He has been to jail four times for political protests, including in 2005 when he showed black flags to former PM Atal Bihari Vajpayee when the latter visited Pilkhuwa in Ghaziabad.
Sunil Ahire, 43
Ahire was the Mumbai Youth Congress president between 2006 and 2010. Another Surjewala recruit, Ahire has 25 years' experience in the Youth Congress. "I come from a middle-class, non-political family," he told ThePrint.
Ahire made his debut as a TV panellist nearly four months ago. "Seeing my debating skills, the party has now reposed its faith and elevated me as a national spokesperson," he said.
Jaiveer Shergill, 35
A Supreme Court lawyer, Shergill joined the Congress in 2013, just ahead of the 2014 parliamentary elections. He was selected through a talent hunt competition that was launched by Rahul Gandhi.
Hailing from a non-political family, Shergill is a first-generation politician who has made his way up. He was earlier one of the party's media panellists in Punjab. "The elevation to national spokesperson is an honour," Shergill told ThePrint.
Shergill said that way back in 2013 when he had joined the Congress, the party was going through its worst phase.
"After the poll drubbing, nobody was talking to us," he told ThePrint. "I used to appear in panel discussions in channels such as Sudarshan TV. From there to now when TV channels are talking up Rahul Gandhi's PM prospects, I think we have come a long way."
Young and articulate, Shergill is a law graduate from West Bengal's National University of Juridical Sciences (NUJS). He is also a trained pilot.
---
Also read: Why RSS is doing to Modi what Congress did to Manmohan Singh—the accidental PM
---
Ragini Nayak, 36
Nayak made her foray into politics during her college days.
When she served as the president of the Delhi University Students' Union (DUSU) in 2005-06, she was one of the youngest to hold the post. Nayak has come a long way since then.
She was a spokesperson of the Delhi Pradesh Congress Committee in 2014. Nayak is among the two women appointed as a national spokesperson by the Congress Monday.
Another regular in TV debates, the articulate Nayak finished her law degree from Delhi University. She taught in Lakshmi Bai College for some time in 2012. She is married to AICC member Ashok Basoya.
Dr Syed Naseer Hussain, 49
An All India Congress Committee spokesperson, Hussain was nominated to the Rajya Sabha last year. It was, however, not what Hussain wanted.
Before he was nominated to the Upper House from Karnataka, Hussain had wanted to contest from Bellary during the 2018 assembly elections. He was denied a ticket and instead nominated to the Rajya Sabha.
An old confidante of senior Congress leader Oscar Fernandes, Hussain was involved with the Youth Congress for more than two decades.
He was the co-vice chairman of the Central Advisory Board for Child Labour under the Union labour ministry when Fernandes was the labour minister. He holds a doctorate in international relations from Jawaharlal Nehru University.
Read Global Pulse for a sampler of the big international stories, and why they matter.