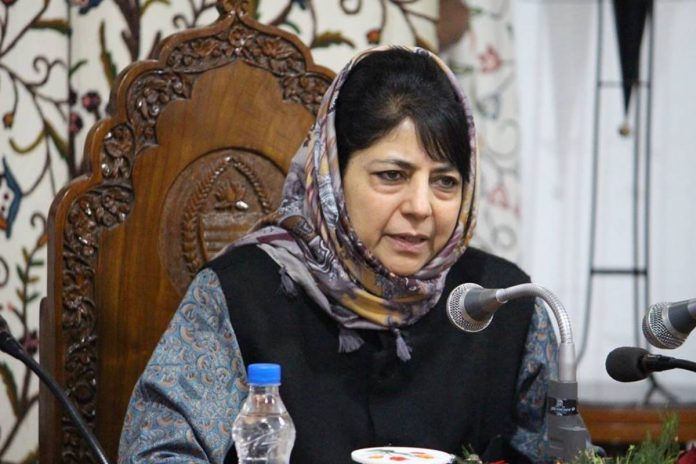 Text Size:
Imran Raza Ansari, a former PDP minister who accuses Mehbooba of nepotism, too has followed in the footsteps of his late father, a Kashmir politician.
New Delhi: Former Jammu & Kashmir chief minister Mehbooba Mufti finds herself in a fresh crisis with legislators of her Peoples Democratic Party (PDP) openly criticising her leadership and threatening to quit. They have accused her of promoting family and close acquaintances within the party at the cost of other members.
One of them, former state minister Imran Raza Ansari, also blamed the collapse of the party's coalition government with the Bharatiya Janata Party (BJP) to "Mehbooba's failure to lead the government efficiently".
The attack comes days after the BJP, the PDP's ally of three years, pulled the plug on their tie-up on the grounds that the Mehbooba administration failed to meet two objectives — of "restoring peace in the state, especially in the Kashmir Valley, and encouraging fast development in its three regions".
Soon afterwards, BJP president Amit Shah also accused her family, as well as that of National Conference chairman Farooq Abdullah, of corruption.
Mehbooba is the daughter of former J&K chief minister and PDP founder Mufti Mohammad Sayeed, and assumed the office following his death in January 2016. She subsequently handed over the state's key tourism ministry to her brother Tassaduq Mufti, a political greenhorn who earlier headed the CMO's grievance cell, a decision that reportedly didn't sit well within the party.
On Sunday, senior PDP leader and MLA Abid Hussain Ansari, Imran's uncle, minced few words in expressing his disenchantment, saying Mehbooba had turned the party into a "family fiefdom".
Imran's attack came a day later, as he accused Mehbooba of "destroying the party" by reducing it to a "family opera where the brothers, the uncles, the aunties and others" are in power.
Supporting them is fellow PDP legislator Mohammad Abbas.
Ansari claimed both he and his uncle had told the former CM that people in her inner circle were taking a toll on governance, but she gave their advice no importance.
Mehbooba's 'inner circle'
Mohammad Sartaj Madni, PDP vice-president 
Sartaj Madni, Mehbooba's maternal uncle, was appointed PDP vice-president for a second consecutive term in December 2017.
He has also served as the deputy speaker of the Jammu & Kashmir assembly.
A source close to the family told ThePrint that Madni was "nowhere close to the inner circle during her father Mufti Mohammad Sayeed's time".
Madni was elected to the assembly from Devsar in 2008, but lost the 2014 election to Congress' Mohammad Amin Bhat, and so "they kept him at arm's length", the source added.
"But after Sayeed's death, he came closer to the throne, and appeared to be the man in-charge. He went beyond governmental affairs — onto organisational roles and such," the source said.
In February, Mehbooba courted controversy over the appointment of Madni's son, Syed Aroot Madni, as an executive officer in the state Khadi & Village Industries Board (KVIB). As pressure of nepotism charges grew, Aroot resigned.
Tassaduq Mufti, minister for tourism

Mehbooba's 45-year-old brother was a known cinematographer in Bollywood, with movies like Omkara and Kaminey on his CV, before he joined politics on 7 January 2017, the first death anniversary of their father Mufti Mohammad Sayeed. Tassaduq holds a master's degree in fine arts from the American Center.
In December, Mehbooba gave him the tourism portfolio, which she herself held at the time. Prior to this, Tassaduq was also nominated as a member of the J&K legislative council by the governor for the seat vacated by Vikramaditya Singh, a descendent of J&K king Hari Singh, after his resignation from the PDP.
There have been allegations within the party that Tassaduq was going beyond his brief. According to sources, Tassaduq "wanted to overload the system with advisers and consultants whom he paid a lucrative salary". The advisers, they alleged, interfered in the day-to-day functioning of the government.
Peerzada Mansoor Hussain, former MLA, PDP general secretary 
In 2015, Peerzada Mansoor Hussain was appointed by the PDP as a political adviser to Mehbooba, the then party chief. In a statement, a PDP spokesman had said that Mansoor would advise the president in day-to-day organisational matters and relay her instructions whenever necessary.
The death of Sayeed in 2016 left a vacuum in the PDP that Mehbooba was initially reluctant to fill, and this is when Mansoor is said to have made his way into her inner circle.
A source said Mehbooba was very open to Mansoor's advice, and he "had her ear at all times".
"It is known that her father liked his (Mansoor's) father-in-law, but disliked this man. He wasn't happy that Mehbooba was in his company," the source added.
Mansoor, elected as an MLA in 2008, lost the 2014 assembly election.
Mansoor's nephew Peer Kashif Hussain had also made it to the waiting list for the post of assistant executive officer at the J&K Khadi and Village Industries Board (JKKVIB). Mansoor was the vice-chairman of the JKKVIB.
Government officials said due process was followed in the selections.
Pot calling kettle black?
However, though the Ansaris' claim of dynasty politics against Mehbooba cannot be dismissed, Imran's own position in the PDP can be said to be a consequence of his father's political legacy.
Imran's father, Maulvi Iftikhar Hussain Ansari, was the only Congress MLA in the National Conference (NC) government formed by Farooq Abdullah in 1996. He later joined the PDP in 2005 citing differences with Abdullah's bureaucrats and remained associated with the PDP till his death in 2014.
Even Iftikhar was a product of his own father's standing – he succeeded his father Maulvi Muhammad Jawad Ansari as president of the All Jammu and Kashmir Shia Association in 1962, a position he held for life.
Upon Iftikhar's death, the PDP fielded his son Imran from his constituency, Pattan. Iftikhar's brother Abid was also fielded, from Zadibal.
Sources say Imran did not receive the same attention from Mehbooba that he did under Sayeed, and was upset with the portfolio he was given.
"There was a question mark over his loyalty," a source close to the Mufti famiy told ThePrint.
Speculation is rife that the Ansaris may quit the PDP and switch to the BJP.
Get the PrintEssential to make sense of the day's key developments