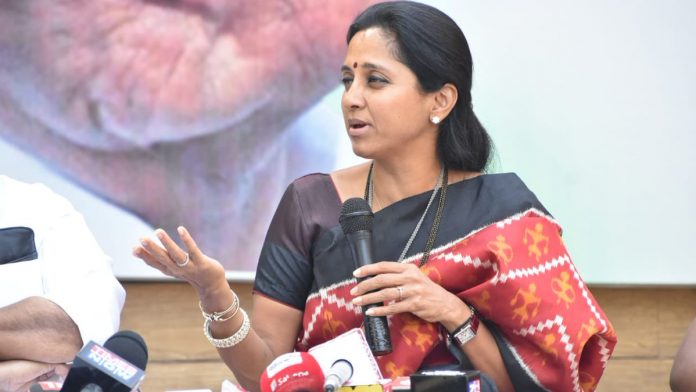 Text Size:
Mumbai: Nationalist Congress Party (NCP) MP Supriya Sule has complimented Raj Thackeray on his anti-Bharatiya Janata Party (BJP) campaign, saying she is proud that somebody has the guts and courage to stand up to the Modi government.
Sule, daughter of NCP chief Sharad Pawar, however, clarified that Thackeray is not campaigning for the Congress-NCP alliance in Maharashtra, but simply putting forward a view that he feels strongly about.
"You see, his TRP is probably the highest in the state. If he is saying things honestly what is wrong with that? I am happy about it," Sule told ThePrint.
"I am proud that somebody has the guts, the courage to stand up to this government and say the truth. Because otherwise this government is always after everybody's blood."
She added, "It's not about helping the alliance. It's about saying the right things and the truth."
Thackeray's Maharashtra Navnirman Sena decided not to contest the Lok Sabha election after jostling hard to get space in the opposition alliance of the Congress-NCP. But, despite being out of the fray for the Lok Sabha elections, Thackeray has been holding rallies across Maharashtra, highlighting how the Modi government has gone back on its promises.
---
Also read: NCP's Supriya Sule asked most number of questions on education in Parliament
---
'Not disappointed with Sharad Pawar's decision'
Sule, two-term MP from the Pawar bastion of Baramati, said she was "not at all" disappointed with her father's decision to not contest this Lok Sabha election.
Pawar, who is a member of the Rajya Sabha, had earlier indicated that he will contest from the Madha parliamentary constituency from where he was elected MP in 2009. He had decided to sit it out in 2014.
"It was the right decision," Sule said. "Too many members of the Pawar family were contesting… He is already a member of the Rajya Sabha. What is the point of wasting the Rajya Sabha seat?"
As for her nephew, Parth Pawar, son of NCP leader Ajit Pawar, Sule said he is a "breath of fresh air" and she is looking forward to him winning the election and performing well in the national capital.
'Modi changed his stand, we have been consistent'
On Prime Minister Narendra Modi's sharp criticism of Sharad Pawar in his recent campaign rallies in Maharashtra, Sule said, "It's a question you have to ask him because he has changed his stand. We have been consistent."
Modi had earlier heaped praises on Pawar. In 2016, speaking in Pawar's home turf of Baramati, the PM had said the septuagenarian handheld him in his early days as a politician. Pawar had returned the favour by talking about how Modi is constantly traveling and this shows his commitment to the country.
In 2015, Modi had even shared stage with Pawar at the foundation stone-laying ceremony for a vegetable production centre in Baramati. He had then praised Pawar as a repository of experience and said it was his responsibility to reach out to the NCP chief from time to time for advice on certain issues.
"We are a very value-based people and for us our opponents are not our personal enemies. We have disagreements of views and opinions. We can have different views, but we still respect each other," said Sule.
She added, "It is unfortunate that the present government looks at people as enemies. We don't have enemies and we don't look at people as enemies."
---
Also read: NCP hopes third-gen Pawar will unseat Shiv Sena from Maval with 'family magic'
---
Get the PrintEssential to make sense of the day's key developments