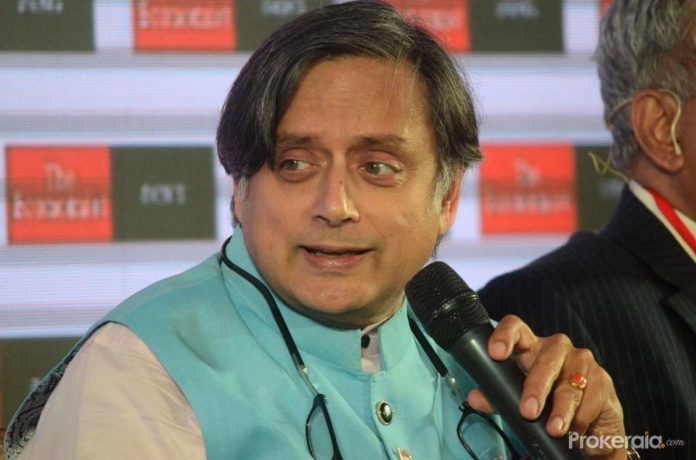 Text Size:
Historian Ramachandra Guha called Shashi Tharoor's article for ThePrint 'deeply disappointing', but MP's position was backed by ex-foreign secy Nirupama Rao.
New Delhi: While the controversy over the Supreme Court's decision to allow women of all ages to enter Kerala's famed Sabarimala temple rages on, Shashi Tharoor, the Lok Sabha MP for Thiruvananthapuram, has ignited another heated debate.
In an article he wrote for ThePrint, Tharoor called himself an "instinctive liberal" who felt "torn" about the continued refusal of the temple authorities to follow the Supreme Court's order, and the public support they seem to have.
However, the article has drawn mixed responses, with many including historian Ramachandra Guha criticising Tharoor's article, while others like former foreign secretary Nirupama Menon Rao have backed the Congress MP's position.
What Tharoor wrote
Tharoor wrote that he respected the "equality of men and women" and had "respect" for the Constitution and the Supreme Court, it had become difficult to reconcile these beliefs with another set — that people could follow their own religious beliefs and practices "as long as they did not harm others", as well as his "respect for Indian democracy and the rule of law that sustains it".
"…as subsequent reactions in Kerala have demonstrated, abstract notions of constitutional principle also have to pass the test of societal acceptance — all the more so when they are applied to matters of faith," he wrote.
He added: "For a secular institution like the Court to engage in a theological exercise as to what aspect of faith or belief is an 'essential religious practice' is therefore problematic; when such a ruling is done by those who do not share the belief or practice impugned in the legal process, the problem is compounded.
"The overwhelming majority of Kerala Hindus, including a significant majority of women, have now demonstrated that their faith is offended by the Supreme Court verdict. Informal surveys suggest that opposition to the court judgment among Kerala Hindus is above 75 per cent and perhaps as high as 90 per cent."
Adverse reactions
Historian Guha criticised Tharoor's piece on Twitter, calling it "deeply disappointing". He argued that if great leaders of past had thought like this, then Dalits of Kerala would still not be allowed in temples.
This is a deeply disappointing piece by @ShashiTharoor ; if Narayana Guru or Mahatma Gandhi had thought or acted like the Congressmen of today, Dalits in Kerala would still be excluded from temples:https://t.co/62EAL5zVtz

— Ramachandra Guha (@Ram_Guha) November 10, 2018
What you quote is merely special pleading. What if Narayana Guru had said that since Muslims and Christians also have caste, and Dalit Christians only pray from the verandah of the Church, no need for the Vaikom Satyagraha? There is nothing brave about placating the mob.

— Ramachandra Guha (@Ram_Guha) November 10, 2018
Guha's disappointment was shared by economist and author Rupa Subramanya, who said she was "yet to hear a convincing explanation from those who claim this is tradition".
Without taking sides, I've yet to hear a convincing explanation from those who claim this is tradition, when pre-1972 or so, women were allowed into the temple. How far do you go in defining tradition? This tradition seems to be a recent provenance.

— Rupa Subramanya (@rupasubramanya) November 10, 2018
Lawyer Sanjay Hegde also criticised the article.
I dispute @ShashiTharoor's claim to be an instinctive liberal, the moment he suggests that court judgments that interpret the law, must also enjoy, majoritarian approval. The constitution itself has provided for universal temple entry.

— SANJAY HEGDE (@sanjayuvacha) November 10, 2018
A 'brave' article
However, Tharoor's piece also received some prominent support. Former foreign secretary Nirupama Menon Rao, while quoting a line from Tharoor's article, expressed how as "a Hindu Indian and Malayali woman", she was disturbed by some arguments in favour of women's entry.
Not at all."When you disturb the beliefs of worshippers, you violate a space beyond reasoning" as aptly put by @ShashiTharoor As a Hindu Indian & Malayali woman I'm deeply disturbed by conflation of arguments citing Vaikom or abolition of sati 2 argue case for entry. #Sabarimala https://t.co/Z2bPuo9KhG

— Nirupama Menon Rao (@NMenonRao) November 10, 2018
Tharoor also received expected support from activist Rahul Easwar, who has been at the forefront of the pro-tradition protests.
Thank U @ShashiTharoor sir for well balanced article. Even a "Firm believer" like me cannot deny complexity of the matter you raised & it's dilemma

Beyond Politics, when a person of your stature raise the nuances, we devotees pray even Supreme Court may take note

Swamy Saranam https://t.co/Mj00EOmTWz

— Rahul Easwar (@RahulEaswar) November 10, 2018
ThePrint's editor-in-chief Shekhar Gupta, in response to the ensuing debate, also retweeted a piece he had written in the immediate aftermath of the Sabarimala verdict. In it, he had argued for the Supreme Court to show greater restraint while interfering in religious matters.
As ⁦@ShashiTharoor⁩ piece in ThePrint sparks a fresh Sabarimala debate esp among acknowledged 'liberals,' here's where I stand: Why Supreme Court cannot become the priest between Indians and their Gods. https://t.co/RZMJjbFLIg

— Shekhar Gupta (@ShekharGupta) November 11, 2018
Get the PrintEssential to make sense of the day's key developments