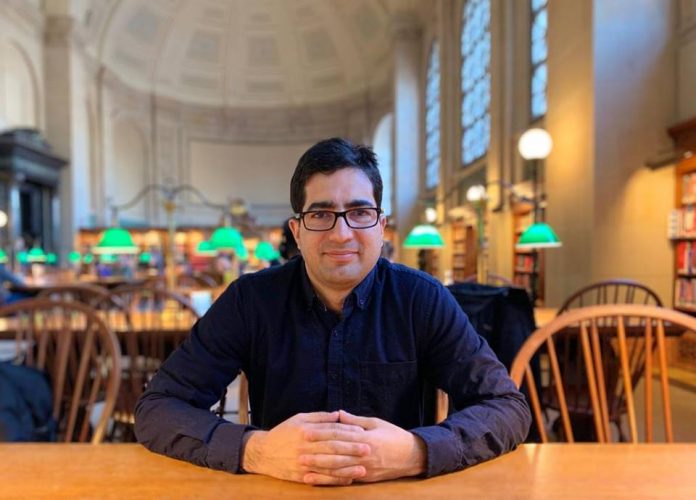 Text Size:
Bengaluru: Kashmiris based in Bengaluru are calling out Shah Faesal, the former IAS officer who recently joined politics, for "falsely claiming" on Twitter that three students arrested over a Facebook post in February had no legal help.
Kashmiri nursing students Haris Manzoor, Gowhar Mushtaq and Zakir Maqbool were arrested and booked under the Unlawful Activities (Prevention) Act, a law invoked for "anti-national" activities, for allegedly posting derogatory comments on Facebook after the 14 February Pulwama attack, in which 40 CRPF personnel were killed.
---
Also read: Former IAS officer Shah Faesal moves J&K High Court against highway ban
---
Faesal had tweeted Saturday that the trio were languishing in jail because they had no legal aid.
Three Kashmiri students Zakir, Gowhar & Haris are in Central jail Parampara Banglore for last two months.

Their crime – a FB post after Pulwama attack!

It is a shame that no senior lawyer from Bangalore has so far helped in getting them bail.

Bangalore?

U heard it right.

— Shah Faesal (@shahfaesal) April 13, 2019
But several social media users sought to correct Faesal, with a tweet that has since been deleted pointing out that the three students did have a lawyer.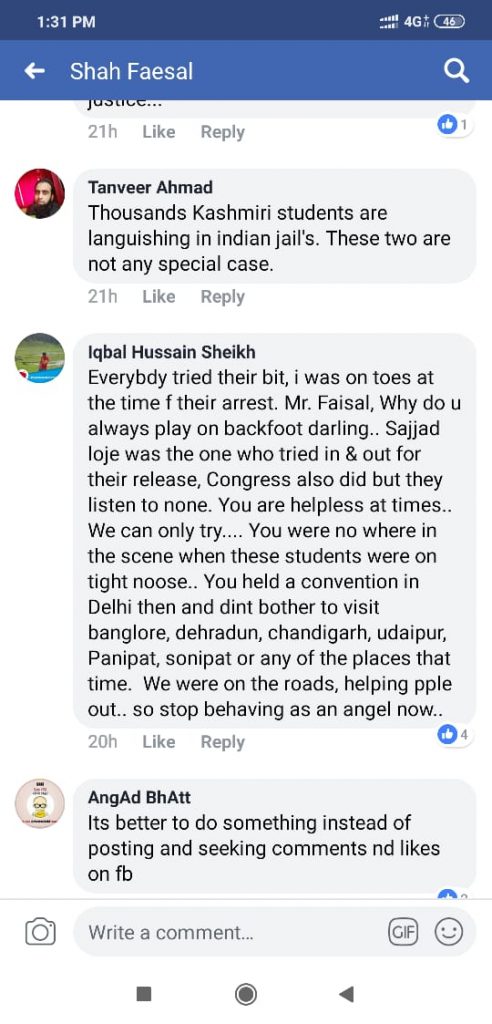 The1 families of the students, too, told ThePrint that they had a lawyer fighting their case.
Modassir, the brother of one of the students, said their lawyer Vishwanath Shinde had filed a bail plea in the Karnataka High Court and that they were awaiting a date for the hearing.
An earlier bail plea was rejected by a lower court.
Hoping for release 
Manzoor, Mushtaq and Maqbool have been lodged in Central Jail Parappana, Bengaluru, for the last two months. They were arrested after the principal of their college filed a complaint against them, saying they had made "anti-national" comments on Facebook in light of the Pulwama attack.
Bengaluru police subsequently arrested the students under the UAPA, stating that their comments amounted to sedition.
"I don't know why my brother has been booked under such a serious charge," Modassir told ThePrint.
"We were only shown the part [of the Facebook post] where he has mentioned that one should not make comments against Kashmiris/ Pakistanis," he added.
The Pulwama attack, carried out by a Kashmiri youth affiliated to the Pakistan-based terror group Jaish-e-Mohammed, had triggered a wave of hostilities against Kashmiris in different parts of India, with many students forced to flee to Kashmir in the face of the harassment.
"We don't know what provoked my brother to reply in that manner. We are hoping that they would release him soon as he is not anti-national as he is being painted."
Faesal's tweet, people close to the investigation say, is nothing but a strategy to put political pressure on police and courts to hear the trio's case.
---
Also read: Why even an ex-IAS officer like Shah Faesal sympathises with murderers of his kith and kin
---
The families are said to have been in touch with Kashmiri leader Sajjad Lone as well.
"To gain political momentum, parties have kept the Kashmiris behind bars," said Muzammil Shah, the trio's former lawyer. "But interference by politicians makes it difficult for us to seek bail in such cases. Using social media doesn't help our case, only harms it."
Approached for comment, Bangalore Rural superintendent of police Ram Vilas Sepat said the trio was still in judicial custody and the investigation was in progress.
This article has been updated with a quote from Muzammil Shah, and to remove a tweet subsequently deleted by the user.
For ThePrint's smart analysis of how the rest of the media is doing its job, no holds barred, go to PluggedIn