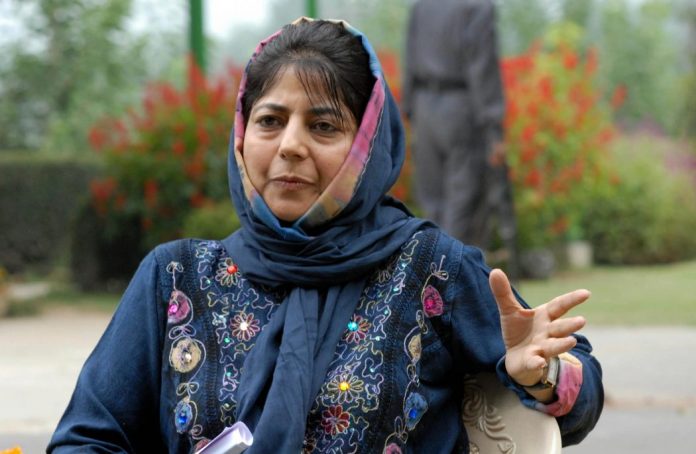 Text Size:
Former CM Mehbooba Mufti also says low turnout shows Kashmir local body polls are a wasted effort.
New Delhi: "Rogue elements" were lured by money to contest the local body polls in Kashmir and the low turnout of voters has defeated the very purpose of holding these elections, former Jammu & Kashmir chief minister Mehbooba Mufti has said.
Mehbooba's Peoples Democratic Party boycotted the recent urban local body elections in the state, criticising the NDA government for not taking a stand on Article 35A, which empowers the J&K legislature to define its 'permanent residents' and their rights.
The Supreme Court had postponed the hearing on Article 35A to January, and greenlighted the local elections first.
"Once the hearing on 35A was linked with local body and panchayat elections, it created a suspicion in the minds of the people that something bad may happen after these elections are over," Mehbooba told ThePrint in an interview conducted over WhatsApp before the urban local body poll results were announced over the weekend.
The polls saw a dismal turnout in the Valley, with both the PDP and its rival National Conference boycotting them, even though the other two regions of the state, Jammu and Ladakh, saw good turnouts.
---
Also read: BJP claims victory in Kashmir local body polls but the numbers tell a different story
---
Although the BJP has won 100 seats in Kashmir and claimed victory, 76 of these were uncontested, which analysts and rivals said showed the farcical nature of these wins.
"With the situation already tense, holding a grassroot-level election like this was not advisable. Now, with the very low participation in the Valley, the whole purpose of the exercise has been defeated," Mehbooba said.
She said these polls could lead to problems in the future, since many "rogue elements" who came forward for the elections were lured by money.
"Unfortunately, not many good people came forward to fight this election because of the peculiar situation, which will have far-reaching consequences in future," said Mehbooba.
"In a democracy, space is not created; it is given by the people. Since these elections were held under fear and suspicion, mostly rogue elements came forward. A lot of money was spent to lure people, but despite that, none of the parties were able to attract good persons," she said.
New BJP-led coalition?
Mehbooba and the PDP are pushing for fresh assembly polls, amid some talk that the BJP is looking to poach MLAs to cobble together a fresh coalition.
"A political party has to be ready for elections at any time, and the PDP is no different. Breaking any party here to form a government will be a defeat of democracy, which has gained legitimacy after a long time in Kashmir," she said.
"It would be a repeat of debacles of the past — be it 1953, 1984, or 1987. It would add to the state's problems."
---
Also read: Kashmir trickles out to vote in shadow of militant threat for first civic polls in 13 years
---
Spurt in local militancy
The Kashmir Valley has witnessed a spurt in local militancy since Hizbul Mujahideen commander Burhan Wani was killed in an encounter in July 2016. Scores of civilians, security forces and militants have been killed.
The BJP has adopted a muscular policy, with an increase in cordon and search operations, which have led to umpteen gun-battles between the security forces and militants and a spate of killings by both sides.
Mehbooba criticised this approach, saying: "Unless we create an atmosphere of reconciliation and dialogue with the people, like we did from 2003 onwards, using more force is only going to lead to more violence."
She said confidence-building measures such as less crackdowns and ending other means of "harassment" of people should follow a dialogue process.
Improving relations with Pakistan
Stressing that improving relations with Pakistan is the best way to change the situation in Kashmir, Mehbooba said: "First of all, India has to learn to accept Pakistan as a country — as was done by Vajpayeeji. We need to work on similarities rather than contradictions and build a relationship — if not friends, at least normal neighbours. It may be easier said than done, but India, being the bigger country, has to try harder.
"The relations between the two countries have a direct bearing on situation in Kashmir. Once that takes off, it will change the atmosphere here, especially in the Valley.
"Then, dialogue with the people, including separatists, will be more fruitful."
The alliance that failed
Mehbooba also said she has "no regrets" about her party's now-defunct alliance with the BJP — not even if it led to deep unpopularity and "hatred" for her party among Kashmiris.
PDP formed what is now termed an "unholy alliance" with the BJP in 2015 to rule Jammu and Kashmir, with first Mufti Mohammad Sayeed and, after his death, daughter Mehbooba serving as chief minister.
But the BJP pulled out of the alliance on 19 June this year, and since then, the state has been under Governor's Rule.
---
Also read: Mehbooba Mufti says clubbing Article 35A issue with local body polls a 'disastrous idea'
---
The PDP-BJP alliance was called various names, including 'unholy', because their basic ideologies are virtually polar opposites — while the PDP is seen as soft on Kashmiri separatism, the BJP is the flag-bearer for nationalism.
But Mehbooba recounted that this was not the first time the two parties had aligned their thoughts for the benefit of Kashmiris — that the PDP wanted to repeat its experience of working with BJP's Atal Bihari Vajpayee in his time as prime minister.
"We tried our best, putting everything at stake, including our party, bore the hatred of Kashmiris, just to see an end to their misery," she said.
"It was a selfless decision of a statesman, which only a person like Mufti sahib could have taken: Keeping people's interest above his own self. So, there are no regrets that we risked everything to do our best for the people who have given us so much love and respect."
---
Also read: PhD scholar-turned-Hizbul militant Mannan Wani killed in Kashmir encounter
---
'Modi didn't follow Vajpayee'
Pointing at Prime Minister Narendra Modi, Mehbooba said the NDA today had failed to follow Vajpayee's message of dealing with the Kashmir problem with 'insaniyat, jamhooriyat, Kashmiriyat' (humanity, democracy and Kashmiri-ness).
"The PDP thought that with such a huge mandate, Modiji was in a position to do that, as he had time and again said he would follow Vajpayeeji's policy of insaniyat on Kashmir. But this was not the case with this NDA, headed by Modi," she said.
"Kashmiris were dead set against this alliance, but were ready to give it a chance. Unfortunately, the BJP this time did not take this opportunity to turn around things, as was done by the last NDA under Vajpayeeji."
---
Also read: BJP dumped PDP more due to voter sentiment than terrorism, suggests BJP mouthpiece
---
The Ramzan ceasefire announced by the Modi government was also called off after a month when there was a spike in violence, Mehbooba pointed out. She said the ceasefire was announced at her insistence, but she wanted it to continue and the BJP refused.
"The ceasefire was a positive step, but if it was taken forward, it would have created a better atmosphere. Every time I met the prime minister or home minister Rajnath Singh, I reminded them about the agenda of the alliance," she said.
She said that looking back on her time as chief minister, she was proud of her firm stand on the alleged gang-rape and murder of the eight-year-old girl in Kathua, the appointment of former Intelligence Bureau chief Dineshwar Sharma as the special interlocutor on Kashmir, granting amnesty to stone-throwers, and announcing the Ramzan ceasefire.
"These are a great consolation," she said.
Get the PrintEssential to make sense of the day's key developments