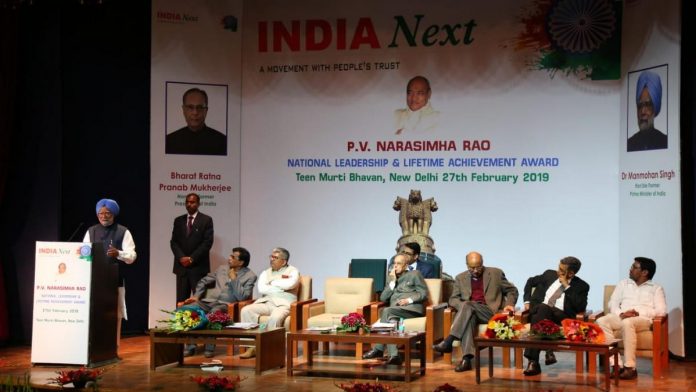 Text Size:
New Delhi: Former Prime Minister Manmohan Singh Wednesday weighed in on the escalating tensions between India and Pakistan, saying a sense of "mutual self-destruction" plagued both countries.
Referring to the developments that resulted in an Indian Air Force (IAF) pilot being captured by the Pakistan military, Singh added that he hoped the "events will soon find a corrective".
A Pakistan F-16 aircraft had entered Indian airspace on Wednesday morning, with the IAF successfully foiling the attack but losing a MiG 21 Bison aircraft.
Later in the day, India summoned Pakistan's deputy high commissioner and demanded the safe return of the aircraft's pilot, Wing Commander Abhinandan Varthaman.
"I hope saner counsel will prevail, and we will get back to focusing on economic development, and working on basic requirements between the two countries," he said, adding that India and Pakistan needed to first fight the "chronic disease of poverty in their nation".
The veteran politician was speaking at the India Next P. V. Narasimha Rao National Leadership and Lifetime Achievement Award ceremony, where he was honoured for his contribution to the nation. The award was presented to Singh by former President Pranab Mukherjee in the presence of ThePrint Editor-in-Chief Shekhar Gupta and former civil servant Jayaprakash Narayan.
---
Also read: India demands safe return of captured IAF pilot, hands over evidence of JeM link to Pulwama
---
Rao's 'visionary economic policy'
Speaking at the event, Singh also praised the late Prime Minister P.V. Narasimha Rao for his "visionary economic policy". India's landmark economic liberalisation policy was launched during Rao's tenure as PM in 1991, when Singh was the finance minister.
"Governments have come and gone, but the broad contours of economic policy of India have remained the same, and credit is due to Narasimha Rao," he said.
"It is because of the continuity he (Rao) introduced that our economy has grown. We haven't looked back since," he added.
---
Also read: Claim vs fact — what's true and what's not in the India-Pakistan information war
---
Check out My543, our comprehensive report card of all Lok Sabha MPs.