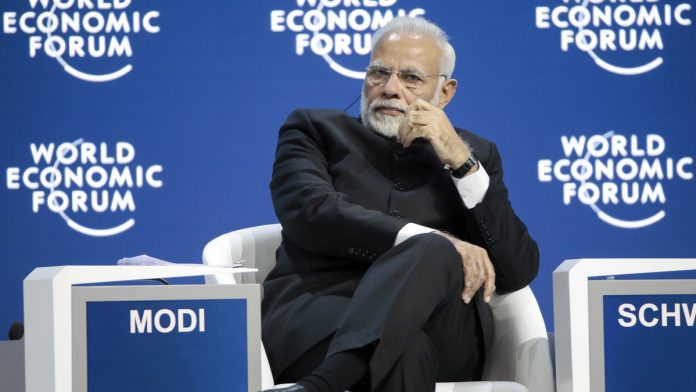 Text Size:
Last year, Modi had addressed the opening session of the annual meeting, while senior ministers like Arun Jaitley, Piyush Goyal and Suresh Prabhu had attended.
New Delhi: Prime Minister Narendra Modi and his colleagues have decided to skip this year's annual World Economic Forum (WEF) meeting at Davos, Switzerland.
Sources said that with the Lok Sabha elections approaching and the Prime Minister's Office reaching out to various key ministries to resolve immediate issues at hand, central ministers have decided to give the meeting a miss.
This is in stark contrast to the 2018 meeting, where Modi himself addressed the opening session, and senior ministers like Arun Jaitley, Piyush Goyal, Suresh Prabhu and Dharmendra Pradhan also attended.
Jaitley, Prabhu and Pradhan were slated to participate this year too, but while the finance minister has had to drop out because he is in the US, a senior government official said the others have opted out "due to other pressing matters".
Last year, the WEF held two sessions focussed on India. The sessions showcased how political change, structural reform and technological innovation were impacting the socio-economic context of India. Modi spoke about climate change, terrorism and anti-globalisation — and committed India to the fight against them.
---
Also read:  Latest offering from Modi — mega youth conclave in Gujarat as BJP looks to stem jobs anger
---
Who's going? 
Madhya Pradesh Chief Minister Kamal Nath and Punjab Finance Minister Manpreet Badal will take part in the WEF meeting, as will NITI Aayog CEO Amitabh Kant and Ramesh Abhishek, secretary, department of industrial policy and promotion. Attendance from India Inc. will also remain strong.
Former Reserve Bank of India governor Raghuram Rajan and International Monetary Fund's chief economist Gita Gopinath will also address the meeting.
Among global leaders, Japanese Prime Minister Shinzo Abe, German Chancellor Angela Merkel, Nepalese Prime Minister K.P. Sharma Oli and Brazilian President Jair Bolsonaro are attending the meeting this year.
The theme for the WEF meeting this year is 'Globalization 4.0: Shaping a New Architecture in the Age of the Fourth Industrial Revolution'.
---
Also read: Modi says Opposition has money power, but BJP earned double that of Congress since 2013
---
Get the PrintEssential to make sense of the day's key developments