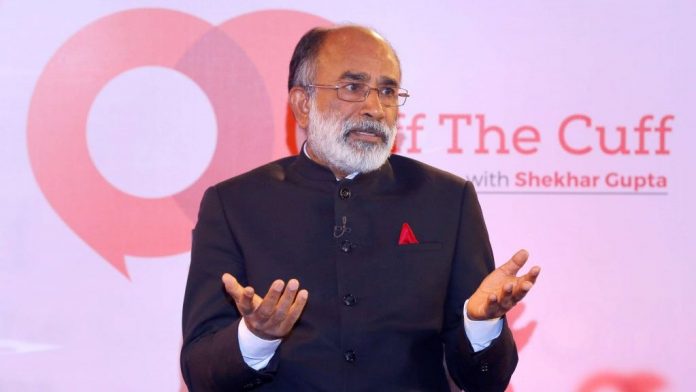 Text Size:
At ThePrint's Off the Cuff event, tourism minister K.J. Alphons spoke on a range of issues, from women's safety in India to the CBI raids in West Bengal.
New Delhi: Hampi is among 10 iconic sites that the Ministry of Tourism will incorporate world-class facilities in, Union Minister of State for Culture and Tourism, K.J. Alphons said Monday.
"Hampi is also up for adoption," Alphons said referring to the government's Adopt a Heritage project that allows non-government players to pitch in for the creation of facilities such as toilets, seating arrangement and landscaping of a heritage monument.
However, according to an MoU dated 25 October, on the Ministry of Tourism's website, Hampi has already been adopted by Yatra Online Pvt Ltd in 2017.
"We have already signed 106 letters of intent for the scheme. Eleven memorandums of understanding have already been signed and work has begun. The rest are in the process."
Alphons was in conversation with ThePrint Editor-In-Chief Shekhar Gupta and Political Editor D.K. Singh at Off The Cuff.
His comments come in the wake of a recent viral video that showed vandalism at the ancient ruins. The video has since been found to be real. An inquiry report accessed by ThePrint confirms that according to the assistant commissioner of Hospet taluka, Lokesh P.N, it was an act of "miscreants".
---
Also read: Hampi vandalism video found to be real, but ASI continues to insist it happened a year ago
---
Reuters report on women safety a 'conspiracy'
Referring to a Thomson Reuters' report released in June last year, which concluded that India was the most unsafe country for women, Alphons termed it a "conspiracy to malign the Bharatiya Janata Party (BJP)".
"We asked Thomson-Reuters, 'who all did you speak to in India'?" Alphons said. "They said 43 Indian women activists. Now, who are these activists? Urban terrorists who hate the BJP."
The tourism minister accused Thomson-Reuters of being "racist" in its treatment of India and alleged that "such surveys" use "fake content".
He also insisted that India is safe for women to travel.
"I met these college girls. They told me that they travel around in groups," Alphons said. "I said why, you should travel alone. Have the courage."
---
Also read: As opposition rallies behind Mamata in Bengal, BJP slams the 'alliance of corrupt'
---
The Bengal controversy
The tourism minister defended the CBI in its row with West Bengal Chief Minister Mamata Banerjee, who is on a dharna against the agency's decision to question Kolkata police commissioner Rajeev Kumar.
"As a federal agency, the CBI has the right to investigate cases," Alphons said. "They have the right to question anybody. Now, one man can't say that he is an island unto himself. That is not how federal law works," he said.
"Now if the case happens to come up in the week that you are having a political alliance, we can't just put it on hold because it may create the impression that we are conducting a raid against our opponents," he said.
He also emphasised that the Narendra Modi-led government had managed to wipe out corruption from Delhi.
This report has been updated to reflect that Hampi was already adopted in 2017. The error is regretted.

Get the PrintEssential to make sense of the day's key developments