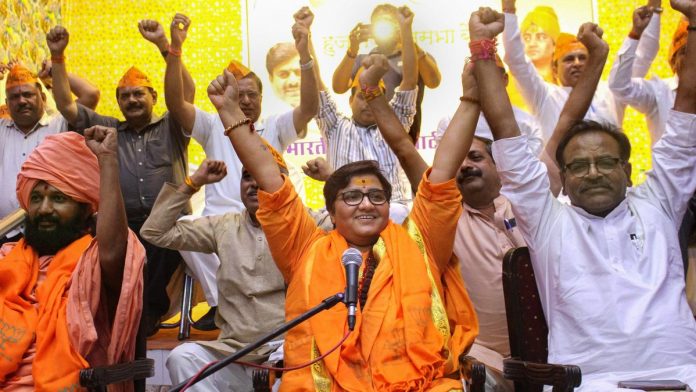 Text Size:
New Delhi: It wasn't just opposition leaders or critics who spoke up against Pragya Singh Thakur's Nathuram Godse remark, condemnation also came from the unlikeliest of quarters.
On Friday, leading industrialist Anand Mahindra and economist Rathin Roy joined opposition leaders in criticising Thakur's remark calling the killer of Mahatma Gandhi a "patriot".
In what was a rare political comment by an Indian industrialist, Mahindra called India "the land of the Mahatma", and went on to question if "we" were to become the "Taliban", destroying "statues that sustain us".
For 75 yrs,India's been the land of the Mahatma;a beacon when the world lost its morality.We used to be pitied for being poor but we were always rich since Bapu inspired billions globally.Some things must remain sacred.Or we become the Taliban,destroying statues that sustain us

— anand mahindra (@anandmahindra) May 17, 2019
Thakur is the ruling Bharatiya Janata Party (BJP)'s candidate from the Bhopal constituency in Madhya Pradesh and an accused in the 2008 Malegaon blasts case. She has been in the middle of a series of controversies ever since her candidature was announced a month ago.
She had earlier made derogatory comments against Hemant Karkare, the former chief of the Maharashtra anti-terror squad who died in the 2008 Mumbai terror attacks.
Rathin Roy, a member of the Prime Minister's Economic Advisory council, also questioned Thakur's candidature Thursday, but clarified that he was making the comments as a citizen of India.
I must speak as a citizen . She abuses martyr Karkare, celebrates the assassin of Gandhi . She is a Lok Sabha Candidate? politicians from all parties not mobilising to end this? Apology is enough?
Your silence is complicity.
Act together to save the republic. If you can.

— rathin roy (@EmergingRoy) May 16, 2019
In his comments made on social networking platform Twitter, Roy blamed the politicians for their "complicity".
ThePrint reached Roy, who also heads the National Institute of Public Finance and Policy, for further comment but he declined.
---
Also read: Sadhvi Pragya's Karkare rant 'embarrasses' BJP, which sees her as a 'double-edged sword'
---
BJP action
Looking to distance itself from Thakur's comments, the BJP said they do not reflect the party's view.
On Friday, the party's top leadership, including Prime Minister Narendra Modi, censured Thakur for her remarks. In an interview to media outlet News24, Modi said "he'll never be able to forgive Thakur" for her comments.
PM @narendramodi speaks to News 24 again. Says, "I will never be able to forgive #SadhviPragya."#ModiOnNews24 @amit_jurno @news24tvchannel

— Manak Gupta (@manakgupta) May 17, 2019
Earlier in the day, BJP president Amit Shah said the comments by Thakur — and two other party leaders — have been sent to the BJP's disciplinary committee for review.
विगत 2 दिनों में श्री अनंतकुमार हेगड़े, साध्वी प्रज्ञा सिंह ठाकुर और श्री नलीन कटील के जो बयान आये हैं वो उनके निजी बयान हैं, उन बयानों से भारतीय जनता पार्टी का कोई संबंध नहीं है।

— Chowkidar Amit Shah (@AmitShah) May 17, 2019
The action against Thakur came hours after she reportedly "apologised" for her comments, saying her statements have been "twisted by the media".
'Truth about RSS-BJP'
Opposition parties, however, have been quick to latch on to Thakur's statements to question the BJP.
Priyanka Gandhi Vadra, general secretary of the Congress, said on Twitter, "बापू का हत्यारा देशभक्त? हे राम! Distancing yourself from your candidate is not enough. Nationalistic luminaries of the BJP, have the guts to spell out your stand."
बापू का हत्यारा देशभक्त?
हे राम!

Distancing yourself from your candidate is not enough. Nationalistic luminaries of the BJP, have the guts to spell out your stand.

— Priyanka Gandhi Vadra (@priyankagandhi) May 16, 2019
Communist Party of India (Marxist) general secretary Sitaram Yechury said, "The truth about where RSS-BJP stands on terror gets clearer all the time. A senior Minister in Modi's cabinet said Godse was not a terrorist, now terror-accused Pragya Thakur calls the murderer of Gandhi ji a 'deshbhakt'. The BJP remains inspired by the killers of the Mahatma.
The truth about where RSS-BJP stands on terror gets clearer all the time. A senior Minister in Modi's cabinet said Godse was not a terrorist, now terror-accused Pragya Thakur calls the murderer of Gandhi ji a 'deshbhakt'. The BJP remains inspired by the killers of the Mahatma. https://t.co/qGrQuCCvyZ

— Sitaram Yechury (@SitaramYechury) May 16, 2019
Yechury added that this was the reason why "Sardar Patel banned RSS after Gandhi's assassination. An organisation which supports a terror accused even today. This is its reality."
This is the reason why Sardar Patel banned RSS after Gandhi's assassination. An organisation which supports a terror accused even today. This is its reality. https://t.co/TKaH7bOAN1

— Sitaram Yechury (@SitaramYechury) May 16, 2019
Get the PrintEssential to make sense of the day's key developments