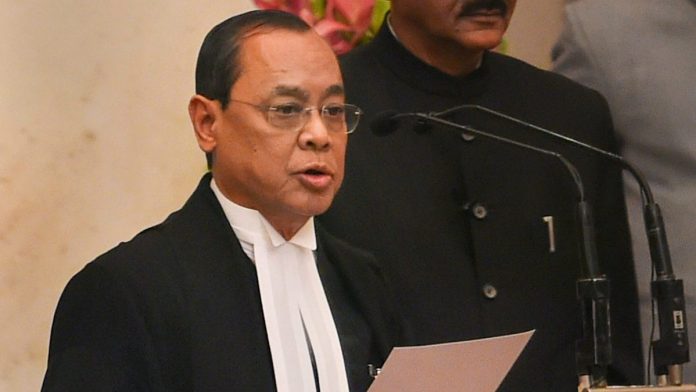 Text Size:
Front Page
The biggest news of the today is the clean chit to Chief Justice of India, Ranjan Gogoi in the sexual harassment case against him.
It's worth noting the different treatment it receives in the mainstream press.
The Hindu's `Justice Bodbe panel gives CJI a clean chit', highlights the judgment and the court's procedural matters with a quote from the complainant's disappointed reaction to the judgment.
Hindustan Times's "Justices declare in one voice: Chief is innocent" follows Hindu's approach buts adds that decision taken "unanimously", "was criticised by several leading lawyers for its lack of transparency and process".
The Indian Express's, "CJI gets clean chit in sealed cover, woman says worst fears have come true", highlights that the clean chit was given "in an ex-parte report, which will not be made public". It focuses on the complainant's response quoting it at length on Page 2. It's second report details lawyer Indira Jaisingh's view on SC citing a 2003 case she was a party to as reason not to make the report public.
The Times of India in `SC committee clears CJI of sexual harassment plaint'', reports the judgment, features in the complainant's reaction in a box and in an accompanying piece says "Most judges back CJI…'' and question Justice D Y Chandrachud's letter `suggesting alteration of the inquiry procedure''.
The Telegraph clubs the CJI's `clean chit with the EC's decision to clear PM Modi of any MCC violation charges, to declare India a "clean chit country".
While The Hindu says "There would be no Full Court meeting on the "informal" proceedings", HT suggests otherwise. "According to people familiar with the matter", it writes, "Justice Mishra will now decide whether the report should be placed before the full court as the committee was set up by a full court's approval".
"Such a full court meeting had been suggested in a letter by apex court judge, Justice D.Y. Chandrachud", informs The Telegraph.
Voter turnout: "Violence in Bengal and J&K, but turnout up slightly at 63%" is TOI's other lead. The Express's ground report says that despite Pulwama being at the "At the heart" of this season's polls, the "national security narrative" "failed to draw voters to the booths" in the constituency.
Election Commission and cyclone Fani: TOI finds that four former Election Commissioners believe "the 2:1 split in opinion" in the EC over Ashok Lavasa's dissent "should have been made public".
Another former election commissioner told TOI "withholding the fact in the final order that the decision was not unanimous is against the principle of transparency that an institution like EC is duty-bound to uphold."
In other news: "Political slugfest erupts over Fani relief and rescue" (HT). It writes that PM Modi had "a pat on the back for Odisha Chief Minister Naveen Patnaik and got into a spat with West Bengal CM Mamata Banerjee, both over Cyclone Fani".
The Indian Express's headline explains why: "PM: Patnaik handled Fani well, Mamata didn't return my calls", it reads.
Opinion
Away from the elections, TOI and Business Standard look at education and the economy.
TOI in 'All about Exam' criticises the education system for its 'premium on exams' which has ensured 'learning takes a back seat' as only good scores matter. This places inordinate pressure on students: 20 plus students committed suicide in Telangana after Class X and XII results were declared.
TOI adds high scores in school are no guarantee to "admission in a quality university" with higher cutoffs. A shortage of quality higher education and poor school learning leads to a 'subpar labour pool with low skills'. Also, although girls outperform boys in board exams, women's participation in the workforce is declining. It advises massive investment in vocational training and 'greater autonomy' to schools and universities.
Business Standard in "Macro headwinds" says India's 'sojourn in a macro economic sweet spot' is ending. The government's missing its tax revenue targets by 11 per cent in 2018-19 means that government spending, which had boosted growth, is now in doubt. Domestically, corporate earnings, private investment show no signs of recovery, urban and rural demand indicators remain 'sub-par'—and all of these point to "an economic slowdown". There are other 'time bombs' ticking in the banking sector especially in lending to micro, small and medium enterprises.
A new government will face all these headwinds 'as soon as it takes office'. BS advises an `'ambitious reform programme'' to boost consumer sentiment and revive private investment and exports.
Prime Time
Amethi and other Lok Sabha seats that voted Monday filled TV screens during the day.
Interestingly, the evening discussions saw TV news anchors and BJP spokespersons heap praise on Odisha Chief Minister Naveen Patnaik and virulently attack West Bengal's Chief Minister Mamata Banerjee.
On Times Now, anchor Rahul Shiv Shankar contrasted 'Naveen babu' with Mamata di's responses to Modi. "Cordiality," he said, "underrides the relationship" between Patnaik and Modi even though BJP is Patnaik's "bete noire" in Odisha. Meanwhile, Mamata has forgotten "cooperative federalism" by ignoring the PM, he added.
On India Today, BJP's Shazia Ilmi said Mamata didi "needs to grow up". "See how gracious he (Patnaik) is". She added that in natural calamities the Centre and the states had to collaborate but Mamata with her 'petty politics… her arrogance' was very "irresponsible".
TMC supporter Garga Chatterjee reminded her that during the monsoon floods last year, Bengal received no assistance from the Centre while Bihar, Assam and even Nepal got money.
Aaj Tak: Anchor Rohit Sardana wondered if BJP was trying to win the elections in the name of 'Jai Shri Ram'. This followed Modi rally in Jhargram, West Bengal, where he challenged Mamata Banerjee to arrest him for chanting 'Jai Shri Ram'.
"What is wrong in chanting Jai Shri Ram?" asked BJP spokesperson Nalin Kohli.
CPI(M) leader Suneet Chopra came out in Mamata's support: "Mamata Banerjee questioned why are people using foul language, but she didn't ask why are they chanting Jai Shri Ram."
TMC supporter Manojit Mondal replied, "BJP has only one narrative — of dividing Hindus and Muslims."
Congress spokesperson Abhay Dubey wondered why the PM didn't speak about GST and demonetisation — 'Why is the narrative being shifted by the BJP?'
CNN-News 18 interviewed Congress president Rahul Gandhi in Sultanpur, Uttar Pradesh. Anchor Pallavi Ghosh asked him whether a Congress government would be effective on national security.
"It was Congress which bought peace to Kashmir. In 2004, we were handed a burning Kashmir, we strategically worked on a plan and broke the back of terrorism in Kashmir."
He added, "Modi, on the other hand, opened the doors to terrorism in Kashmir. Why doesn't he tell the nation what he did to protect the CRPF jawans, why did he fail? How can he tell us about national security?"
Tweet of the day
Excuse me mr. proud Canadian/self acclaimed Hindustani ! The word Ramzan is in Urdu n Ramadan is Arabic !the faith that u claim to represent (wrongly mostly) originated in the Arab world ! I read my Quran in arabic/English ! I am an indian n can wish in the language I want to!✋🏻 https://t.co/H8F9MyFa8m

— Gauahar Khan (@GAUAHAR_KHAN) May 6, 2019
With inputs from Shailaja Bajpai.
Get the PrintEssential to make sense of the day's key developments