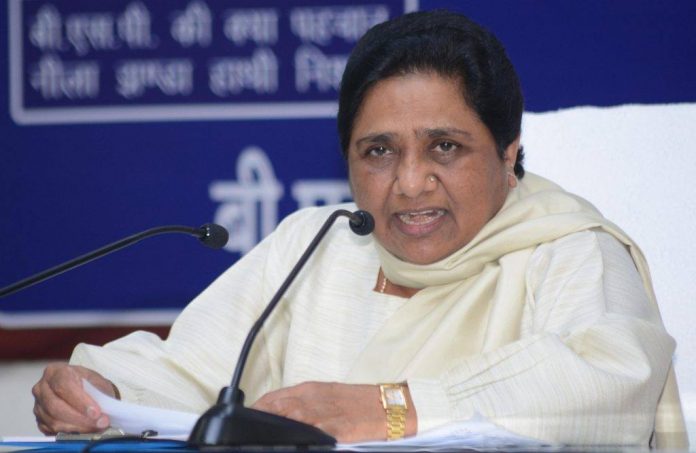 Text Size:
Front Page
Like the variable weather, the political reports of the day vary. Both made headlines, today.
In a season of elections, political name-calling fills the front pages. The Express has five political reports, mostly on political rivalry — from Janata Dal (United)'s decision to agitate against the Citizenship Bill to the Bharatiya Janata Party MLA who was made to apologise for calling Mayawati "worse than a eunuch".
Sadhana Singh's distasteful comments on the Bahujan Samaj Party's chief feature on The Hindu's, Hindustan Times and The Indian Express page 1 while TOI dispatches her to page 10.
The Hindu headline is somewhat confusing: "Mayawati gulped insults, says BJP MLA". All of them quote her remarks is detail and TV news replayed her "derogatory remarks", widely giving them publicity.
HT also goes for another the slugfest: "Day after Kolkata rally, Modi, Rahul trade barbs" — Modi taunted the Opposition rally in Kolkata, saying they so feared BJP, they were crying "bachao, bachao, bachao" and Rahul Gandhi called him "Your highness".
The big news in The Hindu — "Congress MLAs brawl at resort" — reports on the continuing woes of Congress in Karnataka now coming to infighting, literally between MLAs: opening paragraph almost makes the MLAs sound like caged animals. In an "embarrassing" turn of events, two Congress MLAs were caught in an alleged brawl at a resort "where the party, jittery about the alleged poaching moves of the BJP, is keeping its flock together".
The Times of India leads with, "Govt to give central institutes funds to roll out 10% quota". The government is "keen", it writes, to roll out the quota scheme for the next academic season, and "is framing rules for implementation of the quota in private institutions as well", including Jawaharlal Nehru University, Delhi University, Aligarh Muslim University and Jamia Milia Islamia.
The Indian Express goes for what lies "Behind rural slowdown: Credit shows uptick but still trailing in farm sector" — lending to the farm sector "continues to trail" and this "possibly explains the continued sluggishness in growth in rural areas post-demonetisation and implementation of GST."
Whither weather
Who said only the British like to discuss the weather? The unusual and very warm weather in Delhi and other parts of the north India, receives extensive coverage, this morning, in newspapers like HT and TOI, whereas Express and Hindu find nothing interesting in day temperature reaching 28.7 Celsius in January.
HT's "Hottest Jan day since 2007, rain forecast tonight" is the lead report on page 3 but it had more calamitous news on page 1, "Freak weather to rise in India over two decades".
Opinion
Mamata Banerjee's mega rally for the mahagathbandhan in Kolkata, Saturday was the natural choice for opinion pieces today.
TOI's "United by Modi" editorial was impressed by "a formidable opposition combine anchored largely by regional leaders" at the "mammoth" meet. However, it was unimpressed by "this big band of leaders with bigger egos to boot" that "may lose sight of India's strategic and economic interests".
HT's "The message from Kolkata" was sober, and understated. It said "a range of parties…address a rally in Kolkata" and flagged "three shortcomings" of the grand alliance: the Opposition "had a critique" but no "alternative political programme" to BJP. It has internal contradictions: Congress shared the dais with BSP and SP but is not aligned with them in UP. Three, who will lead them into battle, if the polls turn "presidential".
The Hindu's "Unity and Strength" sums it up best: "It is always easier to agree on the ends than on the means".
Prime Time
Sunday's warm weather was rudely interrupted by Sandhya Singh, the BJP MLA who rained insults on BSP supremo Mayawati at a public meeting and found herself roundly criticised on TV news, but not before she had achieved infamy.
In the evening, Hindi and English news channels repeatedly broadcast her uncouth comments — was it necessary to give her such unwarranted publicity?
She became the topic of hot debate too. On India News, anchor Purnima and BJP spokesperson Anila Singh scrapped about the latter calling the MLA, "Sandhya Singh ji" — Purnima saw this as a mark of respect. This angered Anila who claimed she addressed everyone with the "ji". "I didn't like it, you're saying that."
She criticised the MLA for her remarks but reminded the panelists, that politicians from other parties made unseemly, personal remarks so "don't raise a finger at BJP" alone, "don't call us mad".
This allowed Radhika Khera, Congress, to name Narendra Modi, Amit Shah and Yogi Adityanath and repeat some of their tasteless remarks.
Away from the usual hulchul in the studio, Times Now anchor Navika Kumar held an interactive Q&A with Union Textiles Minister Smriti Irani who answered questions from viewers. Irani is making Times Now something of a fixture: she was on a Frankly Speaking interview last Sunday too.
Asked about allies leaving BJP, Irani said the number had, in fact, risen from 16-17 to 30 plus. "We have allies like Shiv Sena, Akali Dal and new allies in the North-East as well," she said.
A viewer asked why BJP harps on about the Congress instead of boasting its accomplishments. Irani replied, "This is a good suggestion, we will certainly try to show the public how the government has contributed in building a new India."
To another query, Irani argued that every government faces many challenges — and the BJP-led NDA government faced challenges boldly.
At Republic TV, Arnab Goswami decided to go after a certain lobby that "defends" anti-national remarks. Goswami referred to the JNU event in 2016, when students allegedly protested against the hanging of Afzal Guru. Delhi Police had chargesheeted Kanhaiya Kumar and others with sedition last week.
Political analyst Nishant Verma took the NDA to task: "In the last 5 years, anyone who talks against the government…becomes anti-national. This is wrong."
BJP spokesperson Zafar Islam promptly replied, "Don't defend anti-nationals. They cannot be defended. There is evidence against them."
Swarajya columnist Surabhi Hodigere brought up the Congress: "Didn't UPA use sedition over a cartoonist?"
India Today went to the Kumbh Mela in Prayagraj. It profiled a US citizen, Phoebe Gabriel, who became a 'sanyasi' and is now known as Sadhvi Saraswati. The report dwelt on how the Sadhvi promotes cleanliness and sanitation at the Kumbh Mela. Saraswati is a graduate of Stanford University, US.
Tweets of the day
प्रदूषण का स्तर फिर से ख़तरनाक है,
केजरीवाल सरकार सो रही है
न तो कोई श्वेत पत्र जारी कर रहे हैं
न उस मीटिंग के मिनटस शेयर कर रहे हैं
पंजाब-हरियाणा-बंगाल जा दिल्ली के करदाताओं के पैसे से बयानबाजी कर रहे हैं
ठंड से, प्रदूषण से लोग मर रहे हैं
ट्रांसपोर्ट सिस्टम ध्वस्त केजरीवाल मस्त https://t.co/bEvJ5Mz2oh

— Manoj Tiwari (@ManojTiwariMP) January 20, 2019
Koffee can ruin your career
Chai may make you PM!

— Harsh Goenka (@hvgoenka) January 20, 2019
अगर अमेरिकी विशेषज्ञ लंदन में यह दिखाने वाले हैं कि EVM को कैसे हैक करें तो हम उत्साहित क्यों हों?

अगर आज विपक्ष में बैठे होते तो मोदी शाह की जोड़ी तीन साल पहले ही यह हुनर देश को दिखा देती!

— Rashtriya Janata Dal (@RJDforIndia) January 20, 2019
Get the PrintEssential to make sense of the day's key developments