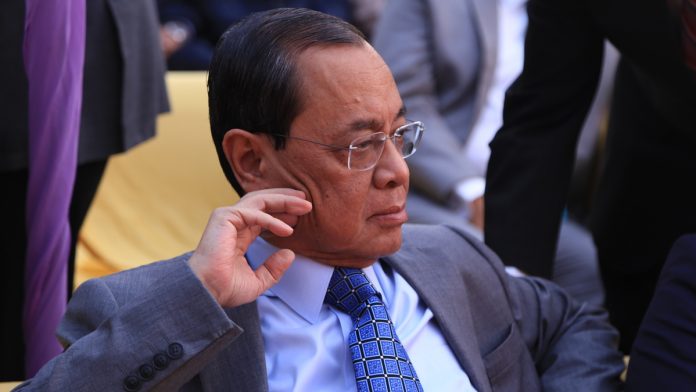 Text Size:
Front Page
The sexual harassment case against Chief Justice of India Ranjan Gogoi is page 1 news again, after Express's Sunday report that Justice D.Y. Chandrachud spoke with the internal investigating committee head, Justice S A Bobde to express his concerns regarding the complainant's absence for its hearings. That report said Justice Chandrachud and Justice Rohinton Nariman visited Justice Bobde "together'' – later denied by the SC.
Today, Express in "Justice Chandrachud met Justice Bobde, calls for full court", defends its claims but adds it has since "learned" that Chandrachud was not accompanied by Justice Nariman, and "regrets the error".
TOI leads with Chandrachud "has written to the Supreme Court's three-judge inhouse committee, headed by Justice S A Bobde, not to proceed with the ex-parte inquiry". "The judges contacted by TOI were of the opinion that Justice Chandrachud's letter amounted to interfering in the independent inquiry process," add writes.
HT and The Hindu don't cover the issue on page 1 at all.
PM Modi: TOI gives "PM slams Rahul over alleged biz partner's submarine contract" front page coverage, quoting largely from his "scathing attack on" the Congress president "a day after media reports that Rahul Gandhi's business partner got defence deals under UPA".
The fifth phase of polling, today, means the "BJP's key gains of 2014 under ballot test today" (The Times of India). The Hindustan Times' front page flap notes it's "the smallest phase of the 2019 general elections" and that 7 constituencies apart, "this phase of election is entirely in Hindi speaking states".
HT and The Indian Express, strangely, share almost identical headlines for their leads: It's "Gloves off, heat turned up: Stage set for phase 5 today" for Express — the focus is on Prime Minister Narendra Modi's attempt "to drive a wedge between the SP and BSP alliance" by calling it opportunistic and "adulterated".
Express vaguely writes that "Modi also targeted Rahul Gandhi" by saying his "former business partner got an offset business contract during the UPA's tenure when the two had previous 'experience only in dalali and liasoning' TOI does an article on this comment by the PM.
HT in "Gloves off as key seats in heartland go to polls" sides with the Gandhis, saying Rahul and Priyanka "slammed Prime Minister Narendra Modi's remark the previous day terming Rajiv Gandhi, their late father and a former PM, as "corrupt no.1".
"The Gandhis found support in Bahujan Samaj Party (BSP) chief Mayawati, who appealed to her supporters to back the Congress", it writes, adding that the Gandhis "launched scathing attacks" on the PM.
Election Commission: Economic Times's has an exclusive interview with Chief Election Commissioner Sunil Arora. On the issue of dissent within the EC on the clean chits to the PM, Arora says the "eloquence of silence is always difficult but far more desirable to see the election process through, instead of creating ill-timed controversies". Pressed about the dissenting point of view presented by election commissioner Ashok Lavasa, Aurora "did not want to get into the details of the subject", writes ET, and that he "declined to elaborate any further on the issues red flagged by Lavasa in his dissent notes to the Commission."
Opinion
Express follows up its Sunday Justice D.Y. Chandrachud exclusive with the advice to SC to "heed the message of its senior judge" ("Listen to your own").
It also traces the complainant's allegations on procedural issues, of feeling "intimidated" before the three-judge committee without a lawyer or "support person". Express says the committee should consider Chandrachud's suggestion to allow her a lawyer or appoint an amicus curiae — "the credibility" of the court would be "further damaged" if it continued proceedings without the complainant.
HT says, "The EC cannot be so selective" in dealing with complaints on violations of the model code of conduct. The EC has taken "laudable steps" against politicians like Yogi Adityanath, Mayawati, Azam Khan and Pragya Thakur but not "lived up to expectations" by giving "clean chits" to Prime Minister Narendra Modi and BJP president Amit Shah.
It adds that one commissioner reportedly "strongly dissented" and the other two should "consider" his objections.
Prime Time
The main issue in studio debates was the decline in the quality of the campaign discourse. This followed PM Modi's comment on former Prime Minister Rajiv Gandhi dying a corrupt man.
There were also the customary Sunday interviews — Uttar Pradesh chief minister Yogi Adityanath (Times Now), BJP president Amit Shah and Madhya Pradesh chief minister Kamal Nath (News X).
India Today: Anchor Preeti Choudhry interviewed Samajwadi Party president Akhilesh Yadav on its "Election Express".
Asked for the umpteenth time if the SP-BSP alliance in UP could topple the Bharatiya Janata Party-led government, Yadav said, "People of Uttar Pradesh voted for BJP. Now, people are disappointed with BJP. SP and BSP coming together is an outcome of the BJP's failures. We don't want to remove any person. This is the people's gathbandhan. BJP had oppressed the people of UP. We are a voice of UP."
Aaj Tak: Anchor Minakshi Kandwal spoke to cricketer-turned-politician and BJP's East Delhi candidate Gautam Gambhir. Kandwal wanted to know if his campaign had started a little late?
"Your intention matters more than the experience you have in politics. Ultimately, you have to go between the people and work for them."
On the criticism he has faced in the campaign, he replied, "I always thought you fight on the ground like you do in cricket but not off the field. In politics within 24 hours of my nomination… I became the biggest criminal in Delhi. I have told my supporters that we will not run any kind of negative campaign. That is the difference between us and the opposition."
दिल्ली के दंगल में क्या है @GautamGambhir का 'विजय प्लान'? #VoteKaSawal @MinakshiKandwal के साथ
अन्य वीडियो https://t.co/0lHmKyGH0i pic.twitter.com/tj1NFwwd6X

— आज तक (@aajtak) May 5, 2019
CNN News 18 anchor Maha Siddiqui discussed whether the PM's "corrupt number 1" comment was a sign of desperation from the BJP.
Modi had made the remarks about Rajiv Gandhi Saturday at a rally in Pratapgarh, Uttar Pradesh.
Congress spokesperson Sanjay Jha said, "Besides the pathetic, reprehensible, repugnant language used by Modi, the fact is that he lied again. Former PM Rajiv Gandhi was cleared of all the accusations made against him." He called Modi a "shameless man".
Siddiqui advised him to use respectful language however, BJP's RP Singh repeatedly interrupted everyone, yelling about Rajiv Gandhi's remark after ex-PM Indira Gandhi's assassination that "when a tree falls…"
"All corrupt can come together and say what they want to, but the Prime Minister is correct in whatever he had to say."
Times Now anchor Athar Khan also discussed Modi's comments.
Communist Party of India leader Dinesh Varshney said, "PM Modi has made this statement out of desperation because he knows he's not going to be PM."
BJP spokesperson Shazia Ilmi said, "There has not been clean chit against Rajiv Gandhi's office in Bofors scam yet and at the same time Narendra Modi is vilified."
Political analyst Ashutosh commented, "I was surprised to hear such an 'insensitive' statement from the Prime Minister."
The matter is being reopened as new evidence has come into the light: @shaziailmi, Spokesperson BJP. | #StopInsultPolitics pic.twitter.com/zYdTwM62k0

— TIMES NOW (@TimesNow) May 5, 2019
Tweet of the day
Dear @akshaykumar! Have been reading about you explaining to certain people about your loyalty to our country. Stop it! Their real profession is to make people like you & me feel defensive for talking in favour of India. You are a doer. You don't need to explain to anybody.👏🇮🇳

— Anupam Kher (@AnupamPKher) May 5, 2019
With inputs from Shailaja Bajpai.
Get the PrintEssential to make sense of the day's key developments