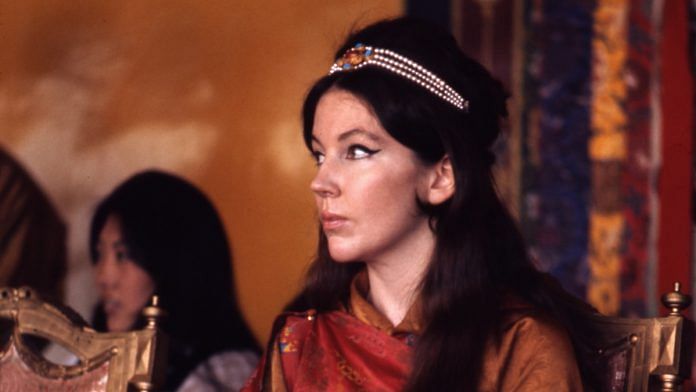 Text Size:
On the demise of Tashi Namgyal in 1963, his second son, Palden Thondup Namgyal, took over as the twelfth ruler of the Namgyal dynasty of Sikkim. Thondup was originally slated to be ordained as a Buddhist monk, and was trained as such till he was eleven, having been recognized as a reincarnated Rinpoche. In 1941, he was enthroned as the Maharaja Kumar, replacing his elder brother, Paljor, who died in a plane crash while serving as an officer in the Royal Indian Air Force.
Palden Thondup married twice. His first wife, Samyo Kushoe Sandeki, was from the Tibetan aristocracy and died in 1957. Sandeki was a popular figure in Sikkim and was widely respected by the people. Palden met a young American socialite, Hope Cooke, in Darjeeling and married her in 1963. His coronation as the Maharaja took place on an astrologically determined auspicious date, 4 April 1965, although he had taken over as ruler on 2 December 1963 after his father's death. The coronation was a grand ceremony, covered by American and European media that were attracted by another American marrying royalty, following the wedding of Hollywood actress, Grace Kelly, with the ruling Prince of Monaco.
---
Also read: For over 10 years, this Sikkim man has kept a lake litter-free at 12,406 ft
---
Palace intrigue
Hope Cooke was ambitious and allowed her naiveté to overcome the reality of her position as an 'outsider'. She was caught early in the web of palace intrigues and shallow politicking. When my wife and I made our first call on the Chogyal and Gyalmo (queen consort), our initial impression of Hope Cooke was of a young person who had adopted the outward poise of Tibetan aristocracy, reducing the soft tones in which Tibetan ladies expressed themselves to a mostly incomprehensible whisper. She obviously did not realize that she was not taken as seriously as she thought she was by senior courtiers. What is more, she was at the receiving end of Palden Thondup's favourite sister, Princess Pema Tsedeun, also known as Kukula. Kukula was urbane and politically savvier than her brother. There was an immediate clash of personalities between her and Hope Cooke, with each in her own way trying to exert her influence on the ruler.
Our first meeting with the Chogyal—whose request to be addressed as such and not Maharaja had been acceded to by the Indian government—and the Gyalmo took place in an intimate private sitting room at the palace. It was just the four of us around cups of tea and cakes from Calcutta's Swiss bakery and cafe, Flurys, along with an array of Sikkimese snacks. The Chogyal was his charming self, ready to discuss everything including politics. It was clear to me that he was trying to gauge whether I would be useful to him in the games he indulged in, of sharpening differences between officials of the political office and the political officer.
The same attempt was also in play where the relations between the political officer and the divisional commander of the 17th Mountain Division, were concerned. Prior to the visit, I had discussed the call with my boss, N.B. Menon, who let me have his insight into the mind of the Chogyal and his ways. I had little difficulty in reading his motives and the ideas that lay behind them. He was intent on creating confusion that he could take advantage of, in order to achieve his political ambition.
---
Also read: The sordid underbelly of 'golden state' Sikkim — it's India's suicide capital
---
I managed to convey, indirectly, that I would not be part of any political game-playing, suggesting that given the norms of protocolary behaviour as first secretary (I was yet to be promoted to that status), I would of course be in touch with his principal secretary, Jigdal Densappa, and the concerned officials at the Sikkim secretariat. Palden Thondup took the hint and soon thereafter arranged for Karma Topden, the son of his political confidante, Martem Topden, a senior politician and legislator from the Sikkim National Party, to be the one to interact with me on political issues. This was, of course, along with Jigdal Densappa, who was Karma's mentor.
Karma Topden had been trained in intelligence and was part of the so-called Study Group that was the backup in both political and socio-economic spheres to serve the ruler's ambitions and interests. It was also the think-tank that advised the Chogyal on all matters related to India. Hope Cooke was involved in broader policy formulations that emerged out of the deliberations of the Study Group that had Jigdal as its administrative head. It was this group, along with a set of legal advisors, that fed the Chogyal's ambitions to the point where he tended to fail to realistically evaluate the possible.
One of the outcomes of the deliberations of this group, where Hope Cooke had taken the lead, was to resurrect the controversy surrounding the grant of Darjeeling to the East India Company, adding the twist of asking for its return from India. What lay behind this attempt was the supposition that by placing the Indian government under this kind of pressure, it could force Delhi to negotiate a fresh treaty with Sikkim where in return for a settlement on Darjeeling, Sikkim would ask to be treated as an independent state in a special relationship with India.
---
Also read: Coercion, not accommodation — India and China need a new compact for 3,488-km border
---
Expanding ambition
To grant credence to this ambition, Hope Cooke published an article in 1967, putting forward the claim that all land within the territory of Sikkim belonged to the ruler in eternity and as such could only be held in trust till he sought its return. She demanded the return of Darjeeling and its surrounds to the kingdom of Sikkim,1 suggesting that this was what her husband was seeking by revoking the trust deed that had granted Darjeeling to the East India Company. This article contributed to the atmosphere of distrust between the Chogyal and the Indian government, and it was felt that Hope Cooke was a 'trojan horse' planted by the Central Intelligence Agency (CIA) in Sikkim. It was also a wake-up call to the mandarins in South Block, both at the prime minister's office and the ministry of external affairs.
The Chogyal was informed in no uncertain terms that this attempt at muddying issues was unacceptable and that his wife was stepping into dangerous waters. Hope Cooke, of course, was also playing to the gallery. By bringing Darjeeling into the Sikkim–India equation, she felt that both the Bhutia and the Gurkha elements of the Nepali population would ensure that they endorsed her husband and his will to get a revision of the Treaty of 1950. In this endeavour she was unsuccessful, as the bulk of the Nepali and many among the Bhutia hierarchy were suspicious of her. This was also part of the palace politics and intrigues let loose by Kukula against her sister-in-law, the Gyalmo.
Even among the top Sikkimese bureaucracy, there were quite a few who resented Hope Cooke's attempts to interfere and put barriers in the way of their dealings with the palace on matters of administration and policy. This resentment was to reach a climax when a pliant Indian Civil Service officer, I.S. Chopra, was selected by Foreign Secretary T.N. Kaul to take over the post of the principal administrative officer in Gangtok. Chopra, falling under the blandishments of Palden Thondup, accepted the title of 'Sidelong', a Tibetan title equivalent to the designation of 'prime minister'. He in turn bent before the Chogyal and Hope Cooke's wishes to the point where he pressurized the chief secretary to divert plan funds provided by India in favour of projects that benefitted the Bhutia interests adding to the feelings of alienation of the Nepali majority.
I.S. Chopra was unfit for the job entrusted to him. He was protocol-conscious and attempted to undercut N.B. Menon, who may have been junior to him in the foreign service but was the senior interlocutor between Delhi and the Chogyal. P.N. Haksar as the principal secretary to Prime Minister Indira Gandhi had no confidence in Chopra, describing him as someone who had 'no loyalties to anything and least of all to his own country. But he was a friend of the Foreign Secretary (T.N.Kaul) and has always been a smooth operator. Having become the Dewan of Sikkim, he could not care less what happened to Indo-Sikkimese relations.'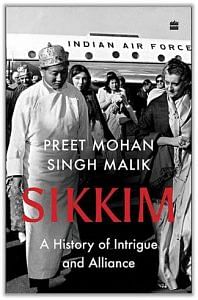 This excerpt from 'Sikkim: A History of Intrigue and Alliance' by Preet Mohan Singh Malik has been published with permission from HarperCollins India.
Subscribe to our channels on YouTube & Telegram
Why news media is in crisis & How you can fix it
India needs free, fair, non-hyphenated and questioning journalism even more as it faces multiple crises.
But the news media is in a crisis of its own. There have been brutal layoffs and pay-cuts. The best of journalism is shrinking, yielding to crude prime-time spectacle.
ThePrint has the finest young reporters, columnists and editors working for it. Sustaining journalism of this quality needs smart and thinking people like you to pay for it. Whether you live in India or overseas, you can do it here.