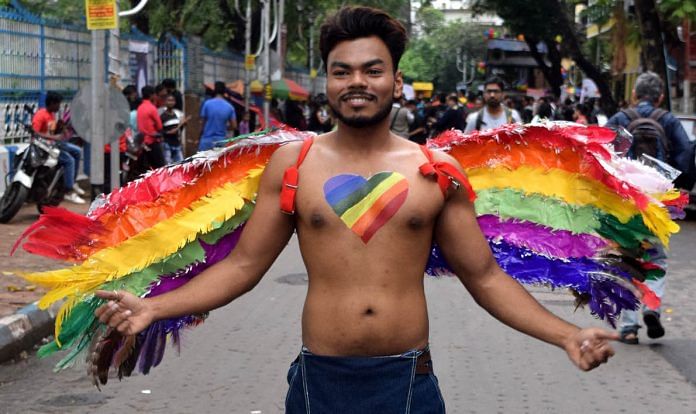 Text Size:
20 IITians have petitioned the Supreme Court on behalf of an informal LGBT group. One can just imagine the court saying 'Et tu IIT? Then fall, 377'.
My goodness. Is nothing sacred anymore?
Once upon a time, the IIT and its first cousin IIM were the epitome of the career map to what Indians called the "goodjob" – yes, always one word. An IIT/IIM chhaapa immediately upped your stock price on Shaadi.com.
After all, IITs gave us success stories we could all aspire to — N.R. Narayana Murthy, Sundar Pichai, Raghuram Rajan and Chetan Bhagat.
Now 20 IITians have approached the Supreme Court against Section 377 of the Indian Penal Code, the one that criminalises homosexuality and any form of 'unnatural' sex.
It's one thing when AIDS activists approach the Supreme Court about Section 377. Or a hotelier. A choreographer. A fashion designer. A celebrity chef. All that we can shrug off as some elite liberal minuscule minority doing its elite liberal minuscule minority thing. When the parents of gay children approach the court, that can be dismissed as the blindness of parental love.
But IIT?
You mean there are flesh-and-blood homosexuals in IIT, ones willing to admit to their homosexuality? You mean there are homosexuals taking IIT-JEE examinations and then going on to study things like computer science and electrical engineering and metallurgical engineering?
In 2013, when two judges of the Supreme Court recriminalised homosexuality, brushing aside the "so-called rights of LGBT persons", they dismissed gays, lesbians and bisexuals as a "minuscule fraction". They said the Delhi High Court, which had affirmed their rights, had "overlooked that a minuscule fraction of the country's population constitute lesbians, gays, bisexuals or transgenders", as if minuscule fractions are somehow less deserving of their rights. "Surely, liberties are grounded in the doctrine of humanity, not numbers," wrote Dhruba Jyoti in Hindustan Times. "And even if there are 10 queer people, it is reason enough to grant them their due."
Now, it turns out there are way more than ten, and not just in the usual suspect professions of fashion design, hairdressing, hospitality, acting, NGOs and liberal arts. They are there in the sanctum sanctorum of aspirational India – the IIT.
The LGBT story has irrevocably entered the Indian mainstream. There's no shying away from it anymore, no way to dismiss it as the playground of painted and dented types, un-Indian deviance imported from 'foreign'.
Even the appeal made by the 20 IITians emphasizes this inescapable ubiquity. They write on behalf of the informal pan-IIT LGBT group Pravritti and they say they come from all over India, from Kakinada in Andhra Pradesh to Korba in Chhattisgarh to the metropolitan cities of Mumbai and Delhi. They are children of farmers, teachers, homemakers and government servants. They are scientists, researchers, business owners, teachers and entrepreneurs. And they say that despite working and studying with "the best minds of this country", this "regressive law has violated (their) fundamental rights, prevented (them) from living a life of dignity", and in a charming bit of geek-speak in a court appeal, say it has had "first, second and nth order effects in the lives of LGBT individuals".
Perhaps this is exactly what IIT alumnus Chetan Bhagat had in mind when he stood up against Section 377, saying discrimination is just plain wrong. He explained in his op-ed why the "selfish, acche-din GDP-growth seeking Indians" should care about it even if they don't care about LGBT issues per se. It's time to start behaving like we belong in the modern world, he argued. "Strong minority rights are evidence of justice in society," he wrote. And with justice comes investor confidence and higher economic growth. But he also had a word of advice for the gays. Don't freak anyone out, he suggested. "Any breakthrough in gay rights should not spill out on to the streets, in the form of Western inspired gay parades or anything that presents being gay as being somewhat fashionable or cool."
Chetan Bhagat should be thrilled. While the IITs are rightly lauded for many things, they are not regarded as being in the vanguard of fashionable and cool. They don't freak anyone out. Mothers and fathers buy mithai when their children get into an IIT. They are the petri dish where the acche-din GDP-growth seeking Indian culture grows and flourishes.
Of course, it's a different matter that change does not always come with a nudge. Groups have to be willing to stick their necks out, march for their rights and create hungama to challenge the status quo in a country which lives by "log kya kahenge". The IITians stand on the shoulders of the in-your-face protesters, the flamboyant designers and hijra activists who dared to come forward first when no one else did. And as I have said before, Indians march in Pride parades not because they want to be fashionable or cool or to freak out auntie-ji next door, but because they want a full boyfriend or girlfriend, not just a half one.
But this IIT petition should still be a game-changer. Politicians should pay heed. Though Rajnath Singh has wanted 377 to stay on the books because homosexuality is "unnatural";  Ram Madhav of the BJP has said there should be "no criminalisation" but "no glorification", and Arun Jaitley has favoured reading down the law. Rahul Gandhi has said he wants Section 377 to go. This is already a rare issue that Rahul Gandhi and Arun Jaitley can agree on. Now could this added weight of the alumni of IITs make gays just about the one minority that Indian political parties of all colours could rally behind? One can only hope.
Twenty IIT alumni are still a minuscule fraction, but it is a fraction that truly brings the issue home for the middle-class Indian. It should prove once and for all that being gay is as Indian as, well, the IIT.
Non-IITians have often chafed at the excessive reverence Indians reserve for the IITs who can do no wrong. One hopes now that reverence will yield some real dividends at least in the fight against 377.
One can just imagine the court saying "Et tu IIT? Then fall, 377".
Sandip Roy is a journalist, commentator and author.
Subscribe to our channels on YouTube & Telegram
Why news media is in crisis & How you can fix it
India needs free, fair, non-hyphenated and questioning journalism even more as it faces multiple crises.
But the news media is in a crisis of its own. There have been brutal layoffs and pay-cuts. The best of journalism is shrinking, yielding to crude prime-time spectacle.
ThePrint has the finest young reporters, columnists and editors working for it. Sustaining journalism of this quality needs smart and thinking people like you to pay for it. Whether you live in India or overseas, you can do it here.