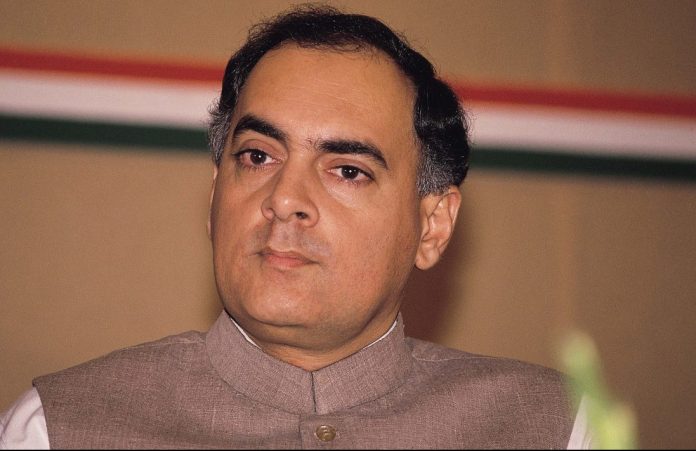 Text Size:
Both the Hindu right and liberals blame Rajiv Gandhi for the Shah Bano flip-flop, accusing him of indulging in minority appeasement. 
Contrary to popular belief, it was not Rajiv Gandhi who fielded his minister Ziaur Rahman Ansari to challenge the Supreme Court judgment in the 1985-86 Shah Bano case. For too long, Rajiv has been pilloried by Indians over his role in surrendering to Muslim conservatives during the Shah Bano episode.
But a new book by Ansari's son says it was the other way around.
In an upcoming book titled Wings of Destiny: Ziaur Rahman Ansari – A life ( Highbrow Scribes Publications, 2018 ), Ansari's Canada-based son Fasihur Rahman claims that it was actually his father, driven by religious zeal and armed with a resignation letter, who had prevailed upon Rajiv to overturn the apex court's verdict.
Ansari informed Rajiv that he will challenge the apex court's verdict in Mohammad Ahmad Khan vs Shah Bano Begum, delivered by the five-judge Constitution Bench comprising Chief Justice Y.V. Chandrachud, Justices Ranganath Misra, D.A. Desai, O. Chinnappa Reddy and E.S. Venkataramiah on 23 April 1985.
Fasihur, a trained environmental scientist and a fellow at the University of British Columbia, Okanagan Campus, Canada, writes in the book that there has been a "preconceived notion" dominant till date that it was Rajiv or the Congress Party who had emboldened Ansari to speak against the judgment.
Both the Hindu right and liberals blame Rajiv for the Shah Bano flip-flop, accusing him of indulging in minority appeasement and giving in to orthodox Muslim clergy that was represented by Ansari and the All India Muslim Personal Law Board (AIMPLB). This stand on Shah Bano overshadowed his other achievements such as ushering the computer age in India, and the science and technology missions.
After a year of debate, Rajiv Gandhi government brought The Muslim Women (Protection of Rights on Divorce) Act, 1986 to overturn the judgment of the Supreme Court following pressure from Muslims, including Ulamas, who said that the judgment was in conflict with sharia.
In the book, Fasihur quotes The Telegraph, Calcutta from back then: "The Congress (I) had decided to field another minister, Mr. Z.R. Ansari, to contradict his (Arif Mohammad Khan)assertion on the floor of the House." He also cites The Times of India editorial stating: "It is clear beyond doubt that Mr. Gandhi gave Mr. Ansari the go ahead signal. In plain terms, Mr. Ansari too was not acting at his own initiative."
According to Fasihur, his father was even prepared to resign from the union council of ministers if Rajiv had not let him speak in Parliament against the Supreme Court verdict.
"I wish to set the record straight," Fasihur writes. "There is no iota of truth in such preconceived notions that Ziaur Rahman Ansari 's intervention in the debate related to the Supreme Court judgment in Shah Bano case was at the behest of Rajiv Gandhi or the Congress party. His intervention in the debate was his personal decision impelled by his conscience. It was neither the Congress Party nor Rajiv Gandhi who asked him to speak as has been claimed in various articles."
Aziz Qureshi, who later became the governor of Uttarakhand during the UPA years, was also present at this Ansari-Gandhi meeting.
Quoting Qureshi, the author writes: "Magnanimous Rajiv Gandhi took the resignation letter, tore it and threw it in a dustbin. Who is stopping you to speak? Rajiv Gandhi asked Ziaur Rahman. How many well-wishers do we have remained (sic) with us now, Gandhi added, according to Dr. Aziz Qureshi."
Fasihur's account is a little different from the one that was put forth two years ago by senior bureaucrat Wajahat Habibullah. According to that version, it was M.J. Akbar who had influenced Rajiv to support the stance taken by the Muslim clergy.
"Then, one day as I entered Prime Minister Rajiv Gandhi's chamber, I found M.J. Akbar sitting across his table. Rajiv smiled cheerily, "Come in, come in Wajahat, you are one of us." Habibullah had recalled that he found Rajiv's greeting "odd" but discovered the reason soon enough. "Mr. Akbar had convinced Rajiv that if the government were not to contest the Shah Bano judgment, it would appear to the Muslim community that the Prime Minister did not regard them as his own. In what he perceived as the defence of their religious rights, Rajiv would show himself worthy of the support that the community had always placed in his family. This was the argument that Mr. Akbar developed in a Doordarshan debate with then-Minister Arif Mohammed Khan, in which Mr. Khan had argued that the Koranic provision or lack of it for maintenance was neither a compulsion nor closed to interpretation. But Mr. Akbar, more Westernised, had argued that the Muslims needed the reassurance that only an amendment could bring."
Akbar, currently a minister in Narendra Modi government, did not contest Habibullah's claim.
Rasheed Kidwai is an ORF visiting fellow, author and journalist. The views expressed here are his own.
For ThePrint's smart analysis of how the rest of the media is doing its job, no holds barred, go to PluggedIn