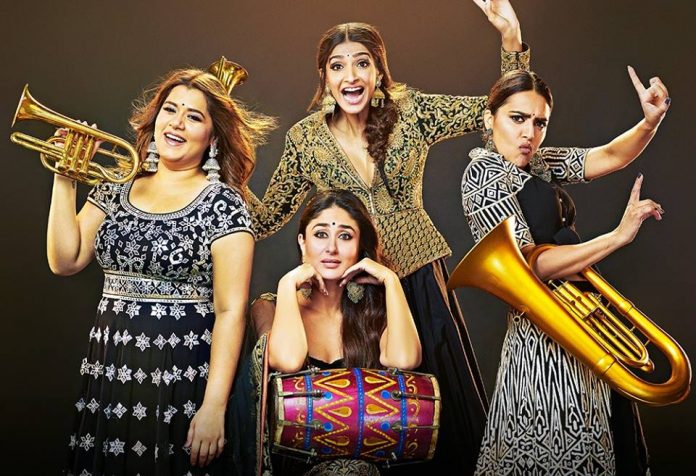 Text Size:
If you want to watch a movie about a woman asserting herself, finding happiness without a man, and not being unnecessarily mean to anyone, watch Kangana Ranaut's Queen.
When you have a seemingly 'independent' and 'emancipated' woman abusing a potential suitor for no longer wanting to marry her, calling him a "mother lover" and asking him to marry his mother instead, you know it is not just an unappetising movie but also an apology of a feminist perspective. That, in a nutshell, is Veere Di Wedding.
The woman in question (played by Sonam Kapoor) gets miffed with the potential suitor for judging her when she tries to kiss him, and she is absolutely right in doing so. But this 'liberated' woman chooses the most regressive way of getting back at him – an abuse that unnecessarily draws another woman, his mother in this case.
And this is the erroneous idea of feminism that overpowers Veere Di Wedding. Women do not need to be shown to be drinking, smoking, using cuss words and talking about sex in every single frame to sell us the idea of liberation. Sure, it is a woman's absolute choice to do so, but to make it seem like these are the real parameters of modernity, while skirting more real issues, is a bit rich. The biggest problem in the movie is how forced all this seems, aimed merely at shocking audiences.
The much-talked about masturbation scene featuring the character played by Swara Bhasker is interesting. But her reluctance to share that this was the reason for her estrangement with her husband with even her closest friends – with whom she has the most uninhibited of discussions – was a glaring example of how poorly the concept of female sexuality has been handled.
Not only is she embarrassed of it, she also launches into an explanation for masturbating when she finally does tell her friends. She must have got excited after she fought with her husband, she tells them, explaining why she needed to use a vibrator. Her friends sound near-judgemental, with one even commenting that she decided to masturbate because she had nothing else to do. Of course, a woman can pleasure herself only because she is sitting free.
In a jarring exchange, as she begins narrating her story to her friends and they ask her if she cheated on her husband, Bhasker meekly says "not technically". Unfortunate that a movie about modern, progressive women would make something as normal and healthy as masturbation seem like some indirect form of cheating.
Notice how the character played by Sonam Kapoor reacts after a one-night stand. She is almost apologetic, blaming alcohol. The idea of women being comfortable with their sexuality is to show them talking about it crudely, but not really standing up for it when needed.
Watch the character of Deepika Padukone in Piku to see how one can show a woman being comfortable with her sexuality and her need for physical intimacy, without being either crassly in-your-face or apologetic. Or if you want to see a woman talk openly and unapologetically about her sexual needs, watch Tabu in Astitva, made way back in 2000. In a more mainstream version, Bipasha Basu in Jism boldly announces her hunger for physical intimacy.
Note how Shikha Talsania's character in Veere Di Wedding, on being asked if she is happy in her marriage, hints at her husband's penis size to say she is. Imagine this discussion among a bunch of men, with one of them saying he is happy in his marriage because of his wife's body parts. We can't glorify this in the name of feminism, when we set out to contest precisely that when women's bodies are objectified. Not just that, Talsania's character is also body shamed, when one of the friends assures her she is still sexy despite having added a few kilos.
Kareena Kapoor's character, meanwhile, is as insipid as can be, because of course, the script-writer has not bothered to flesh out characters and give them depth, unless they use jarringly crass language.
The movie, of course, has a happy ending. Kareena's character gets married, Sonam's character finds someone who can be a potential romantic interest, Talsania solves the two problems of her life – ending the dry spell of sex with her husband and making up with her estranged family, and Swara finally hits back at the gossipy neighbourhood 'aunties' (because let us nourish the cliches about women being gossipy, nasty bitches) by giving them a taste of their own medicine, to make them feel small.
If you want to watch a movie about a woman asserting herself, finding happiness without a man, and not being unnecessarily crude or mean to anyone, watch Kangana Ranaut's Queen.
The intellectual disagreements aside, Veere Di Wedding is also a really poor piece of cinema.
Get the PrintEssential to make sense of the day's key developments