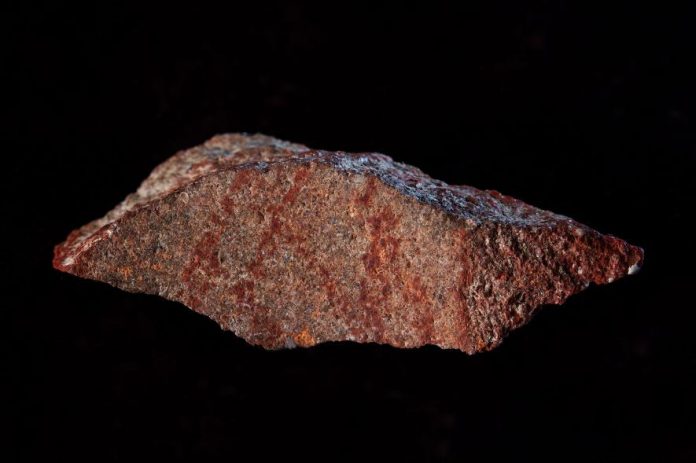 Text Size:
A new discovery is changing the belief that symbolic art is an expression only human beings are capable of.
The discovery of the world's oldest painting, from more than 73,000 years ago, contributes to the ongoing debate over what, exactly, being human means. Other "human" traits — from tool use to planning to compassion — have been observed in other animals, but only humans seem to have the kind of symbolic imagination that allows for drawing, painting and sculpture. The complexity of our language may be tied into this trait, but physical art is the oldest symbolism that gets preserved.
For years, anthropologists believed that symbolic art was born around 40,000 years ago, with the great cave paintings and intricate figurines of our stone-age ancestors. Here and there, hints emerged for earlier forms of artistic work, but it was spotty and open to interpretation. Earlier this year, however, researchers found a series of elaborate cave paintings in Spain that date back 65,000 years. Because the first modern humans didn't arrive in Europe until 40,000 to 45,000 years ago, the implication is that the artists were Neanderthal.
Some researchers were skeptical. Why weren't the modern humans making art this early? A new paper in this week's Nature argues that they were. In South Africa, a flake of rock decorated with a crosshatch design, painted with an ochre crayon, dates back to at least 73,000 years. The researchers say it looks like a fragment of something larger — a puzzle lost to time.
If symbolic art defines us as human, then Neanderthals were surely people too. There is evidence they contributed to the modern Homo sapiens gene pool, after all. And, despite what people have believed for centuries about the unique status of humanity among animals, it's clear there is no "missing link" between non-humans and humans. Nor is there a moment in time when a generation of non-humans bore children who were human. Becoming human was a gradual process. As archaeologists of the future look back at us, they may say it was still happening in the 21st century. – Bloomberg
Read Global Pulse for a sampler of the big international stories, and why they matter.