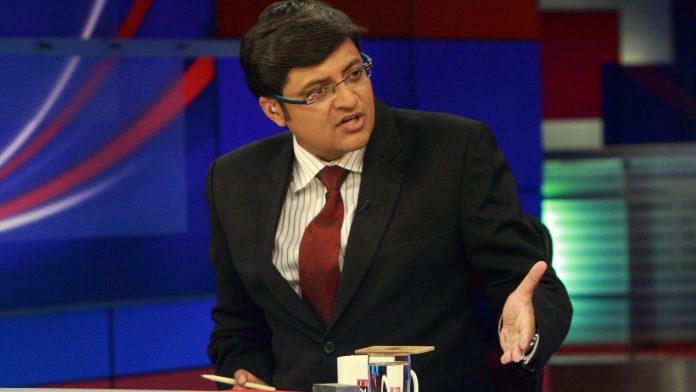 Text Size:
At 9 pm, I will switch on Republic TV in the hope that Arnab Goswami follows the broadcasting authority's orders and issues a public apology.
The morning of the 4th September brought news of some relief to me and my husband. We received an email from the National Broadcasting Standards Authority (NBSA) that Arnab Goswami and Republic TV have been ordered to accept their fault.
I would much rather call it a blunder and a display of the most reckless kind of journalism. Tonight, at 9 pm, I will switch on Republic TV with the hope that they follow the authority's order and issue us a public apology.
I write this to talk about what we have, as a couple, gone through since that fateful day of Jignesh Mevani's rally in January. I had dropped my husband to the packed rally on Sansad Marg. My husband spent a few hours there. It was heartwarming to see how the young Dalit men and women showed their support to Mevani. There were representatives from the Bhim Sena and many unorganised participants there.
That evening at home, we discussed the possibilities of a new kind of politics in the country and how Mevani represented this change. As we flipped through news channels, we chanced upon Arnab Goswami screaming, as usual, at some unsuspecting person or event. It took us a few moments to realise that he was actually talking about the same rally where my husband had gone during the day. He called the Mevani rally a "flop show", and used words like "anti-nationals" for a few faces which were encircled in red on the screen. There was no video, only still images of a few faces.
And there, my husband's face was one of them. I felt a bolt in the pit of my stomach and we watched the screen silently. Arnab's show had edited out the whole video to take just the faces of random bystanders. The only piece of video, which caught our attention, among other abruptly cut ones, was the one featuring my husband. In the loud noises of "Go away Republic TV!", he was loudly telling a woman journalist, "Aap jhooth bol rahi hain!" I was quick to notice how, even when slightly excited, my husband was using very respectful language.
---
Also read: From breaking news to broken news: How did we get here?
---
He told the Times Now journalist who falsely accused the Bhim Sena protestors that she was making objectionable comments. My husband said that her accusations were baseless. After all, as an honest law abiding citizen of the country, are we supposed to stand by as mute spectators to wrong allegations? Should we close our eyes against discrimination and social injustice?
Our great fortune lies in the recordings, which Republic TV's cameraman was making and which have been produced in the NBSA hearings. My husband's words are very clear. The journalist was a smart woman who was doing her job on the field and we don't hold her responsible for any of this. She, even during the trial, maintained that my husband had not said anything lewd to her. She said that he had spoken out when she was trying to catch hold of alleged men in the rally. She said this in front of the judge's panel in India International Center where the hearing was held.
But, we are sensible people and when we saw Arnab calling my husband all those horrible words, we knew that something was wrong. Since Republic TV showed six to seven faces encircled by red dotted lines, we thought that they have randomly picked up people who stood there without verifying their claims. We knew that it was not the fault of the female journalist in the video.
We wrote a series of emails to Republic TV (having found their contact email from their website) over the next week. Our email was a simple: my husband identified himself as one of the people whose face had been wrongly marked and we had asked for a public apology for the same. But, we did not receive any reply. We were forced to file a police complaint and the case in the NBSA.
During the hearing, Republic TV was represented by a lawyer, the journalist in question and Abhishek Kapoor, the executive editor of the channel. In a series of bad arguments, their lawyer went to the extent of commenting on my husband's clothes which he thought were jhola-cchap kind. It was shocking and offensive that their lawyer was trying to implicate us based on the clothes he thought my husband was wearing.
Then, Abhishek Kapoor said something very strange. He said that as a channel, they had a right to have a political opinion and that their channel's political opinion was that Mevani-like politics was anti-national.
---
Also read: Karan Thapar broke the cardinal rule of journalism and is too entitled to admit it
---
I was speechless.
A news channel, I had believed, was to show the neutral point of view in any event. Here was a channel, openly claiming that a sitting MLA was anti-national. That is when I spoke. I accepted the channel's claim and I said if that is the case, then Republic TV should first encircle Jignesh Mevani's face in red. But they would never do it because Mevani has a public following and he's an MLA, while my husband and others whose faces were shown on the show are common citizens who might not be able to defend themselves with public support. To this, Abhishek Kapoor and other representatives of Republic TV had no reply.
After many arguments from both the sides, their lawyer said, "But my Lord, if you ask us to apologise to them, then it will set a trend and we will have to apologise to everyone!"
This was when I realised that we were facing the most illogical opponents. If you make a mistake a hundred times, you must apologise a hundred times. Is there any way around it? Should you be exempted from asking for forgiveness simply because you are a regular defaulter? My husband never asked for any compensation for the mental trauma that we had to go through. We are simple people looking for a simple apology.
Well, tonight at 9 pm, we will wait for the apology. The NBSA has prescribed the text of the apology which must be followed. I am sure that truth shall prevail.
Update: Arnab Goswami and Republic TV did not apologise to the author and her husband as directed by NBSA. The author says, as per the order, they have another chance to do so immediately before the 9PM news on the 14/9/2018.
The author is a former lecturer in Italian literature from Delhi University and writes political non-fiction in Hindi, Bhojpuri, English and Italian. Her Twitter handle is @PratishthaSin15
For ThePrint's smart analysis of how the rest of the media is doing its job, no holds barred, go to PluggedIn